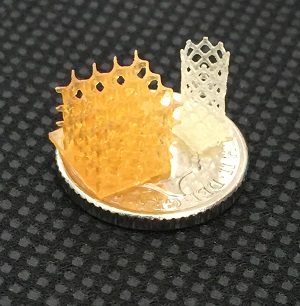 4D Biomaterials was formed as a spinout by University of Birmingham Enterprise and Warwick Innovations. The company is focused on developing its new polycarbonate-based resins, which can be formed into materials that have good shape memory, tuneable mechanical and chemical properties, excellent biocompatibility and promising tissue-healing performance. They are the result of a major programme of biomaterials research and tissue engineering led by Professor Andrew Dove at Birmingham and previously Warwick Universities.
Having recently established a self-contained independent laboratory and office space in MediCity on the world-renowned Boots site in Nottingham, 4D Biomaterials has made several senior appointments to advance its product development and operational capabilities.
The new head of R&D Operations is Dr Andrew Naylor, an experienced industrial chemist whose career to date has spanned polymer and pharmaceutical process and product development, and has included a leading role in the set-up of an MHRA licensed manufacturing facility compliant within good manufacturing practice guidelines. Dr Naylor will build operational capacity for the company, including capabilities for resin and device production, and testing and characterisation of resins and 3D printed parts.
Dr Naylor will be working with Product Development Chemist Dr Siobhan Kilbride, who recently completed her PhD with Professor Andrew Dove at the University of Birmingham, and has first-hand experience of producing the resins in Birmingham's laboratories.
Complementing the operational and laboratory based teams, 4D Biomaterials is now also working with consultant Dr Phil Reeves, who is a highly experienced 3D printing technologist and strategist, having worked with some of the leading global companies on additive manufacturing in the medical device sector.
CEO Philip Smith commented: "Thanks to Innovate UK, we have been able to establish a fully-equipped laboratory at MediCity in which we will develop our product range and scale-up manufacture in preparation for a comprehensive pre-clinical testing programme. Andrew, Siobhan and Phil have brought a highly valuable mix of experience and talent to the team and have already made good progress in scaling production of the resins and developing designs for our first range of 3D printed medical devices."
The company has also made solid progress on the commercial front securing a first letter of intent from a potential customer in the US and a very encouraging response to independent market research covering three potential medical device applications. Smith added: "We are now approaching potential investors with the aim of raising a further £1m to fund the next stage of product development and pre-clinical testing."
ENDS
For further media information contact Ruth Ashton, University of Birmingham Enterprise, email r.c.ashton@bham.ac.uk.
For further commercial or investment information contact Philip Smith, 4D Biomaterials, e-mail p.smith@4dbiomaterials.co.uk.
About 4D Biomaterials
4D Medicine Ltd (trading as 4D Biomaterials) was founded by a team of world class chemists and engineers to develop and commercialise a novel range of patent-pending, printable resins that promise to transform outcomes for patients across a range of biomedical applications.
University of Birmingham Enterprise helps researchers turn their ideas into new services, products and enterprises that meet real-world needs. We also support innovators and entrepreneurs with mentoring, advice, and training and manage the University's Academic Consultancy Service.
About Warwick Innovations
Warwick Innovations is the knowledge exchange and commercialisation arm of the University of Warwick. It provides business expertise, IP protection, support services and funding to the University's academic innovators from any discipline. It designs and delivers enterprise training programmes for researchers at all stages of their career development.
About the University of Birmingham
The University of Birmingham is ranked amongst the world's top 100 institutions. Its work brings people from across the world to Birmingham, including researchers, teachers and more than 6,500 international students from over 150 countries.