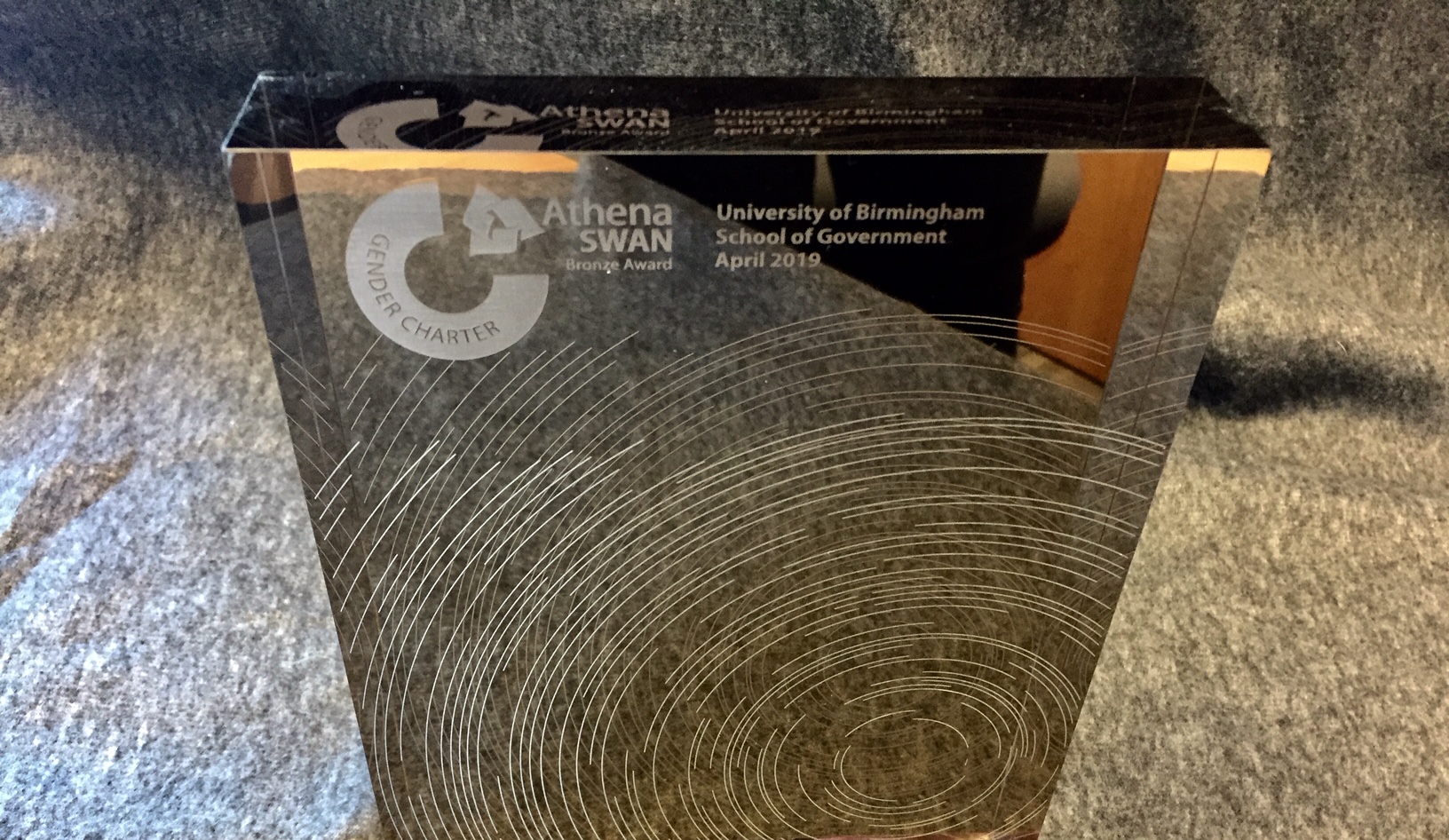 The School of Government has been awarded Athena SWAN institutional status in recognition of its continuing commitment towards the advancement of gender equality including representation, progression, and success for all.
As part of the recent application, the School of Government successfully demonstrated commitment to gender equality through a number of actions, which include the recruitment of a greater number of female academics, the achievement of gender parity on the Access to Birmingham scheme, as well as ongoing efforts towards diversifying the School curriculum.
Professor Richard Black, Head of College of Social Sciences, said: "As a College, we are committed to developing and sustaining a supportive, inclusive environment that values all members of our community. I am delighted that the School has received this award in recognition of their hard work and commitment in embedding equality and diversity into everything they do."
In its evaluation, the Athena SWAN Charter panel commended the School of Government 'on its commitment and work to date.' It highlighted 'the positive cultural changes the School has achieved in recent years,' in particular 'the embedding of equality, diversity and inclusion within the School.'
Professor René Lindstädt, Head of the School of Government, commented: "This year's award of the Athena SWAN Bronze status has been a major accomplishment for the School of Government and is testament to the enormous efforts that the School has put into advancing the Equality, Diversity and Inclusion agenda. As a School, we are not only committed to living up to the high expectations that come with this important award, but to further accelerate the advancement of the ED&I agenda and making it a top priority in everything that we do."
The School of Government remains committed to promoting the Athena SWAN principles in all its practices and activities. Progress will continue to be overseen by the School of Government EDI Committee led by Dr Gerasimos Tsourapas (Equality, Diversity, and Inclusion Lead, School of Government).
Advance HE's Athena SWAN Charter was established in 2005 to encourage and recognise commitment to advancing the careers of women in science, technology, engineering, maths and medicine (STEMM) employment in higher education and research.
In May 2015, the charter was expanded to recognise work undertaken in arts, humanities, social sciences, business and law (AHSSBL), and in professional and support roles, and for trans staff and students. The charter now recognises work undertaken to address gender equality more broadly, and not just barriers to progression that affect women.
If you have any questions about the School of Government's Athena SWAN award, please contact Dr Gerasimos Tsourapas (g.tsourapas@bham.ac.uk).