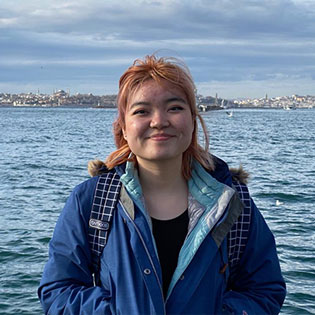 A fantastic resource available to all College of Arts and Law students is the Careers Network, a brilliant team of people dedicated to helping our students explore their graduate options by providing career insights; CV, application and interview support; work experience opportunities and internships.
Second year Drama and Theatre Arts international student Misha recently completed her exciting Virtual Experience Arts Internship with BE Festival. An annual highlight in the city of Birmingham's Drama calendar, the BE (Birmingham European) Festival hosts a pioneering programme of ground breaking circus; comedy; dance; music and theatre at The Birmingham Repertory Theatre. Determined to not let COVID-19 cancel the festival, it was re-named BEatHome Festival and working as an Assistant Festival Producer, Misha's role involved organising the now virtual performances and closing party.
Misha can now boast she has experience of working with European artists; adapting theatre for the screen and engaging with an international audience! Speaking of her experience, Misha stated 'personally, I was grateful to be able to learn through observation and participation the stages and process in adapting work for a different platform, as well as the general process of organizing a festival.'
With our own theatre and links to professional practitioners in Birmingham, Stratford-upon-Avon, London and beyond, our undergraduate Drama and Theatre Arts programme at Birmingham combines theory and practice.
Whether your interest lies in Elizabethan drama, live art, British playwrights or theatre for young audiences, you will have the opportunity to experience a variety of drama and theatre before specialising in your favourite areas. During your time at the University of Birmingham, we will help you develop into a confident researcher and performer, and to build a diverse and attractive professional profile.