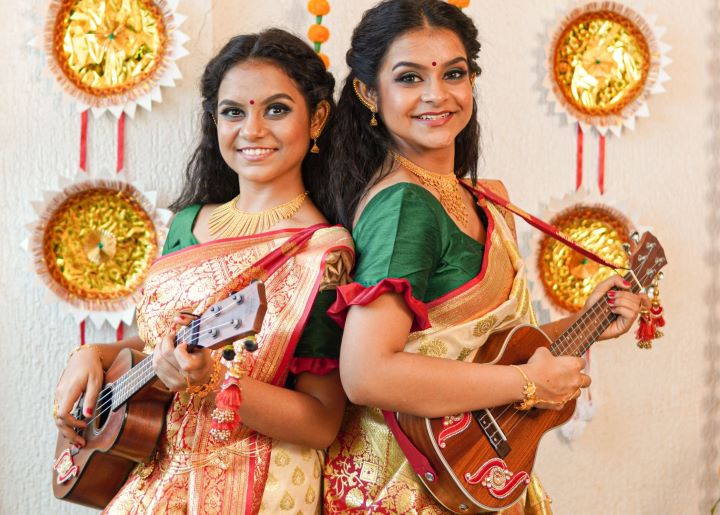 The University of Birmingham India Institute is hosting a star-studded virtual concert to celebrate Diwali – streaming the music and dance celebration online.
Working with Sampad Arts and Heritage, the University's India Institute has put together an exclusive concert, bringing the Spirit of Diwali celebrations from around the world with the message of Diwali: Tamaso ma Jyotirgamayo – lead me to light from darkness.
The exclusive concert is streamed on YouTube – featuring a range of internationally renowned artists, including:
Singer Amit Trivedi performing with artists from all over the world - brilliantly choreographed by the renowned Shampa Gopikrishna and Bertwin D'Souza.
An invocation to the lord of dance 'Shiva Shambho' - choreographed and performed by Swathi Isha and Sophia.
Aditya Rao, Vinod Krishnan and Mahesh Raghavan performing an Indian version of Ed Sheeran's hit Shape of You.
The Ananda Dancers - Amritha , Chiinthu , Sushmitha, Anaya Vasudha and Pranita – performing a special piece illustrating how dance has filed their lives.
Kumar Sharma, Svetlana Tulasi and the Kathak Rockers perform a special interpretation of crossover hit Justin Bieber's Despacito.
The Nandy Sisters performing songs in Assamese, Malyalam and Rajbongshi.
Professor Robin Mason, Pro-Vice-Chancellor (International) and Director of the India Institute commented: "We are living through challenging times and, in the spirit of Diwali, we invite people around the world to join our special online concert celebrating the triumph of light over darkness, knowledge over ignorance and hope over despair.
"We are a civic university with a global outlook and there is a special bond between Birmingham and India, stretching back to the arrival of our first Indian students in 1909. We're proud of our research and education partnerships in India which reflect the country's importance as an emerging global economic powerhouse."
Diwali is a five-day festival celebrated by faiths throughout the Indian community to mark different historical events and stories but with all of them symbolising the victory of light over darkness and good over evil. It is celebrated by lighting lamps and candles in doors and windows of the home, around temples and other buildings, along with fireworks.
Dr. Shashank Vikram, Consul General India, commented: " On this auspicious occasion, I would like to convey a very happy and prosperous Diwali to the Chancellor Lord Bilimoria, Pro-Vice-Chancellor Professor Robin Mason and everyone at the University of Birmingham and beyond. 'Diwali' is about building bonds, sharing joy, happiness and celebrating 'unity in diversity'.
"I would like to extend best wishes to the University of Birmingham for their endeavour in keeping the spirit of Diwali high even in this testing time. Cultural festivals are the powerhouse of our society. They strengthen sentiments of community, they re-connect us to our heritage, foster a deeper understanding of our modern cultural plurality and at times of crisis, provides a lifeline to the isolated and the vulnerable.
"The celebrations of Diwali have its roots in the triumph of light over darkness. This year that message has a particular relevance as we have seen the world change significantly over the last 12 months, and we have all faced challenges that we could never have expected. But Diwali's message is a timely reminder of the light at the end of the tunnel and the collective strength of unity."
For more information please contact Tony Moran, International Communications Manager, University of Birmingham on +44 (0) 121 414 8254 or +44 (0)782 783 2312 or t.moran@bham.ac.uk. For out-of-hours enquiries, please call +44 (0) 7789 921 165.
The University of Birmingham is ranked amongst the world's top 100 institutions, its work brings people from across the world to Birmingham, including researchers and teachers and more than 6,500 international students from over 150 countries.
The history of collaboration between India and the University of Birmingham dates back almost to the foundation of the University in 1901. The India Institute was established in January 2018 and brings Birmingham and India closer together to deliver impactful research, create innovative education initiatives and extend the University's influence across the globe.
The University's relationship with India began in 1909 with the first cohort of Indian students attending the University to study for degrees in Mining and Commerce. Since then, the University has provided education to many outstanding Indian alumni.