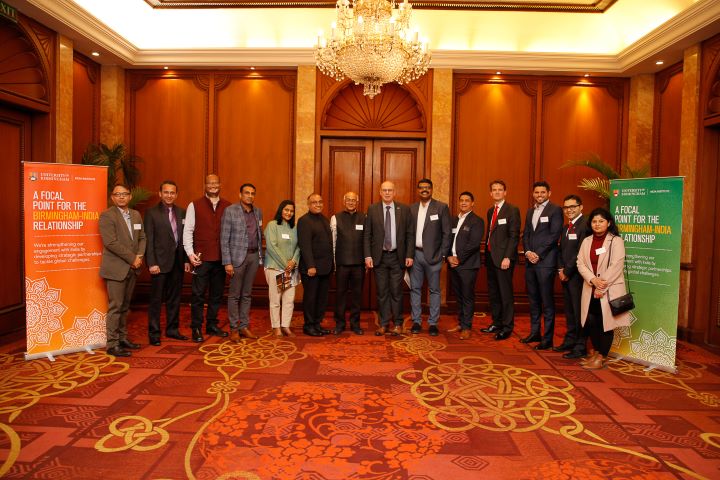 Experts at the University of Birmingham will work with partners in India across education, healthcare, genetic engineering and sports science.
Vice-Chancellor Professor Sir David Eastwood signed a range of Memoranda of Understanding (MoU) with the University's partners at a special signing ceremony in Delhi.
The agreements form a key part of the University's strategic vision to continue building meaningful education and research partnerships in India.
Professor Sir David Eastwood signed MoUs with:
The International Centre for Genetic Engineering and Biology (ICGEB), New Delhi
Leading pharmaceutical company CIPLA, of Mumbai
Pandit Deendayal Petroleum University (PDPU), Gandhinagar
Technofin – a Mumbai-based transport and infrastructure consultancy
Manipal Academy of Higher Education
Inspire Institute of Sport
"The University of Birmingham's collaborative research output with India partners has almost doubled over the last five years. We currently have over 40 joint research projects of outstanding quality," commented Professor Sir David Eastwood.
"We are a global university with a civic heart and a long, illustrious relationship with India. Signing these exciting new agreements with partners in areas such as health, transport and environment gives us a great opportunity to further contribute to Indian society as we continue to forge meaningful research and education partnerships in India."
The University and ICGEB plan to work together on multidisciplinary research including immunity and infection, as well as projects tackling human diseases, compound screening for identifying autophagy modulators, and exchanges of students and staffs across relevant projects.
Working in partnership with CIPLA, University experts will develop healthcare Continuous Professional Development (CPD) programmes.
Researchers at PDPU and Birmingham will continue working on the joint 'India-H2O' project, which is developing, designing and demonstrating high-recovery, low-cost water treatment systems for saline groundwater, as well as domestic and industrial wastewaters. The partners will also identify new research opportunities.
The agreement with Technofin will see the partners working together on a bid to provide rail research and consultancy to the Dedicated Freight Corridor Corporation of India Ltd., to support the establishment of a Heavy Haul Research Institute. They will also develop other infrastructure-related research.
Manipal engineering students will be able to join Birmingham courses in Civil Engineering, Computer Science and Engineering, Electrical and Electronics Engineering, Mechanical Engineering and Mechatronics Engineering - after completing two years of study in India, graduating with degrees from both universities.
University experts will work with Inspire Institute of Sport to develop bespoke distance-learning and blended CPD programmes for the development of the Institute's staff, as well as developing scholarships for postgraduate study in sports science. The MoU is an outcome of the India-UK Sports Alliance set up by the UK Government's Department for International Trade to drive collaboration in sports between the two countries.
Crispin Simon, Her Majesty's Trade Commissioner for South Asia, UK's Department of International Trade and British Deputy High Commissioner, Mumbai and West of India, said: "I am delighted that the University of Birmingham is strengthening its presence in India across education, healthcare, genetic engineering and sports science. The UK government has played an instrumental role in establishing their partnership with Inspire Institute of Sport, and we will continue to support their work in India.
"I am also glad that Professor Tim Cable from the University of Birmingham has made significant contributions to the Indian-UK Sports Alliance organised by the UK government, to bring together influential individuals in both countries to help drive collaboration. I look forward to his continued participation."
For more information please contact Tony Moran, International Communications Manager, University of Birmingham on +44 (0) 121 414 8254, or contact the press office on +44 (0) 7789 921 165 or pressoffice@contacts.bham.ac.uk
The University of Birmingham is ranked amongst the world's top 100 institutions. Its work brings people from across the world to Birmingham, including researchers, teachers and more than 6,500 international students from over 150 countries.
The India Institute was established in January 2018 and brings Birmingham and India closer together to deliver impactful research, create innovative education initiatives and extend the University's influence across the globe.
The University's relationship with India began in 1909 with the first cohort of Indian students attending the University to study for degrees in Mining and Commerce. Since then, the University has provided education to many outstanding Indian alumni.