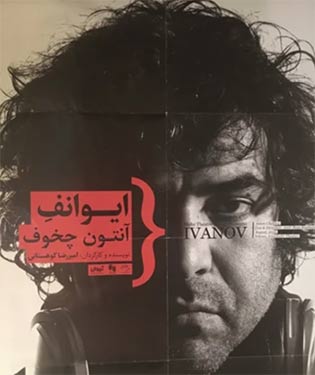 Rebecca Ruth Gould is the author of the poetry collection Cityscapes (2019) and the award-winning monograph Writers & Rebels (2016). She has translated many books from Persian and Georgian, including After Tomorrow the Days Disappear (2016), The Death of Bagrat Zakharych and other Stories (2019), and High Tide of the Eyes (2019).
Gould was awarded the Asian Signature Prize for Best Translation for her co-translations of Indo-Persian poets (2020, with Kayvan Tahmasebian) and the Creative Writing New Zealand Flash Fiction Competition prize in 2019. The following essay, "Watching Chekhov in Tehran", was awarded runner-up the 2020 Beechmore Books Arts Journalism Competition.
At thirty-five, Ivanov feels aged beyond his years. He is torn apart by his own paralysis. His wife is dying. He is deeply in debt. Revolution is in the air and on everyone's lips. Ivanov meanwhile cannot decide what to do, either with himself or with his world. He used to love his wife, yet does nothing to prevent her from dying. Mainly, Ivanov's problem is that he doesn't know what he wants. He is paralyzed by his own apathy. He is the stereotypical intellectual, the superfluous man of nineteenth century Russian literature in an age that has no use for intellectuals. Such is the plot of Anton Chekhov's first commercially successful play, Ivanov (1887). It has more global appeal than this casual summary suggests.
Although set in nineteenth century Russia, Ivanov, has had a profound resonance in twenty-first century Tehran thanks to Iranian playwright Amir Koohestani (b. 1978). Staged in Tehran in 2011 and 2016, Koohestani's Ivanov generated much interest among the theater-going public. Performances were sold out and reviews were overwhelmingly positive. I attended the production during a visit to Iran in 2016. Two weeks after watching Ivanov in Tehran, I saw an adaptation of Ivanov at London's National Theatre by playwright David Hare. Subsequently, I read each version, by Chekhov, Hare, and Koohestani, respectively, in their original languages, and was struck by the radical differences between each story, particularly in regards to gender.
Chekhov's Ivanov exists in two versions. The first, performed in 1887, was widely reviled as a "disgusting mess" in early reviews. A second heavily revised version was performed in 1889 to great acclaim. Unlike many productions, including Hare's, Koohestani does not follow the second version of the play, which ends with Ivanov committing suicide. Instead, he takes his cue from the first version, in which Ivanov dies of a heart attack on his wedding day. On that basis, Koohestani crafts his own dénouement, and concludes without any deaths. Ivanov's suicide has been criticized as clichéd and melodramatic, but the decision to dispense with it entirely represents a bold departure from the canonical version.
Alongside Tartuffe and Don Quixote, Chekhov's play exists in an intertextual relationship with another figure from world literature who symbolizes futility: Hamlet. Ivanov invokes Hamlet on two occasions during his conversations with Sasha, a young woman with whom he has begun a surreptitious love affair while his wife Anna approaches death. In Chekhov's text (and Hare's version), she is dying from tuberculosis, an archetypal nineteenth century disease. Koohestani assigns her the contemporary equivalent: cancer. To Sasha's insistence that "love alone can help you," Ivanov replies by focusing on his self-contempt. "There are men," he says, "I've met them, men who long to be Hamlet, it's all they want, to play the outsider, the superfluous man. To them it's glamorous…To me, it's failure." In the final act, just before he kills himself, Ivanov returns to the same theme in his conversation with Sasha: "We've been acting. I've been playing Hamlet and you've been playing the missionary…Performance over!" Although education sets such modern Hamlets apart from their surroundings, it also leads them into a condition of hopelessness. In a lengthy monologue, Ivanov laments: "I spend days and nights in idleness, in doing-nothingness, my mind, my body in permanent revolt…I have no hope, no expectation. My sense of tomorrow is gone." He then laments his lost love for his wife, and his indifference to her illness.
While the men in Ivanov are listless and unproductive, the women also operate in a context of limited life options. Yet, it is in the domain of women's agency that the Iranian version diverges most sharply from its Russian and British counterparts. Strong though she is, the Russian-British Sasha can only envision living for love. The Iranian Sasha rejects this gendered paradigm. The Russian-British Sasha declares to Ivanov her readiness to sacrifice everything for love. "For men, love is just how-are-you-darling?" the Russian-British Sasha declares, "It's just a stroll in the garden. One day, it will be a few tears at the graveside. But for us? No, it has to be life itself. If you climb a mountain, I'll climb with you. Jump over the cliff: I'll jump." Sasha gives voice to a kind of strength in these words, but hers is a stereotypically feminine strength that has been coercively aligned with weakness. Even her father perceives the limitations of Sasha's proposed sacrifice. When Sasha insists that it is her "job in life" to understand Ivanov, her father retorts: "That's not a calling. It's a prison sentence."
In rejecting the second version which ends in Ivanov's suicide, Koohestani clears a space for a different, uniquely Iranian, Sasha. As a result of the changed plot, the concluding drama is given over to Sasha in the Iranian version, not to the lackluster Ivanov. Once it has been determined that they will not marry, Ivanov asks Sasha where she plans to go. Evading his quest for specifics, she states that she is leaving generally. Unsatisfied, Ivanov probes further. He asks her whether she is leaving "this home, this city, or this country." Sasha responds elliptically to Ivanov's interrogation. "Away from you," she says simply to Ivanov's repeated entreaties. Sasha repeats this phrase a few minutes later, and the play draws to a close. As the scene acquires momentum, the Iranian Sasha becomes the star of the play.
As the curtain fell at the end of the performance I attended in the summer of 2016, the audience erupted in a standing ovation. As Koohestani has emphasized repeatedly in interviews, his Ivanov was composed in the shadow of the suppressed Green Movement that aimed to democratize Iran in 2009, in part by focusing on women's rights. While neither the playwright nor the audience could rewrite the script of Iranian political history in a single performance, they could rewrite Chekhov, and in doing so, outline a path for women's liberation.
Image: Playbill for Koohestani's production of Chekhov's Ivanov (2016).