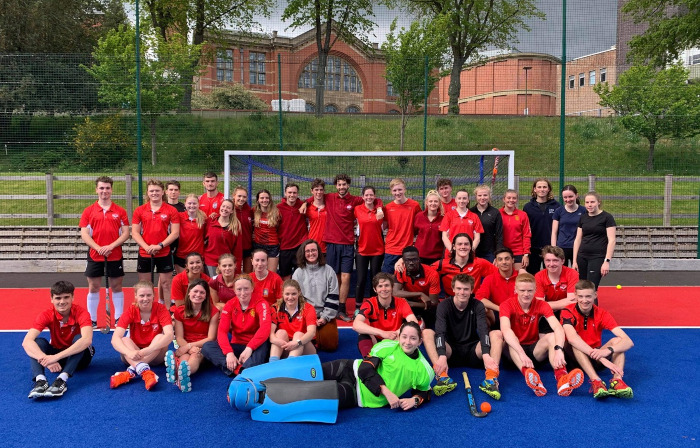 Engineering Eagles is one of the largest Campus League clubs across the University, fielding three full-sided hockey teams in a number of friendly matches between the other college clubs every Sunday afternoon. After an incredible recruitment in September we decided to introduce a third team thanks to the high demand to be a part of our Club, and it has been a huge success so far!
There are two hockey divisions in the Campus League and we have our A and B teams in Division 1, and the newly formed Cs in Division 2. The first round of the League saw the Bs and Cs both winning their prospective divisions, meaning the Cs were promoted for their first ever term! A big win for all and even bigger celebrations are pending. The As also finished-mid table so also deserve an honourable mention.
The second round of matches saw the opposition up their game as they now knew what they were up against. Unfortunately, the As and Cs were both sadly relegated from the top division, but the Bs are just about holding onto their spot in the higher league. However, we have not let this stop us and we are all looking forward to a hopefully more relaxed league to put some more wins away when our Sunday matches start again in February.
Our Club is not just about the hockey; we're also about the socials and friendships we create. We aim to have a social at least every other week and so far these have ranged from bowling to bingo, and of course the Guild's notorious Fab 'N' Fresh. We held our annual Christmas dinner and almost filled the venue thanks to such a strong turn out from all members, and great fun was had by all!
The Club is open to all abilities; we have members who have never picked up a hockey stick before, right up to more seasoned experts. We cater for everyone and our teams are a full mix of each type of player. We're always looking for more people to join and they are always welcome! We train every Thursday from 5-6pm with matches every Sunday. Give us a follow on Facebook and Instagram, and message us to join. The more the merrier!
Engineering Eagles
To find out more about Eagles Hockey visit their website www.birmingham.ac.uk/eps/eagles.
There are 41 student groups in the College of Engineering and Physical Sciences. To learn more about their projects and activities head to www.birmingham.ac.uk/eps-societies.