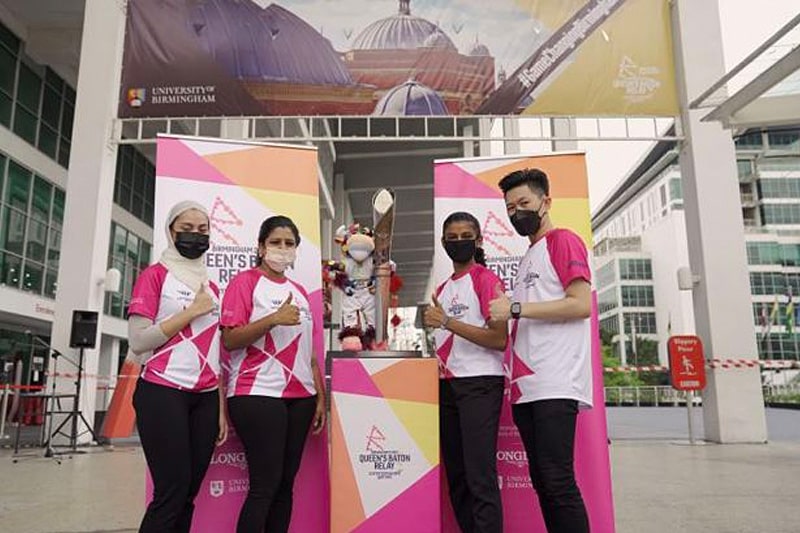 Four Batonbearers selected by the University of Birmingham marked the Birmingham 2022 Queen's Baton Relay arrival in Malaysia.
The Batonbearers ran with the Baton across the Taylor's University campus in Subang Jaya, before presenting it to British Deputy High Commissioner to Malaysia, David Thomas, in a special ceremony.
The four Batonbearers selected by the University of Birmingham were:
Nicholas Lim Chun Keat – First-year student from Taylor's School of Computer Science and Engineering
Zara Basyirah Binti Md Shah – Final year student studying BSc Software Engineering from Taylor's School of Computer Science and Engineering
Shahmalarani Chandran – Alumna of Taylor's business school, national karate athlete and martial arts professional
Liza Vadivelu – University of Birmingham's Malaysia-based recruitment and partnership specialist
The event was held in partnership with Taylor's University – Birmingham's partner campus in Malaysia – and celebrated the arrival in Malaysia of the Birmingham 2022 Queen's Baton Relay, of which the University is an official partner.
British Deputy High Commissioner to Malaysia, David Thomas, commented: "The UK and Malaysia share strong and deep relations across all areas including education. With Birmingham 2022 and the Queen's Baton Relay, I am pleased to see this connection continues to be strengthened through sports."
Speaking about the Baton's arrival in Malaysia, Professor Adam Tickell, Vice-Chancellor at the University of Birmingham commented: "The University of Birmingham is a civic university with a global outlook. Our Commonwealth connections are deep and wide-ranging, particularly in Malaysia, where we have engaged for many decades in education and research partnerships.
"Sport is a unifying force and, as part of our commitment to supporting the Birmingham 2022 Commonwealth Games, we are holding a series of academic, student and partner events in Commonwealth countries to coincide with the Queen's Baton Relay visit.
"I am delighted that we can hold these exciting events, focussing on how we work collaboratively with research and education partners to tackle global challenges and help improve the quality of life for people in Malaysia and beyond."
Taylor's University Deputy Vice Chancellor and Chief Academic Officer said: "We have the great honour to host a part of the Malaysian leg of the Queen's Baton Relay today because of our longstanding partnership with the University of Birmingham.
"Both Taylor's and the University of Birmingham are part of the "Global Alliance Challenge" to focus joint expertise on finding global engineering solutions to challenges the world faces. We are aligned and committed towards the goal of sustainability and using the knowledge, technology, network and innovation of engineers to work towards social, environmental and economic impact.
"Making an impact is ingrained in our Taylor'sphere ecosystem, as our students are nurtured in their intellectual, practical and creative intelligences to have the capability to create better futures and find solutions to problems they see in society."
The University of Birmingham's environmental scientists have helped create a hi-tech 'heart' for the Queen's Baton, which contains atmospheric sensors with laser technology that analyses the environmental conditions wherever it is in the world. Augmented Reality (AR) will be used to visualise creatively data captured throughout the journey to invite conversations around air quality across the Commonwealth.
Data collected on the Baton's journey will contribute to ongoing research projects being conducted across the globe by a team led by University of Birmingham atmospheric scientist Professor Francis Pope who said: "Atmospheric data captured during the Baton's global journey will be highly valuable in starting important conversations around air quality across the Commonwealth."
The Queen's Baton Relay events are underpinned by Commonwealth-wide celebrations for staff, students and alumni and the #gamechangingbirmingham campaign.
On the same day, the University of Birmingham and Taylor's University experts as well as Malaysian and British industry leaders led a high-profile roundtable exploring how sustainable engineering can help to solve global challenges affecting the people of Malaysia and beyond.
Chaired by Professor Stephen Jarvis, Head of the College of Engineering at the University of Birmingham, the panel discussed the economic, environmental and social impact of sustainable engineering.
Professor Jarvis commented: "In the spirit of the Birmingham 2022 Queen's Baton Relay celebrating bringing people together, our roundtable with Taylor's University on sustainable engineering unites a range of experts to discuss how engineers can play a major role in tackling the global challenges faced by humanity."
Panellists included:
Gary Leeke, Professor of Chemical Engineering, University of Birmingham (Keynote)
Associate Prof Dr. Chockalingam Aravind, Taylor's University (Keynote)
Mr Chris Eng, Chief Strategy Officer at Etiqa Insurance and Takaful, Malaysia (Keynote)
Duc Pham, Chance Professor of Engineering, University of Birmingham
Prof Xiao-Ping Zhang, Director of Smart Grid, Birmingham Energy Institute
Phil Kelly, Director, Head of Department, Sustainable Solutions from Ramboll, UK
Dr Mahaletchumy Arujanan, Executive Director of Malaysian Biotechnology Information Center (MABIC)
Dr Rob Deaves, Senior Principal Engineer, Dyson
For more information, please contact Tony Moran, International Communications Manager, University of Birmingham on +44 (0)782 783 2312. For out-of-hours enquiries, please call +44 (0) 7789 921 165.
The University of Birmingham is ranked amongst the world's top 100 institutions. Its work brings people from across the world to Birmingham, including researchers, teachers and more than 9,000 international students from over 150 countries.
The University has the most extensive education partnership of any Commonwealth Games and will host the athletes in its student accommodation, as well as providing a venue for hockey and squash.
The University of Birmingham has a long history of welcoming students from Malaysia. There are currently over 230 students from Malaysia studying with the University and over 3,000 alumni in Malaysia. Each year, the University receives a cohort of direct entry students from Taylor's University to study UG programmes at Birmingham, mainly in the College of Engineering and Physical Science.
Taylor's University is Malaysia's leading private university in the QS Graduate Employability Rankings 2022, ranking 16th in the world for the Graduate Employment Rate indicator. Taylor's University is the No. 1 private university in Malaysia and Southeast Asia, ranked #332 in the QS World University Rankings 2022. This ranking places the university among the top 1.1% of global universities. Additionally, the university is ranked at no. 53 in Asia in the QS Asia University Rankings 2022 exercise.
The Queen's Baton Relay is a Games tradition that celebrates, connects and excites communities from across the Commonwealth nations during the build up to the Games.
Birmingham 2022 is staging the 16th official Queen's Baton Relay – an epic journey across the Commonwealth, with The Queen's Baton visiting all 72 nations and territories, reaching Europe, Africa, Asia, Oceania, the Caribbean and the Americas.
The Relay began on 7 October 2021 at a special event at Buckingham Palace, where Her Majesty Queen Elizabeth II placed Her message to the Commonwealth into the Baton.
The Baton will travel for 294 days, visiting all 72 nations and territories and connecting communities in every corner of the Commonwealth, embracing unique cultures and sharing stories. 
This collective journey will ignite hope, solidarity and collaboration for the next generation, with these stories leaving us all inspired to take on the challenges that matter most to us. 
The Birmingham 2022 Commonwealth Games, which will be held from 28 July until 8 August 2022, will be a major opportunity to feature the city, the region, and its people on the global stage.   
The Games is already proving to be a catalyst for transformation across the West Midlands, attracting new investment and funding, creating jobs and apprenticeships for local people and new opportunities for local businesses, as well as accelerating projects that will ensure the region is ready to host a fantastic sports and cultural celebration.   
Birmingham 2022 will be the Games for everyone, bringing people together from across Birmingham and the region, to provide a warm welcome to millions of visitors during the summer of 2022.