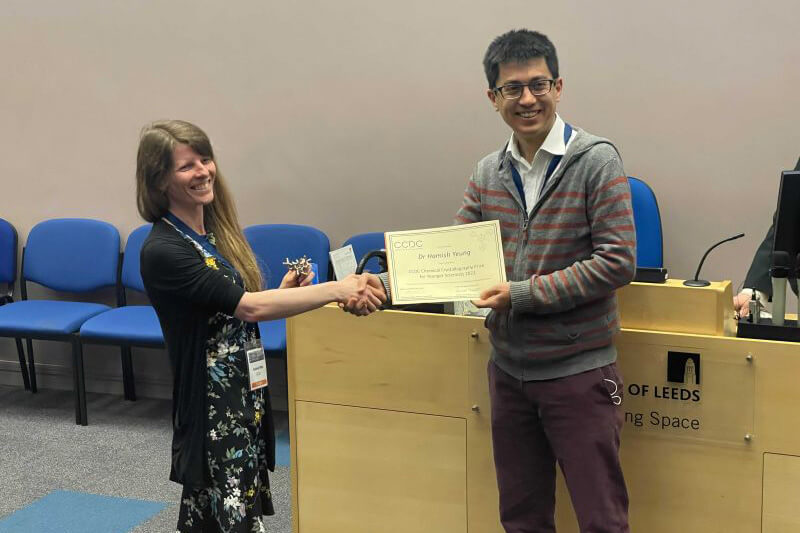 Dr Yeung was presented with the prize at the spring meeting of the British Crystallography Association (BCA) for his work on understanding the formation of functional materials, known as metal–organic frameworks.
His work focuses on studying the formation and behaviour of materials for energy and storage, electronics and sensing. His research group uses experimental techniques to understand how materials adapt and evolve during synthesis and when exposed to extreme conditions.
"I feel extremely honoured to be recognised for my work and to be associated with so many excellent and inspiring past prize winners. I'd had the privilege of working with so many amazing people throughout my career to date and this prize is testament to the global community of scientists that I'm fortunate to be a part of. It's great that research on understanding the crystallization of metal–organic frameworks has been recognised in this way. In the past, the structures and properties of these intriguing materials have rightly taken centre-stage but what's exciting now is that we have the tools to reveal how they form. My hope is that this will lead to new designer materials and scientific understanding that will go on to benefit the world around us."

Dr Hamish Yeung, Lecturer in Materials Science, University of Birmingham
The CCDC is a non-profit, charitable institution focused on the advancement & promotion of chemistry & crystallography.
Discover more
"Single-step synthesis and interface tuning of core–shell metal–organic framework nanoparticles" K. W. P. Orr, S. M. Collins, E. M. Reynolds, F. Nightingale, H. Boström, S. J. Cassidy, D. Dawson, S. E. Ashbrook, O. V. Magdysyuk, P. A. Midgley, A. L. Goodwin, H. H.-M. Yeung.
Chemical Science 2021, 12, 4494–4502.