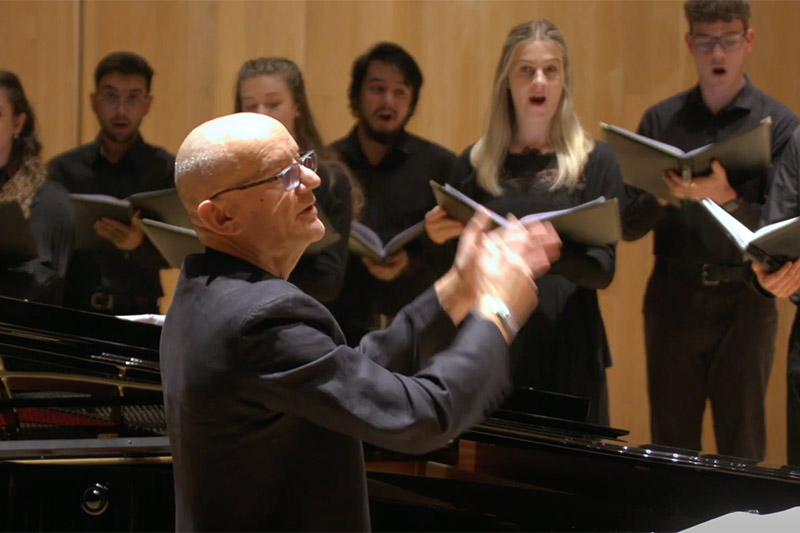 Under the baton of the composer himself, Birmingham University Singers performed the new piece, specially commissioned for the choir by Professor Simon Halsey, to critical acclaim. The Pear Tree Carol, with music set to words by Charles Bennett, explores the themes of rebirth and renewal in the style of a 15th century carol, and will be published by Oxford University Press in mid-2022.
Bob Chilcott has enjoyed a lifelong association with choral music, first as a chorister and choral scholar in the choir of King's College, Cambridge, and for 12 years as a member of the King's Singers. He became a full-time composer in 1997, embracing his career with energy and commitment, and producing a large catalogue of music for all types of choirs which is published by OUP. In October 2019 he took up a new role as Principal Conductor of Birmingham University Singers.
Birmingham University Singers is a mixed chamber choir of up to 45 auditioned singers from across the University campus. Since its inception, the choir has gained a national reputation as one of the finest university choirs in the UK. In recent years BUS has sung in Tewkesbury Abbey, Worcester, Gloucester, Oxford Cathedral's, Clare College (Cambridge), the Royal Albert Hall, and Llangollen International Music Eisteddfod. The choir has also developed a noted international reputation, having given concerts in Germany, Czech Republic, and Poland.
University Music provides the University of Birmingham with one of the liveliest music-making scenes of any campus. With around 1500 positions available in our 35-plus ensembles, members participate in a variety of instrumental and vocal groups, across a range of abilities and styles. University Music is open to students, staff, and the local community, and provides participants with opportunities for professional coaching, exceptional concerts, as well as the chance to apply for yearly scholarships. To find out more, please visit our website.