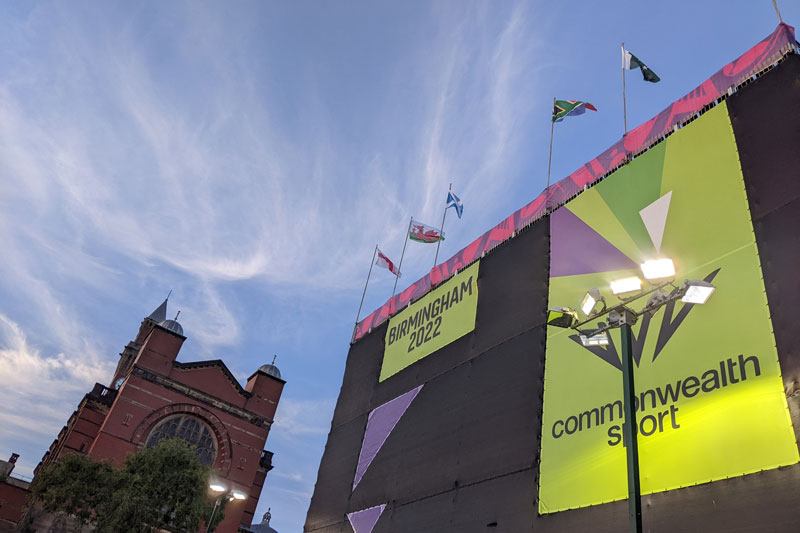 Birmingham said farewell to the Commonwealth Games last week, after eleven days that saw the city buzzing with positivity. For staff in the Department of Film & Creative Writing, our enjoyment of these sun-soaked events didn't stop at spectatorship, as each day brought a new social media post where we delighted in seeing both current students and alumni sharing their experiences as members of production teams, working to bring the sports action to TV screens around the world.
Five of our current MA Film & Television students received training as part of Sunset + Vine's Host Broadcast Training Initiative, going on to work across events including the hockey and athletics. The initiative aimed to provide a unique development opportunity for local talent and it's clear that this was a resounding success. Meanwhile, at least six alumni from various cohorts took on roles with companies including Progress Productions and DRPG, ranging from Production Coordinator and Floor Manager to Camera Assistant.
Here are a few of their personal highlights:
Lanna Cowles (current student) – Floor Manager, Hockey at University of Birmingham
'I could not have asked for a more rewarding opportunity, particularly as I was on the field of play and right by all the action of my favourite sport! Not only did I floor manage my own hockey matches but I was able to experience all aspects of the broadcast, from camera operating to producing. And what better place to have it than on the grounds of UoB!'
Ashleigh Archer (2021) – Assistant Camera Operator, Squash at University of Birmingham.
'Overall, I thoroughly enjoyed my experience working at the Commonwealth Games. It's a once-in-a-lifetime opportunity and I'm glad I decided to stay in Birmingham post-graduation otherwise this opportunity wouldn't have arisen. I have learnt so much over the last couple of weeks working with such a great team. I was offered constant support and encouragement and taught many skills I will be able to take forward. I believe that this was a step in the right direction for me and my career goals; so hopefully this is just the beginning! I am forever grateful.'
Lucy Clark (2021) – Support Services Manager, Coventry Stadium and Arena
'I work full time as a Production Coordinator on the Rugby Sevens Series for Sunset+Vine, who were the host broadcasters of the event. During the Games, my role was the Support Services Manager for Coventry Stadium and Arena, which was essentially the Production Coordinator role but on multiple sports at the same venue (sorting transport, accommodation, catering, crew welfare etc). The sports I worked on were the Rugby Sevens, and also the Judo and the Wrestling. Being able to work on sports like these, that I may well never work on again (or at least for another two to four years) was a really cool experience and it was good to learn about the different set-ups for the venue but also the broadcast itself. It was a challenging (and knackering) role, as we had to prepare for the Judo and Wrestling whilst the Sevens events were happening, but it was so rewarding to work on a large-scale event in an area of the UK I just love!'
Millie Brooks (current student) – Clipper
'During the Games I worked as a clipper, which involved clipping out the important footage and moments to then be used in later edits, on social media, sent to specific countries for requests, etc. I worked on almost all of the sports as it would change each day. My experience was extremely positive as I gained a greater love for sport and have fallen in love with live television production. If I had the opportunity to do something like this again, I would jump at the chance. Even though it was a daunting task at first, it quickly became a routine and was great to be surrounded by the action and by hundreds of people in so many different roles.'
Danny Roberts (2021) – Floor Manager, Hockey at University of Birmingham
'Coming back to UOB to work as a floor manager on the hockey was a very special experience. I feel very proud to have developed a new skillset and made some incredible connections - all while spending each day looking up at Old Joe!'