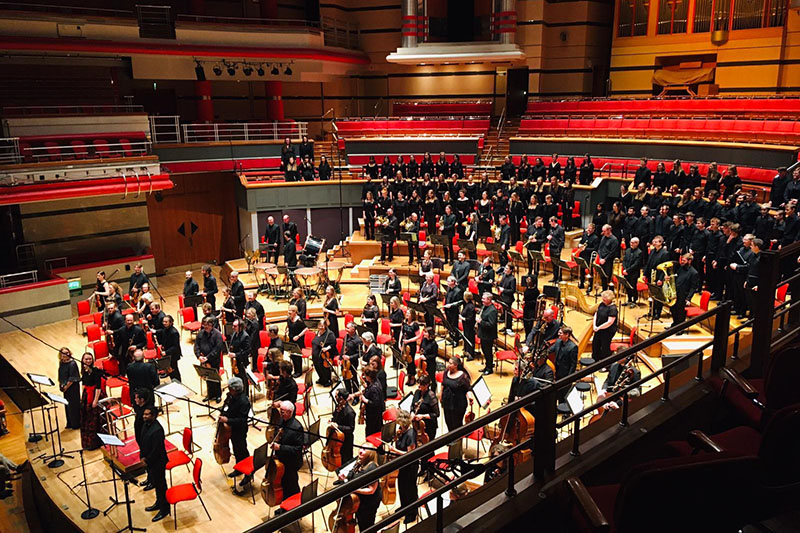 The performance of Charles Villiers Stanford's forgotten late-Victorian masterpiece, marking 125 years since the premiere of the Requiem at the Birmingham Triennial Festival, featured a number of international soloists alongside Brabbins – including Carolyn Sampson and Marta Fontanal-Simmons (both Birmingham alumni), with James Way and Ross Ramgobin.
Made possible through a generous gift from Professor Sir David Eastwood (Vice Chancellor of the University until December 2021), the collaboration also featured an enlightening pre-concert talk from leading Birmingham academic, Dr Paul Rodmell, who explored the relationship between the composer and the festival for whom the Requiem was commissioned.
Prepared by Chorus Masters, Professor Simon Halsey CBE and Julian Wilkins, University of Birmingham Voices accepted the invitation to perform following a number of critically acclaimed recent programmes with the Orchestra, including a concert production of Gilbert & Sullivan's The Yeomen of the Guard in 2017, as well as a celebrated joint performance with CBSO Chorus of William Walton's Belshazzar's Feast in 2019. Most recently, the choir marked the centenary year of the CBSO in January 2020 with a massed performance of Mahler's Symphony No. 8 ("Symphony of a Thousand") alongside CBSO Chorus and Baltimore Choral Arts. Rehearsed following the conclusion of the academic year, the performance engaged students across a range of colleges and schools from the University campus.
Choirs are an important part of University Music in Birmingham, and offer unrivalled opportunities for young singers at any university in the UK. For more information, or if you would like to find out more about choirs at University of Birmingham, please contact the University Music and Concerts Team (universitymusichub@contacts.bham.ac.uk).