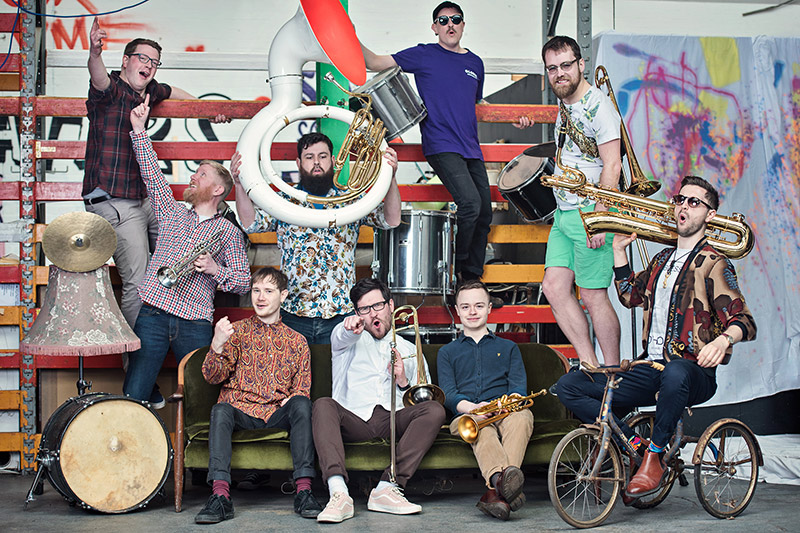 Starting in the University enrichment week, we welcome the group - brimming with jazz-rock energy - to lead a new residency series of rehearsals and workshops, culminating in a collaborative performance at the Summer Festival of Music in June 2022.
As part of the University's Jazz provision, the residency will provide an opportunity for students to work closely with professional jazz musicians to create new music and perform in this unique and unorthodox band setup. Students will also be able to develop their improvisation, composition, and performance skills in a raucous and rocky environment, which focusses on creativity and interaction with all involved. The project will culminate with performance of brand-new compositions written by students for students, improvising in collaboration with Young Pilgrims.
University Music provides the University of Birmingham with one of the liveliest music-making scenes of any campus. With around 1500 positions available in our 35-plus ensembles, members participate in a variety of instrumental and vocal groups, across a range of abilities and styles. University Music is open to students, staff, and the local community, and provides participants with opportunities for professional coaching, exceptional concerts, as well as the chance to apply for yearly scholarships. To find out more, please visit our website.
Young Pilgrims
Growing out of the thriving Birmingham jazz scene, Young Pilgrims have found themselves drawing fans from across Europe and beyond with their intense live performances - from beer-soaked dance floors to London's South Bank, the Paris Jazz Festival to Love Supreme Festival. The Pilgrims' adventurous brass-heavy, rock-influenced sound is brought together by their explosive nine-strong line-up, featuring trumpets and trombones alongside the baritone sax, sousaphone and two drummers driving the band's high-energy rhythmic groove.