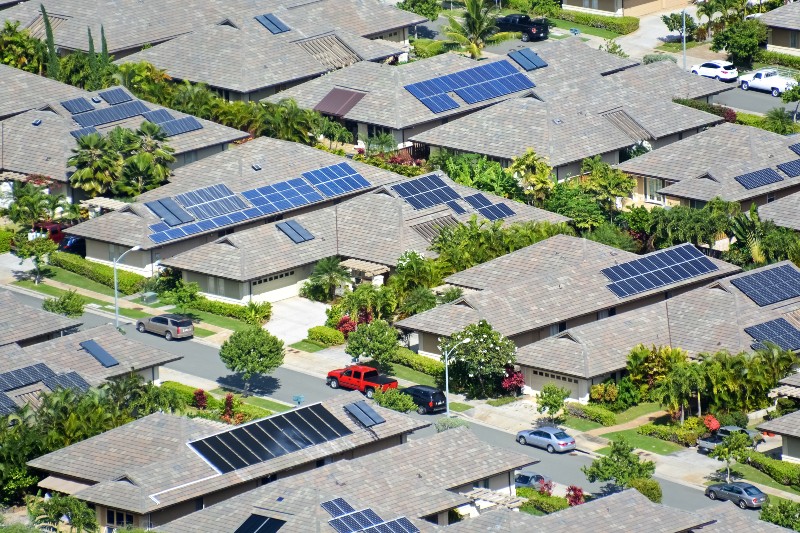 In a new report, led by the University of Birmingham, energy experts have called for decision-making on heat decarbonisation to be devolved to regional governments.
The Policy Commission report "Pathways to Local Heat Delivery", was launched in Birmingham, following a Parliamentary launch for MPs. The report also emphasises the need to balance these on-the-ground local decisions with long-term policy decisions from Government. This long-term view includes a recommendation for three pathfinder projects, funded by the Government, that will decarbonise 30,000 homes in the next five years.
East Birmingham, comprising Small Heath, Tyseley and Hodge Hill, largely mirrors the national housing stock in terms of different types and building ages, so could be an ideal site for one of the projects, say the report's authors. The area also has significant facilities for energy production and large, untapped waste heat facilities at Tyseley Energy Park.
As a leading light in the green industrial revolution that will shape this century, the West Midlands has the leadership, ingenuity, and spirit of collaboration required to develop the winning solutions we need.

Andy Street, Mayor of the West Midlands
Professor Martin Freer, Director of the Birmingham Energy Institute, said: "The Government needs to invest in these large projects to learn how to retrofit and decarbonise neighbourhoods at scale. The way to find out how to do that is to start doing it. At some point we have to commit – that time is now."
The combined authority, local councils and universities, including the University of Birmingham, are all pursuing clean heat projects which could fit within the pathfinder.
Andy Street, Mayor of the West Midlands, said: "A key part of my mayoral mission has been a clear commitment to our ambitious #WM2041 target to become a net zero region by 2041 - improving quality of life for local residents.

"Heat policy - including making our domestic heat provision cleaner and more energy efficient - will play an important role in helping us to tackle the climate emergency. It is a policy field well suited to a close working partnership between regional authorities and central government.
"As a leading light in the green industrial revolution that will shape this century, the West Midlands has the leadership, ingenuity, and spirit of collaboration required to develop the winning solutions we need."
Cllr Ian Courts, West Midlands Combined Authority portfolio holder for environment and energy, Leader of Solihull Council, said: "Investing in real-world research is key to developing the new technologies we need to tackle climate change. I welcome the report and support its recommendations. In Solihull we are progressing a project to deliver affordable low carbon energy to the town centre and will soon be retro-fitting homes in Solihull and Coventry as part of a Government-funded trial.
"We need the policies and commitment from partners and Government to expand this work at scale and to make better use of all existing and new technologies. Councils are best placed to engage with local communities and businesses to maximise the benefits of a low carbon future and to ensure we adapt our solutions to the needs of our diverse communities and differing business environments we serve."
Amid rising energy costs and worsening fuel poverty, the report sends a timely reminder that clean technologies are already available that could move homeowners and businesses away from fossil fuels.
To implement them successfully, however, will require a clear strategy backed by sufficient investment. And at the heart of that should be statutory targets for local authorities backed by resources to map existing technologies and engage with local communities.
The report was led by researchers at the University's Birmingham Energy Institute in collaboration with the Energy Research Accelerator. It was chaired by Sir John Armitt, chairman of the UK's National Infrastructure Commission.
"British policy on heat decarbonisation needs a reset," said Sir John. "The keys to this are simplicity, place and funding. Low carbon-heat is an inherently local challenge, with decisions about technologies and infrastructure varying by neighbourhood. It makes sense that councils lead this process.
"At the same time, the national approach has grown too complicated and needs streamlining. Again, the way to do this is by devolving decision-making to local governments."
The report also includes a set of recommendations on thermal efficiency, including proposals to overhaul both the way thermal efficiency is calculated, and the system of grants and loans available.
"Getting on with efficiency improvements regardless of a 'final heat solution' is a no regrets move which will create jobs and reduce demand. To implement this, we need simple policy and support mechanisms," added Sir John.
Other recommendations made within the report include:
Set clear targets for clean heat, for example: 'The sale of natural gas boilers will be banned in the UK by 2035
Move environmental policy costs from energy bills into general taxation. This will help alleviate fuel poverty and also bring the cost of clean heat closer to that of a conventional boiler.
Reform the power markets so the benefits of low-cost renewables can be passed on to consumers
Increase investment in low carbon heat and simplify the funding schemes available.
Reform Energy Performance Certificate ratings on buildings so they reflect thermal efficiency as measured, not modelled and make this mandatory for all property sales.
Create a new National Centre for the Decarbonisation of Heat to drive innovation and create a much-needed skills pipeline to deliver and maintain new heat technologies.
Polly Billington, Chief Executive of UK100, said: "This report couldn't be more timely. Amidst an energy price crisis that shows no sign of letting up, we need to have a frank discussion about one of the biggest issues keeping us shackled to the volatile international gas markets. That issue is Britain's draughty homes, almost invariably heated, inefficiently and expensively, by fossil-fuelled boilers."

"The recent windfall tax-funded energy bill grants are welcome, but they are a short-term sticking plaster. To stop throwing good money after bad, the Government needs to take heed of this report and support people to lower their bills in the long term. That means boosting support for a nationwide, locally-led programme to upgrade our leaky homes while accelerating the transition from gas boilers to clean heating."

"Not only will this help bring down household energy bills, but it will also drive progress toward our Net Zero targets. After all, the cheapest and cleanest energy is the energy we don't use."

"And, as this report makes clear, local and regional leaders up and down the country are best placed to deliver these changes quickly and cost-effectively."
Sustainable energy provider E.ON is supporting a project by the University of Birmingham to create a National Centre for the Decarbonisation of Heat, which aims of create a central hub for training and education in low-carbon heating and renewable energy in the West Midlands. The centre would support ongoing training and development on decarbonising the area, as well as improving the homes of fuel poor customers, by introducing new technologies and educating people on how they can reduce their energy costs.
Michael Lewis, Chief Executive of E.ON UK, said: "Greening our economy is the solution to our economic and energy issues now and for the long term, and the decisions we take in the next few years will determine our ability to meet 2050 zero carbon targets.
"This report calls out the need for key reforms which are essential for decarbonising whole communities and supporting the transition to zero carbon. It's vital we take communities on this journey, to educate them on these new technologies and overcome any barriers we face. Allied to that, a new National Centre will support local employment and provide many of the heat pump engineers we need to scale up this important sector."
Sir John concludes: "The challenge is that over the next 25 years we have to change our heating systems in 24 million homes. That can only be done with clear policies and local planning and delivery. The next five years are critical to developing a full understanding of technologies and networks."