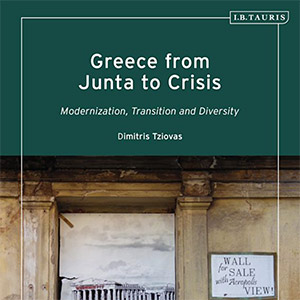 Congratulations to our Emeritus Professor Dimitris Tziovas, whose book Greece from Junta to Crisis: Modernization, Transition and Diversity has been longlisted for the prestigious Runciman Award.
The Runciman Award rewards the best book published in the previous year in English about Greece or on a Greek subject. The Award is open to scholarly and creative books and to translations into English of Greek literary works.
The recent economic crisis in Greece has triggered national self-reflection and prompted a re-examination of the political and cultural developments in the country since 1974. While many other books have investigated the politics and economics of this transition, this study turns its attention to the cultural aspects of post-dictatorship Greece. By problematizing the notion of modernization, it analyzes socio-cultural trends in the years between the fall of the junta and the economic crisis, highlighting the growing diversity and cultural ambivalence of Greek society.

With its focus on issues such as identity, antiquity, religion, language, literature, media, cinema, youth, gender and sexuality, this study is one of the first to examine cultural trends in Greece over the last fifty years. Aiming for a more nuanced understanding of recent history, the study offers a fresh perspective on current problems.