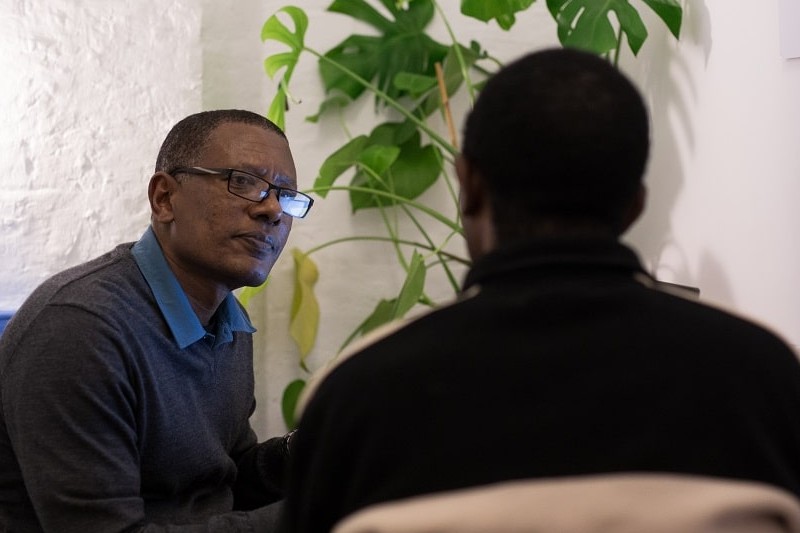 A new report by the humanitarian medical organisation Doctors of the World and the University of Birmingham details how the Home Office's new asylum accommodation plan leaves people seeking safety without medical care.
Researchers at the Institute for Research into Superdiversity and the Institute of Applied Health Research at the University of Birmingham found how the policy of housing asylum seekers in initial and contingency accommodation is unsafe for asylum seekers due to the lack of access to adequate and appropriate healthcare including people with acute conditions not getting timely urgent care.
The report, drawn from evidence and medical data of DOTW's work providing medical care to people in initial and contingency accommodation such as Napier Barracks, demonstrates the unsuitability of a model of accommodation that has been hailed as a prototype for the upcoming Nationality and Borders Bill currently going through Parliament.
Key findings:
Accommodation conditions were not meeting basic human standards which contributed to poor health. This included poor food, access to basic sanitary products, inability to store medication or have professionals visit to provide care.
People reported a significant mental health impact of the loneliness, isolation and feelings of being imprisoned engendered by the conditions.
Many people required intensive support to access and navigate the system which often took weeks/months thus delaying access to care.
People were unable to get prescriptions, medical care for pregnancy and children, referrals to specialists and ongoing support for medical conditions both chronic and acute.
People did not know how to get and pay for medication they were prescribed.• No access to health professional led information or support left to navigate the system with advice from hotel staff who often provide poor info/support, no covid information in languages or left to rely on NGOs like DOTW who have to fight hard to navigate the system with them.
Lack of access to timely and continuous care meant people were left without treatment and were left to suffer on their own.
The evidence in this report shows that institutional accommodation is unsafe for asylum seekers due to the lack of access to adequate and appropriate healthcare services and the nature and conditions risk causing harm to health directly.
The model of accommodation established with sites such as Napier Barracks has been defined as a 'quasi-detention' by the All-Party Parliamentary Group in Immigration Detention who following their visit to the site in February described it as "fundamentally unsuitable for use as asylum accommodation.
"The Bill will give power to the Secretary of State to indefinitely house people seeking asylum in these reception centres with the risk of creating a de-facto indefinite immigration detention system in the UK, with well documented impact on migrants psychological and physical wellbeing.
Under Priti Patel's plans to reform the asylum system the Home Office will develop more large scale asylum accommodation in remote areas where evidence shows access to medical care is extremely limited.
Dr Durga Sivasathiaseelan, Senior Lead for Outreach Services at Doctors of the World said: "It was shocking to realise that access to healthcare was not a priority when creating accommodation models for asylum seekers. I witnessed how this led to huge unmet health needs."The impossibility of receiving ongoing support for acute and chronic medical conditions or be unable to get prescriptions are just some of the many instances we saw on a day-to-day basis of people unable to access or receive adequate medical care. "Even more worrying was the realisation that people housed there did not have regular access to health information and were left to navigate the system on their own, lacking even up to dateCOVID-19 information in their community languages and having to rely on NGOs like DOTW who have to fight hard to navigate the system with them."
"The research highlights the inability of individuals to access adequate medical care or professional health information, and the striking mental health effects of housing people in such accommodation. "Key to improving access to healthcare for vulnerable asylum seekers is to build an asylum system in which people are housed in the communities that can enable meaningful access to full NHS care to meet health needs and provide continuity of care and decent living conditions.

Jenny Phillimore, Professor of Migration and Superdiversity
Anna Miller, Head of Policy and Advocacy at Doctors of the World said: "The report clearly shows that using old military barracks and large reception centres to accommodate people fleeing violence and conflict is both unsuitable and unethical."Sadly, plans to develop new military-style accommodation sites is only one of the many aspectsof the Nationality and Borders Bill currently going through Parliament which will cause lasting and profound harm to the health and wellbeing of people seeking sanctuary in the UK. "We urge the Government to have a full re-think its plans to reform the asylum system and to prioritise the health and wellbeing of people seeking sanctuary in the UK."