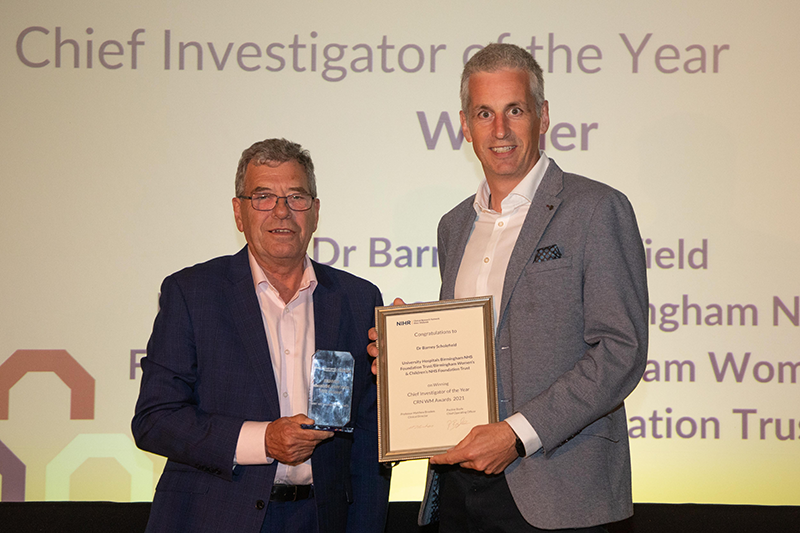 Dr Barney Scholefield, NIHR Clinician Scientist at the University of Birmingham and Honorary Consultant Paediatric Intensivist at Birmingham Children's Hospital, has been awarded Chief Investigator of the Year 2021 (announced June 2022).
The award was one of several announced at the NIHR Clinical Research Network (CRN) West Midlands' seventh Annual Awards in Birmingham where a wide range of clinical research in the West Midlands was celebrated.
The awards were presented to Partner Organisations in 10 categories including Team of the Year, Collaboration in Research, and Clinical Research Impact. CRN Staff were also presented with awards in 10 categories which included Leader of the Year, Creativity, and Good Citizen.
This award really reflects the amazing research teams at Birmingham Children's Hospital and University of Birmingham who make these clinical trials happen. Improving the lives of critically unwell children, through research, can't happen without this fantastic team.

Dr Barney Scholefield, Honorary Consultant Paediatric Intensivist at Birmingham Children's Hospital
The Network's Clinical Director Professor Matthew Brookes, one of the presenters of the Awards, said: 'During the pandemic he supported clinical practice on Paediatric ICU, coordinated UK involvement in Public Health COVID priority studies. He also led research to understand the emerging phenomenon of Paediatric Multisystem Inflammatory Syndrome, to international recognition.
Dr Scholefield is an accessible, responsible and humble CI who takes his responsibilities seriously and is instrumental in supporting the development of medics and Nurses and Allied Health Professionals with grants and clinical academic development.'
Dr Scholefield has also attributed the award to the families and children who had participated in his clinical trials, acknowledging their contribution to the wider success of the trials.
More about Medical and Dental Sciences