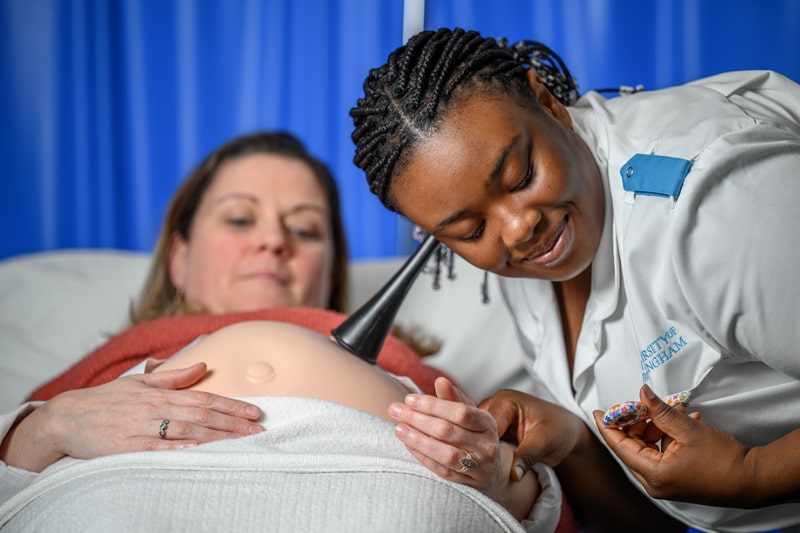 The course is launched in response to a call from Health Education England to support areas of NHS workforce shortage. Current workforce data shows that we need another 2000 midwives to ensure a safe, personalised maternity service and to achieve ambitions set out in the Better Births (2016) publication.
To address this shortfall, universities were asked to provide additional opportunities for the training of midwives.
The University's new programme, which has been developed in line with the Nursing and Midwifery Council (NMC) 2019 Standards for Midwifery, offers current registered adult nurses the ability to undertake a shortened two-year route into practising midwifery.
Being a midwife is highly rewarding but brings responsibility for ensuring that childbirth occurs in a safe and positive environment. Our new course is the ideal opportunity for current registered adult nurses to expand on their existing skills and knowledge by moving into the maternal care sector.

Professor Annie Topping, Head of the School of Nursing and Midwifery
Students will study and work alongside senior, experienced academics, researchers, clinical midwives, and experts in their fields exploring relevant issues to women, their families and newborns.
The University is uniquely placed in the West Midlands to offer high quality, effective placements that will help translate learning into practice. The University is a founding member of Birmingham Health Partners, a strategic alliance of five organisations who collaborate to bring healthcare innovations through to clinical application.
As identified in the recent Ockenden review, we need more midwives to run the service safely. They need to be highly skilled practitioners, and the University is very well placed to meet this need. This is a fantastic opportunity to join a rewarding profession much in need in the region and nationally. We look forward to welcoming our first cohort in September 2022.

Mrs Teresa Shalofsky, Associate Professor in Midwifery and Lead Midwife for Education
For media enquiries please contact the Press Office, University of Birmingham, tel: +44 (0)7813 343 348.
The University of Birmingham is ranked amongst the world's top 100 institutions. Its work brings people from across the world to Birmingham, including researchers, teachers and more than 6,500 international students from over 150 countries.
Ockenden review, Department of Health and Social Care, published 30 March 2022.