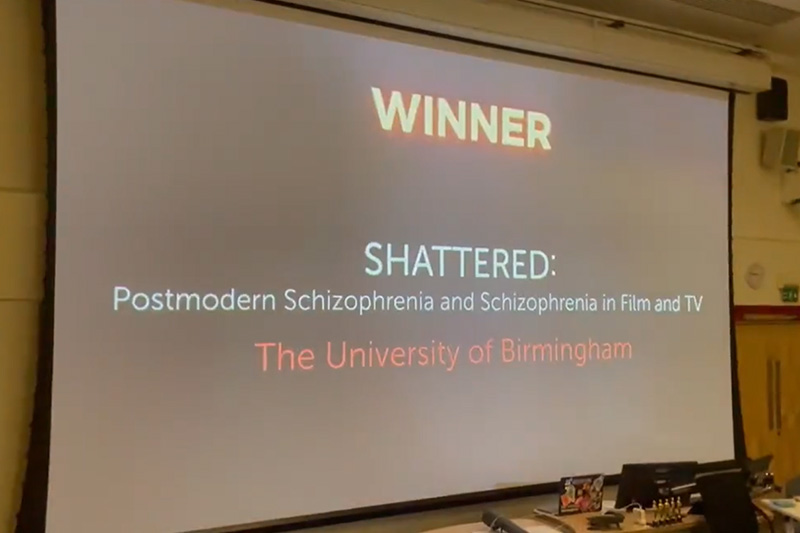 The Department of Film & Creative Writing is delighted to announce that an audio-visual dissertation produced by an MA Film and Television: Research and Production student has won a Learning on Screen Award. These awards showcase the best in educational film and television.
'Shattered': Postmodern Schizophrenia and Schizophrenia in Film and TV - A Desktop Documentary was made by Hugo Courtenay-Pinfield and won in the 'Creative Reuse' category.
It is the first time a University of Birmingham student has won a Learning on Screen Award, following a nomination for another MA Film & Television student in 2021.
This year five films from the Department were shortlisted for awards, reflecting all levels of study; from undergraduate to postgraduate research. We were especially proud that three of the four nominees in the Creative Reuse category were Birmingham students.
The awards ceremony was streamed live on YouTube and screened in The Carroll to an audience of staff, students and alumni, with excerpts from all nominated films forming part of the celebrations. In a pre-recorded acceptance speech, Hugo thanked Dr Richard Langley, Nina Jones, Jemma Penny and Mags Conway for their support.
Alongside Hugo, the other students from the department whose work was shortlisted were:
Creative Reuse Category
Oscar Mealia (Audio-Visual PhD)
Millie Brooks (BA English & Film)
Postgraduate Category
Ella Wright (MA Film & Television)
Documentary Category
Sylvie Baxter (MA Film & Television)
Congratulations to Hugo, Oscar, Millie, Ella and Sylvie for this thoroughly deserved recognition.