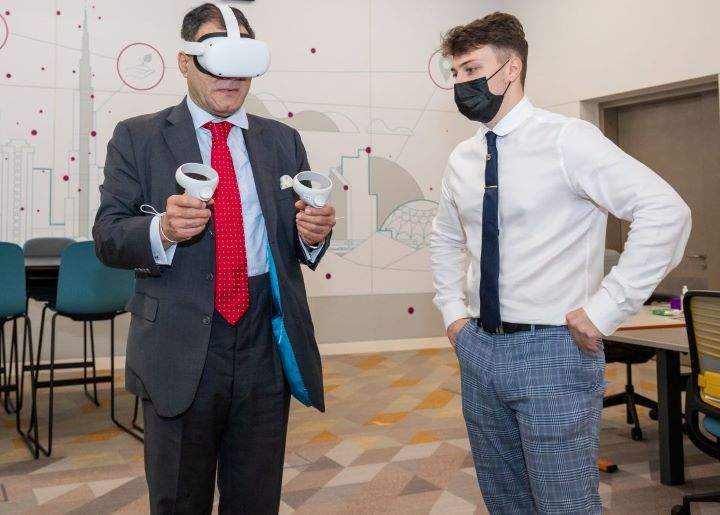 University of Birmingham MSc Computer Science graduate Andy Morrin founded his own tech business - Elmdon Studios, which was recently awarded a place on the University's UoB Elevate entrepreneurial support programme.
The University of Birmingham Dubai is creating the world's smartest university campus. In a business development that could be echoed by future Computer Studies graduates from the University of Birmingham Dubai, Andy won the opportunity to work with academics in the UAE and explore ways of enhancing teaching with VR and Augmented Reality (AR).
Andy and the team crafted four exciting, interactive lessons that bring the research of some of the University's Nobel Prize winners to life in both VR and AR. They took just six weeks to design and deliver a pilot product that demonstrates how immersive technology can enhance the student and staff experience.
The metaverse could transform the way we teach, learn and operate at a smart campus. Our collaboration with Elmdon Studios has created an exciting VR application that brings to life the work of four Birmingham Nobel Prize winners in an informative, engaging and fun way. We believe that this type of technology could transform teaching and learning at the University of Birmingham Dubai and we cannot wait to launch this application at the official opening ceremony in March.

Ben Bailey, Campus Director at the University of Birmingham Dubai
Having been awarded a place on UoB Elevate, Elmdon Studios has received a wealth of business support to help establish itself as a promising start-up with very strong digital capabilities in the VR/AR space.
Mo Ali, from the University's Careers Network, explains: "Dubai is the most entrepreneurial place on Earth and the University of Birmingham thrives on innovation to make important things happen. Whether in the UK or the UAE, we support our talented graduates, like Andy, and help them demonstrate their ingenuity to make the world a better and more connected place.
"There is a constant exchange of University of Birmingham students, staff and ideas between Dubai and the UK, I have no doubt that this will lead to many more important things happening, shaping the future in a positive way."
The pilot will be showcased at the official opening of the new University of Birmingham Dubai campus next month. The system has been designed to engage people with an interest in research, teaching, learning and general student experience.
The application is spilt into two sections:
Four six-minute lessons designed to educate users on the research achievements of four Nobel Prize Winners and their work.
A fun, game-type experience in which the user has 60 seconds to knock down as many targets as possible by grabbing and throwing a number of balls. This type of experience will be ideal for open days and recruitment style activities.
Andy Morrin, Founder and Director Elmdon Studios, comments: "The University's approach to innovation is one of the things that appealed to me when I was looking at my options for where I wanted to study. The VR application we have created is just the tip of the iceberg when we consider the wider possibilities for VR application in teaching, learning and research over the long term. I hope my story inspires the next generation of students and I hope that this initiative serves as an introduction to immersive technology and acts as a teaser for what is to come."
The University of Birmingham Dubai offers foundation, undergraduate and postgraduate programmes across a range of areas.
As the first global top 100 and elite UK Russell Group university to establish a campus in Dubai, the University of Birmingham Dubai delivers the highest-quality education underpinned by a growing research focus in a leading global educational hub.
Designed to reflect real-world working practices, the University of Birmingham Dubai's new campus opens shortly and encourages students to carry out research in interdisciplinary teams across all academic subjects. Flexible study spaces ensure students have a learning environment suited to their needs; whether in large lecture theatres and laboratories or smaller seminar and tutorial rooms.
With architecture inspired by the historic Aston Webb buildings at the centre of the Birmingham campus, the Dubai facilities use shaded open-air courtyard spaces to create an enjoyable and productive student experience. The buildings sit next to parkland offering sports pitches and an open-air event space, whilst new student accommodation is a short walk away, across the parkland.