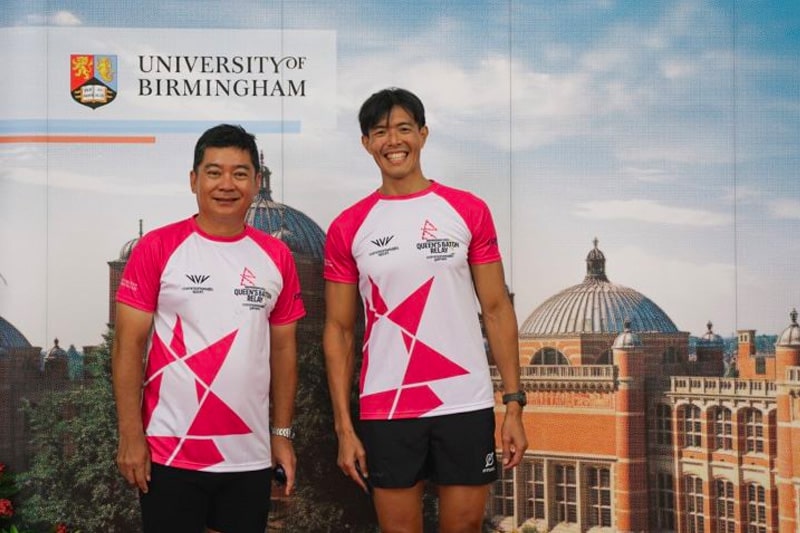 A pair of University of Birmingham alumni noted for their contributions to Singapore life led the way in marking the arrival of the Birmingham 2022 Queen's Baton Relay, of which the University is an official partner.
Health and Wellness entrepreneur Alvin Ho and agribusiness expert Bernard Tan carried the Baton to Singapore Institute of Management (SIM) – the University's partner campus – on Tuesday 18 January, joining three other Batonbearers on the special route through Singapore.
The group presented the Baton to Alex Bamford, Deputy Head of Mission at the British High Commission Singapore – watched by University of Birmingham representatives and some of the 600 students currently studying Birmingham business programmes at SIM.
University of Birmingham (Singapore) MBA alumnus Alvin Ho commented: "Good health is the foundation towards quality of life, and active participation in sports serve as an important bridge between community building and bolstering one's fitness. It is never too late to pick up a new hobby in sports, gather your loved ones and friends to participate in something suitable, enjoy its far-reaching benefits that not only encompass the physical aspects but also mental wellness."
Alvin is an ex-aerospace engineer who left his role to pursue his passion towards health and fitness. Fitivate.com was launched in 2020 with the aim to bring together healthcare professionals so as to empower the community with online knowledge relating to fitness, nutrition, medical and mental wellness.
University of Birmingham economics and political science alumnus, Bernard Tan commented: "It is an honour to be part of the global alumni from the University of Birmingham participating in this relay as part of the lead up to the Commonwealth Games later this year. The fact that the baton is making its way around the world reminds us of the connectedness we have as people of the Commonwealth - which Singapore is a proud member of – and how small our world really is."
Bernard is celebrated for his leadership in many areas, including presently in sustainability and carbon markets. He is currently Country President (Singapore) for Sinar Mas – a company which has interests in a range of business areas. He is also active in voluntary activities, especially in sports. He is the Deputy President of the Football Association of Singapore, is on the School Management Committee of Catholic Junior College and is a board member of the Singapore Sports School.
Speaking about the Baton's arrival in Singapore, Professor Adam Tickell, Vice-Chancellor at the University of Birmingham commented: "The University of Birmingham is a civic university with a global outlook. Our Commonwealth connections are deep and wide-ranging, particularly in Singapore, where we have engaged for many decades in education and research partnerships.
"Sport is a unifying force and, as part of our commitment to supporting the Birmingham 2022 Commonwealth Games, we are holding a series of academic, student and partner events in Commonwealth countries to coincide with the Queen's Baton Relay visit.
"I am delighted that we can hold these exciting events, focussing on how we work collaboratively with research and education partners in Singapore to tackle global challenges and help improve the quality of life for people throughout Singapore."
The University's environmental scientists have helped create a hi-tech 'heart' for the Queen's Baton, which contains atmospheric sensors with laser technology that analyses the environmental conditions wherever it is in the world.
Augmented Reality (AR) will be used to visualise creatively data captured throughout the journey to invite conversations around air quality across the Commonwealth.
Data collected on the Baton's journey will contribute to ongoing research projects being conducted across the globe by a team led by atmospheric scientist Professor Francis Pope who said, "Atmospheric data captured during the Baton's global journey will be highly valuable in starting important conversations around air quality across the Commonwealth."