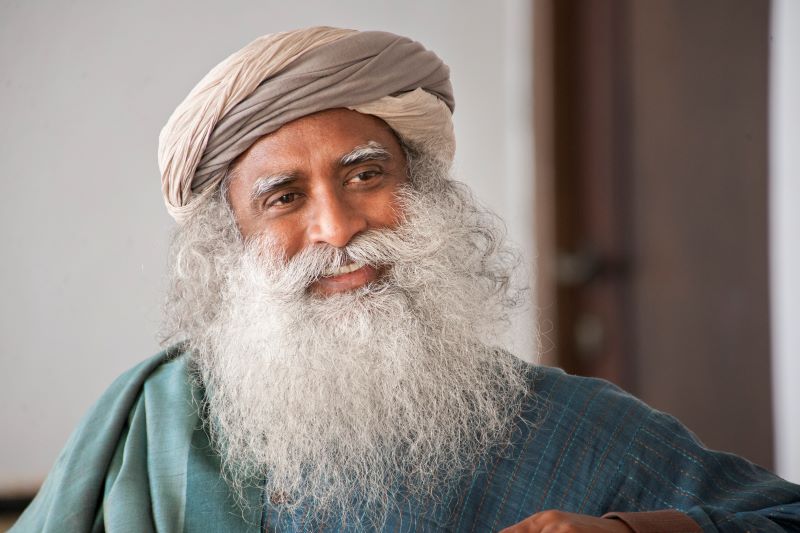 The University of Birmingham is hosting a major event featuring world-renowned Yogi, Visionary and NY Times bestselling author climate change campaigner Sadhguru.
Sadhguru will be 'in conversation' with University of Birmingham Chancellor Lord Karan Bilimoria at the event, which is held at 10:00 on Saturday 19 March in the University's Great Hall.
The focus of Sadhguru's conversation with Lord Bilimoria is the Conscious Planet - Save Soil Movement to Save Soil he is launching launches this month – encouraging people around the world to join forces and help to stop the planet's soil losing its vital organic content vitality.
Beginning on 21 March, Sadhguru embarks as a lone motorcyclist on a 100-day 30,000 km journey from London to southern India. His odyssey across the UK, Europe, and the Middle East aims to activate citizen support and global government policy action to revitalise soil.
It is an honour to welcome Sadhguru to the University of Birmingham and I look forward to a stimulating and vibrant conversation about how we can help to protect one of our planet's most precious resources. We look forward to welcoming many visitors to our magnificent Edwardian Great Hall and I'm sure that our guests will give Sadhguru a rousing send-off before he begins his journey to raise awareness of this critical issue all the way from the UK to Southern India.

Lord Karan Bilimoria, Chancellor of the University of Birmingham
According to the United Nations Convention to Combat Desertification (UNCCD), over 90% of the earth's soil could become degraded by 2050, leading to catastrophic crises worldwide including food and water shortages, droughts and famines, adverse climate changes, mass migrations and unprecedented rates of species extinction.
The Save Soil campaign aims to inspire at least 3.5 billion people (60% of the world's electorate), to support long-term government policies to revitalise soil.
Sadhguru commented: "No matter how much wealth, education, and money we have, our children cannot live well unless we restore the soil and water. Conscious Planet is the only way forward."
The Save Soil Movement is supported by various global bodies and agencies, such as the UNCCD and World Food Programme. It is also supported by global leaders such as renowned conservationist Dr. Jane Goodall and His Holiness Dalai Lama.
The Movement is supported by heads of corporate houses such as Marc Benioff (Salesforce) besides spiritual leaders and celebrities including Deepak Chopra, Victoria Azarenka, Rosario Dawson, Tony Robbins, Maluma, will.i.am and Sza.
The Save Soil movement will engage with world leaders, the media and leading experts in 193 nations around the world to emphasize the urgent need for concerted action to Save Soil. Already, Heads of Government and Ministers for Health, Agriculture, and Environment from five Caribbean nations have participated in endorsing the Save Soil initiative by signing a memorandum of understanding with Conscious Planet. The President of Guyana, H.E. President Dr. Irfaan Ali has also signed.
Sadhguru's journey ends at the Cauvery Calling project - enabling the planting of 2.42 billion trees in private farmlands in the Cauvery river basin, to restore the severely depleted river and revitalize the soil. So far, volunteers have enabled 125,000 farmers to plant 62 million trees to revive soil and revitalise the river Cauvery.
He will also speak in Ivory Coast at UNCCD's 15th session of the Conference of the Parties (COP15) on the future of land management. He will address the international community of business, political and social leaders at the premier global platform for public-private cooperation, the World Economic Forum (WEF) in Davos, to urge them to join the global effort to Save Soil. Both events are scheduled in May.
Sadhguru is a Yogi, mystic, visionary and a two-time New York Times bestselling author. Sadhguru has launched several initiatives over the years, which are powerful examples of bringing together all segments of society to create lasting, sustainable solutions for ecological and social issues. These initiatives have garnered the support of millions of people, as well as governments, global bodies, grassroots organizations and eminent public figures.