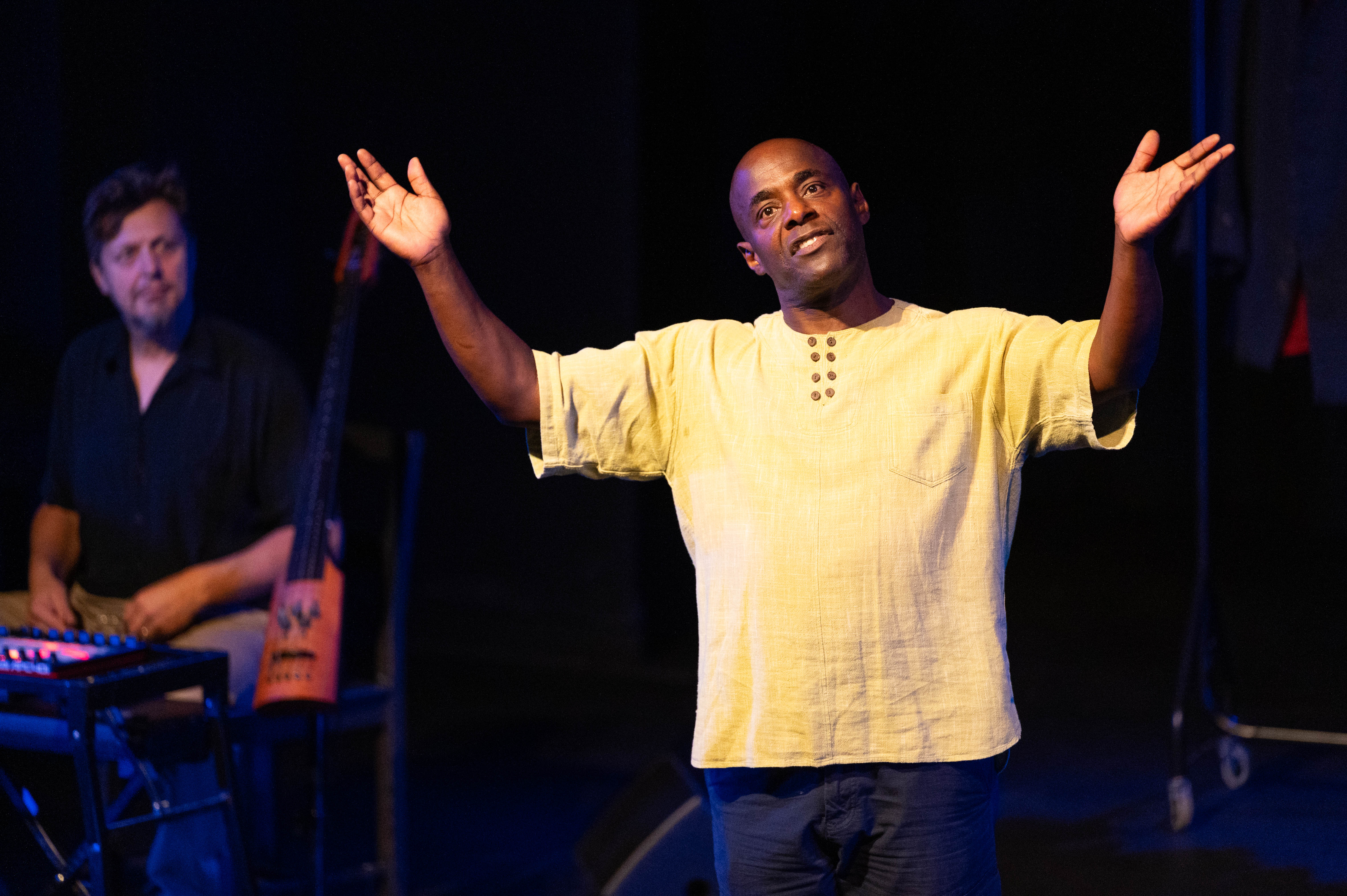 To mark Black History Month, the Department of Drama and Theatre Arts at the University invited local schools and arts organisations to join staff and students for two free performances of Joseph's new show, which explores the life of Charles Ignatius Sancho - the first man of African Heritage to vote in Britain almost 250 years ago.
The first performance took place on Tuesday 10 October at George Cadbury Hall on the University's Selly Oak Campus, with another free performance lined up for the following day.
It's been a pleasure to perform here at the University of Birmingham, it's a beautiful human experience to take your audience on a journey. The fact that I can bring a play like this, about a Black man who lived 250 years ago, to an audience now is a great privilege - it always feels worthwhile. I hope the audience got a massive dose of curiosity from this performance - all history is really important, and if we ignore it then we know ourselves less than we ought to.

Paterson Joseph, English Actor and Author.
As Chancellor of Oxford Brookes University, Paterson Joseph has taken on an important role in higher education too, to champion opportunities for the next generation.
Charles Ignatius Sancho's inspirational story demonstrates the absolute and continuing need for equal access to education and the arts. Through 'Sancho and Me', Paterson Joseph reveals the limitless potential the arts have in transforming lives and changing history.

Dr Caroline Radcliffe, Reader in Drama and Performance at the University of Birmingham.
'Sancho and Me' is a stage production of Joseph's award-winning historical novel, The Secret Diaries of Charles Ignatius Sancho. Sancho was born on an African slave ship on the Atlantic Ocean in 1792, yet he became a writer, composer and respected 'man of letters' in 18th century London.
In his one-man show, which is partly improvised every night, Joseph drew on parallels between Sancho's life and his own. With the aim that he wanted his audience to take away a 'big dose of curiosity' from his show.
If you are curious to hear more about The Secret Diaries of Charles Ignatius Sancho and writing historical fiction, you can listen to Michaela Mahlberg's Life and Language podcast where she talks to Paterson Joseph about his novel.