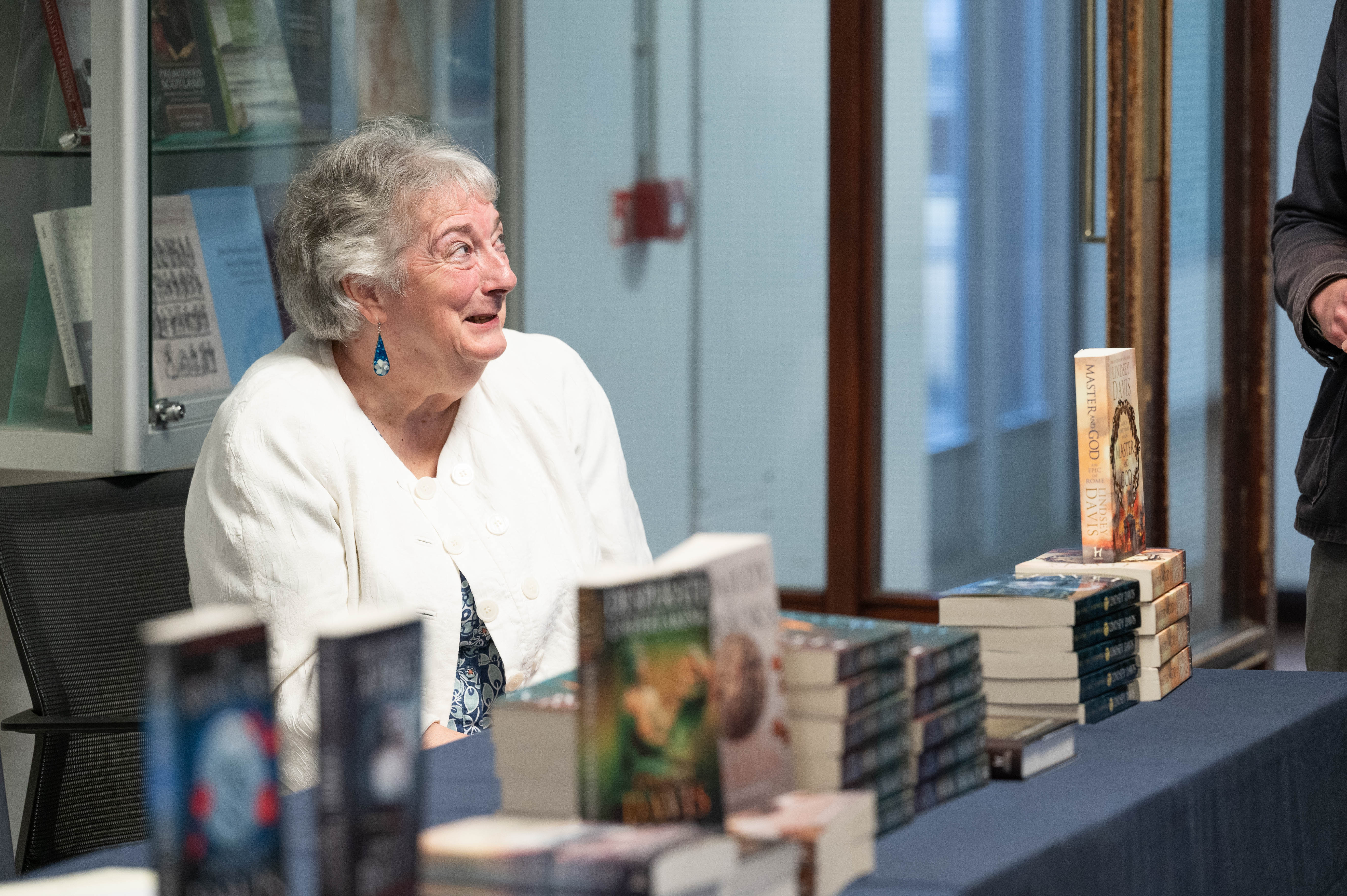 Lindsey Davis gave a talk titled 'A touch of vino fino, a smidgeon of fried fish…'. and delved into the challenges of writing her long-running series, with special reference to readers' expectations. The lecture was hosted by the university, in partnership with the Birmingham and Midlands Classical Association which has been based at the university since 1905. Our own Professor E.A. Sonnenschein, the University's first Dean of the Faculty of Arts, was a founding member.
We were very excited to welcome Lindsey to the department and to hear about her work. Many of us here work on the multiple ways in which the ancient world is remade and retold in modern literature and culture. For our students in Classics, Ancient History and Archaeology historical fiction is often the most intriguing and accessible way into the subject. For me there it is always especially interesting and productive to see how women respond to and reshape our perceptions of the Greek and Roman world. And I am delighted also to be working with the wonderful independent bookshop Heath Books where I heartily recommend a browse of an excellent selection of new books and a very nice cup of coffee!

Dr Elena Theodorakopoulos - Senior Lecturer in Classics
Lindsey Davis is best known for her series of historical crime novels set in Flavian Rome. She is the recipient of many awards, including the Crime writers' Association Cartier Diamond Dagger for lifetime achievement. Her much-loved protagonists Marcus Didius Falco and his wife Helena Justina first appeared in 1989 in The Silver Pigs. Since their retirement after a series of twenty books, their daughter Flavia Albia stars in a new series.
I was thrilled and honoured to be the new President of the Midlands branch of the Classical Association. They are really welcoming organisation, who bring the excitement and value of studying classical languages and the ancient world not just to specialists but a wider audience – which includes me! My job is to tell stories, using the remote past as escapism of course, but also to illuminate our own times.

Lindsey Davis - Historical Novelist.
The national Classical Association of England and Wales is celebrating its 120th year this year, and exists to support, advocate for and enable access to Classics. Its local branches across the country are vital hubs for communities, teachers, academics, creative practitioners and students to come together and share their knowledge and their love of their subjects. At the University of Birmingham, our branch works with teachers from Solihull School, King Edward VI Camp Hill School for Girls, Aldridge School and others, and with the charity Classics for All, to offer lectures, study days and other activities for our local communities.