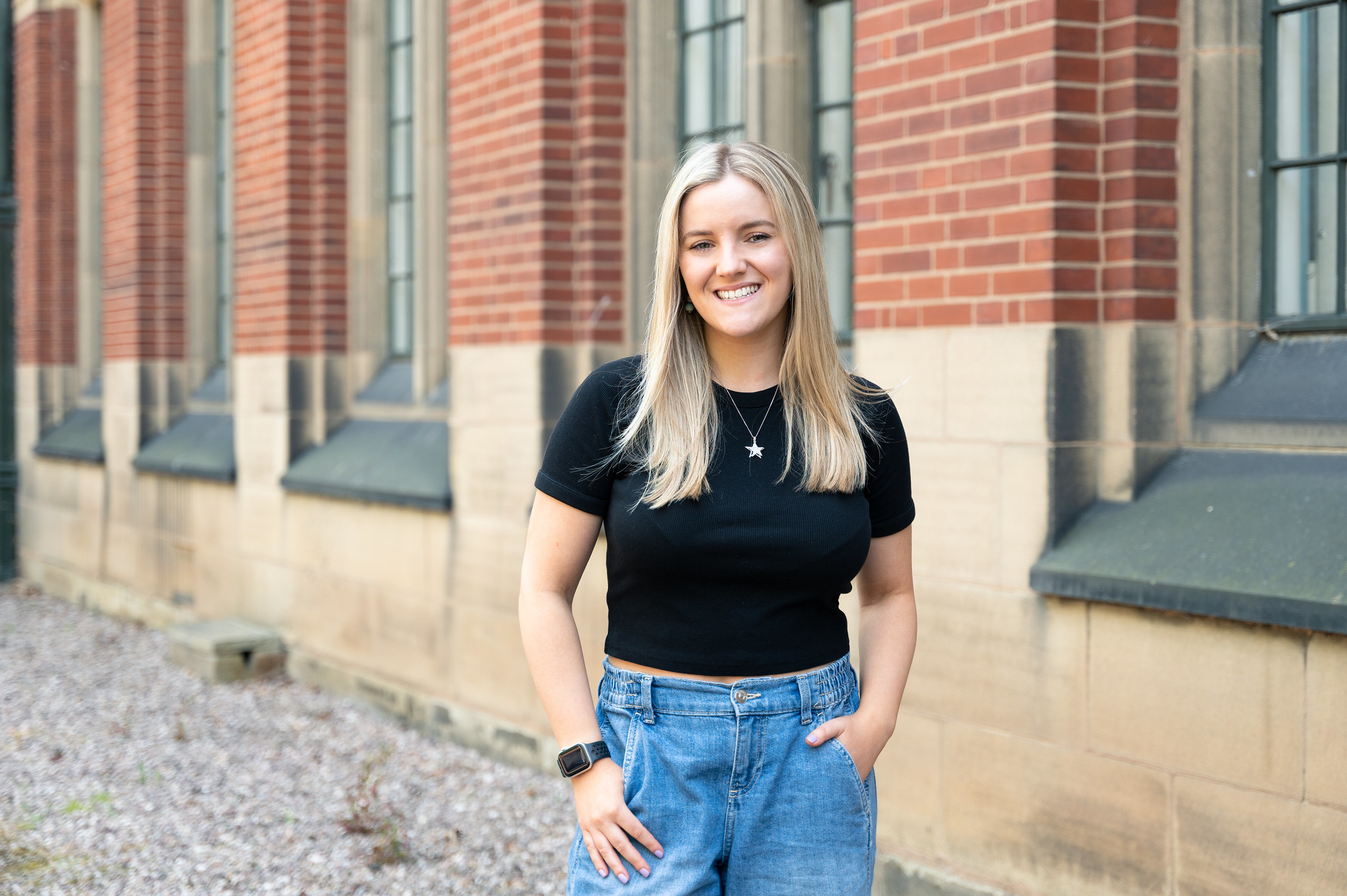 Why I decided to study English Language at the University of Birmingham
Upon finishing my A Levels, I realised I wanted to study English Language at degree level to deepen my knowledge and to continue studying how language can be used.
Choosing to study English Language at the University of Birmingham meant I was able to learn more about my specific interests within language and choose modules which were tailored to my interests in second and third year.
The course appealed to me as it combined learning about the theoretical approaches within language, whilst gaining more practical learning opportunities too, such as collecting data for a language investigation, making the course varied and interesting.
The English Language department is really supportive. I feel that I can chat with many of the lecturers about the course, even on a casual basis, and there is no pressure to say the right thing!

Chloe
My favourite thing…
My favourite thing about my course is how friendly the English Language department is! Seeing a friendly face whilst working on campus or attending lectures definitely helped me to settle in and enjoy my time studying.
The staff in the department are really helpful and are always there if you need to ask any questions. Sometimes, asking lecturers questions can seem scary, but all the English Language lecturers made me feel comfortable and in fact, made me want to ask questions.
What I found difficult…
The most difficult part of starting my studies at the University was managing the workload by balancing academic and social aspects of university.
At first, I struggled with the expected independent study hours on top of the lectures and seminars, and balancing these with socialising and completing daily domestic tasks made me feel a bit overwhelmed. With the added pressure of being away from family and friends at home, I did find balancing everything hard at the start.
However, once I had settled in and embraced all the new opportunities, I felt that everything was more manageable. Blocking time out in the week to complete independent study whilst also allowing myself to socialise and try new things was helpful. I find that dedicating my mornings to completing university work allows me to have some free time later in the day to gain a good balance between my work and other commitments/plans!
My favourite English Language module…
While I have thoroughly enjoyed modules such as Language Acquisition and Literacy, I would say that my favourite module is Discourse Analysis, a second-year optional module.
The Discourse Analysis module was very interesting to me, as someone who is interested in marketing, as the module delves into how different language features can be used within different styles of text, such as in advertising campaigns, political speeches or social media platforms.
This module gave me an opportunity to analyse how language can be used in various social contexts for different purposes, which was interesting as I have always been fascinated about how different perspectives can be shown through language.
The module also felt less traditional in the sense that we studied many modern language contexts, such as language in social media and language used in advertising campaigns, which was really fun!
Most memorable moment so far…
Joining the English Language society (ELAL) was the best decision I made in first year, as it allowed me to meet so many new people on my course. Socialising with people from second and third year was also helpful for me, as I found out more about the course and they were able to give me advice for the next years, such as choosing modules.
My most memorable moments were at these ELAL social events, where I made some of my best friends and had fun being in a new city with new people. Specifically, I loved the English Language summer ball, where I enjoyed celebrating finishing my first year which I absolutely loved!
My top tips for new students
Throw yourself in and take every opportunity that you can, academically and socially. Be sure to try new things and be open to meeting new people, as everyone is in a similar situation.
Take time for yourself and reach out for support if you need. Attending university in a new place can be overwhelming but the university offers many wellbeing services that are helpful.
Remember to work hard and use the resources and support available to enhance your learning experience. Attending office hours can be useful for assignment support and engaging in lectures and seminars too will allow you to collaborate with others and to explore ideas.
And finally…
I have loved studying English Language at the University of Birmingham, where I have gained new friends and have learnt so much throughout the course. The university offers a great campus for studying and the English Language course will keep you engaged and interested in your studies. Remember that a social and academic balance is vital and making the most of all the available opportunities is important as the three years will soon come and go pretty quickly!