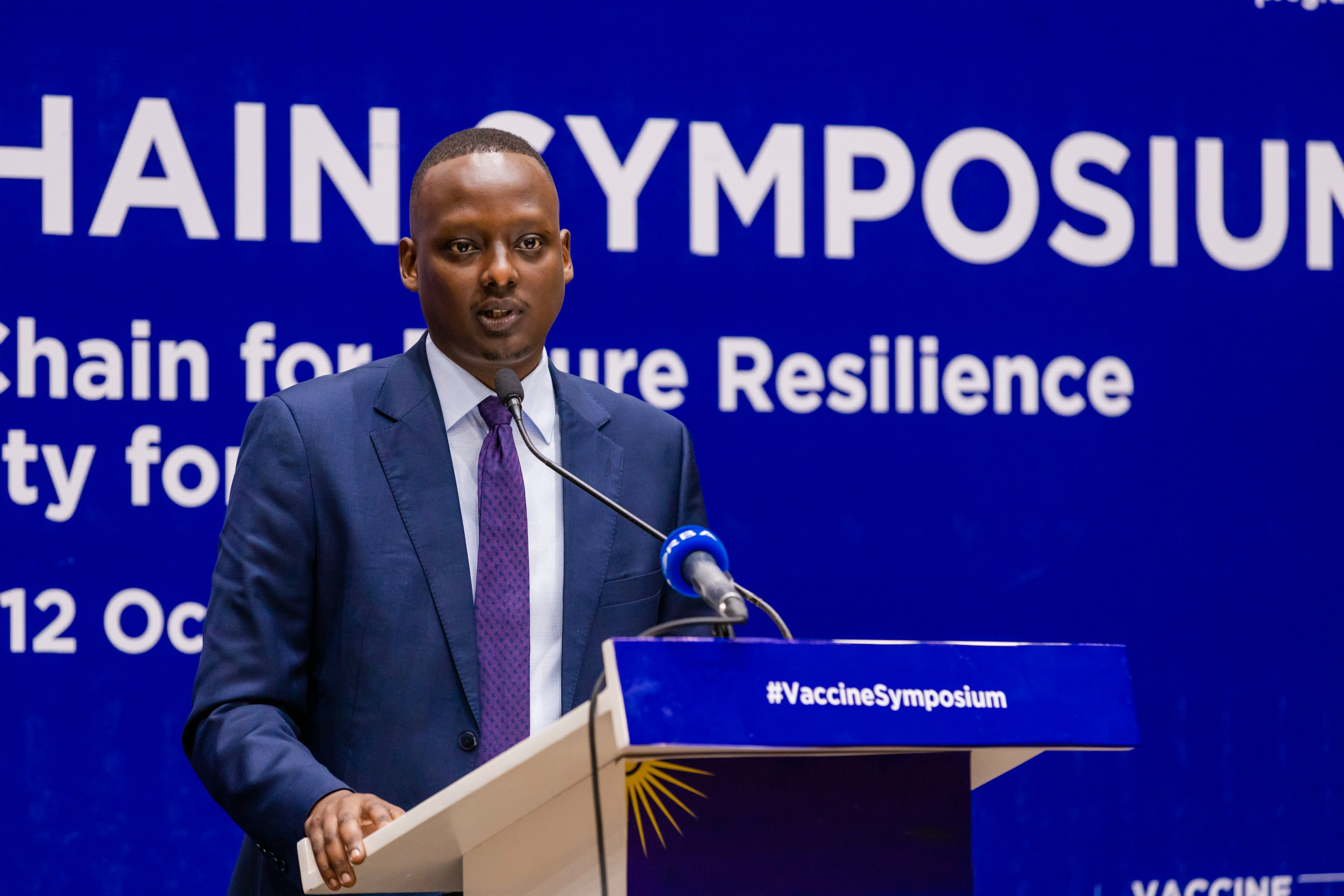 Experts in sustainable cooling and healthcare have joined forces for a key event which will kick-start better vaccine logistics in Africa.
Africa Centre of Excellence for Sustainable Cooling and Cold-chain (ACES) worked with Rwanda Biomedical Center to host the continent's first Vaccine Cold-chain and Technology symposium, in Kigali, Rwanda.
Running from 10-13 October the event brings together industry, academia, medical professionals and health implementation agencies to drive progress in areas including:
Vaccine cold-chain security, clinical trials, technology, knowledge exchange and bioinformatics;
Opportunities for training, developing ideas and solutions; and
Tours of key medical and cold-storage sites as well as networking opportunities.
The vaccine cold-chain symposium is a unique opportunity to exchange ideas on critical topics to strengthen Rwanda's healthcare sector and Africa at large.

Hon. Minister of State for Health Dr Yvan Butera
Hon. Minister of State for Health Dr. Yvan Butera commented: "The vaccine cold-chain symposium is a unique opportunity to exchange ideas on critical topics to strengthen Rwanda's healthcare sector and Africa at large."
ACES is a first-of-kind centre dedicated to sustainable cooling and cold-chain for food and health - accelerating deployment of sustainable end-to-end connectivity for food and health to protect quality and safety, minimise loss, and benefit communities.
Project lead Professor Toby Peters, Director, Centre for Sustainable Cooling at the University of Birmingham, commented: "This symposium will enable Africa's communities to build clean cold-chain services for resilient and sustainable distribution of life-saving vaccines.
"Deploying the right sustainable technology can help to ensure that vaccines reach healthcare providers in the best condition and peak effectiveness, while reducing GHG emissions, and preserving natural resources.
"We aim to support deployment of cold-chain so that healthcare professionals can enhance the delivery of vaccination programmes and proect the health of millions across Africa."
ACES has worked with medical agencies to design the efficient and clean cold-chain for resilient access to vaccines to meet the future demands.
Dr Christopher Green, Programme Director for Health at ACES and Associate Clinical Professor in Infectious Diseases at the University of Birmingham, commented: "The cold-chain underpins our vaccine security and is critical national infrastructure, but it will come under additional strain from the special cooling requirements of modern vaccine technologies, such mRNA vaccines, currently under development for a wide range of infectious disease targets.
"At the same time, further global warming creates unpredictable changes to where and when disease outbreaks occur and these vaccine technologies will need to be deployed.
"Designing the 'next-generation' vaccine cold-chain system for African communities is an urgent topic and this event, and the work and committed partnerships It represents, aims to address future resilience, sustainable and flexible access to vaccines on the African continent."
ACES will undertake collaborative research, demonstrate and test new equipment, and develop knowledge and training programmes. The programmes focus on in-country capacity building and providing community-leaders with fundamental knowledge on refrigeration, cold-chain applications, cooling hub design and the underpinning business models in order to improve existing systems from a bottom-up approach, promote new businesses and increase sustainability and resilience of supply chains.
Academic partner institutions include the University of Birmingham – Centre for Sustainable Cooling; University of Rwanda, Kigali; Africa Centre for Technology Studies, Nairobi, Kenya; Heriot-Watt University, Edinburgh, UK; London South Bank University; Cranfield University, UK; and Wageningen University and Research, Netherlands. UNEP United for Efficiency, Rwanda Environment of Management Authority are also participating.
Backed by funding from the UK Government's Department for Farming and Rural Affairs (Defra), ACES also supports and facilitates development of early-stage researchers and supervised PhD research programmes.
Total UK funding to date for the programme is more than £16M and, alongside ACES, includes funding to provide the technical assistance to support the development of two Centre of Excellences in India, working with the Governments of Telangana and Haryana.