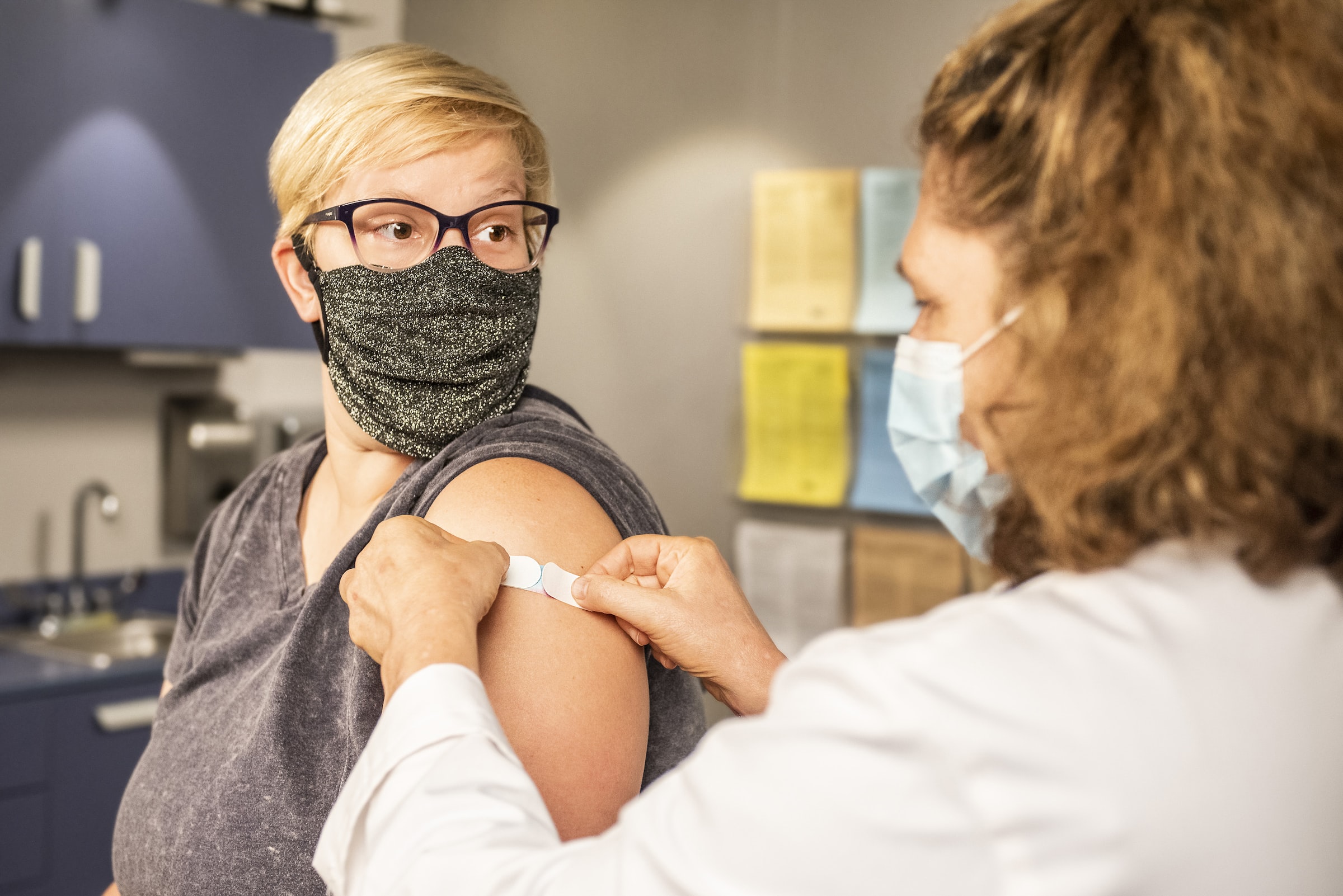 Find out more information about the IMPROVE clinical trial
Patients with the commonest form of leukaemia are being invited to take part in a trial that could help them build antibodies following a vaccination when they previously have had poor responses.
Kay's story
Retired teacher Kay, like half a million of others around the UK, have felt like they are "still stuck in the first lockdown" over fears that their compromised immune system means they are still extremely vulnerable to Covid-19.
However, after taking part in a new clinical trial, Kay is cautiously optimistic that 2023 may be different.
Kay takes a regular regimen of medication to treat a form of Leukaemia called Chronic Lymphocytic Leukaemia (CLL). The drugs have had a significant benefit for Kay's quality of life, but the side effects include not being able to develop antibodies to defend against COVID-19.
Kay said: "Once I began the treatment, it was like the drugs gave me back a medical quality of life that I had lost, but it robbed me of any COVID antibody response."
While Kay was a priority for receiving vaccines to protect against COVID, her ongoing treatment has resulted in her not being able to develop any antibodies. Despite having the vaccine course and three boosters, tests have shown that Kay has not developed any antibody response and as a result she has continued to shield with her husband, keeping her in a state of lockdown similar to April 2020.
"I have been existing, not living, for nearly three years now. There have been family members I haven't seen in that time and I haven't been to the opticians for three years even though I really need new glasses."
Kay, who has been Chair of Governors at a local primary school for the past 10 years, has been able to continue to volunteer via Zoom calls despite having no choice but to shield due to her immunosuppressed status. However, Kay has recently joined the IMPROVE trial which is testing whether supervised changes to her drug regime around a booster vaccination can help her, and others, develop critical antibodies.
"I was delighted to be invited to participate in the IMPROVE trial. Thanks to guidance and support of the clinical staff I was able to take part and had my sixth vaccination in November of last year."
IMPROVE Trial
Chronic Lymphocytic Leukaemia (CLL) patients taking either ibrutinib or acalabrutinib are invited to join a clinical trial helping researchers learn how to boost their immune response to Covid-19 vaccination.
The IMPROVE trial led by University of Birmingham and Oxford Clinical Trials Unit, funded by the National Institute for Health and Care Research, is currently open for recruitment.
Blood cancer patients are known to be at high risk of Covid-19, many are also part of the 'forgotten 500k' who are not well protected by Covid-19 vaccination and are therefore still having to be cautious going about their daily lives whilst the rest of the world gets back to normal.
Research has found that CLL patients who take either ibrutinib or acalabrutinib over the long term are not responding to the Covid-19 vaccination as well as those not taking the drug. Their antibody response is usually much lower, meaning the vaccine is not as effective in protecting against the disease.
Dr Helen Parry, Associate Professor at the Institute of Immunology and Immunotherapy at the University of Birmingham, who is leading the study said:
"This study aims to determine if it is possible to improve the immune response by pausing ibrutinib or acalabrutinib treatment for a short period around the time of vaccination. It will also monitor whether pausing this treatment is well tolerated by patients by looking for symptom flare.
"At present there is no advice for CLL patients regarding whether pausing their treatment is the safest approach to vaccination, but anyone who participates in the trial will help to build a vital evidence base so that appropriate advice can be given in future."
Patients interested in participating must be able to travel to one of the six trial sites; Birmingham, Stoke on Trent, London, Dudley, Oxford and Nottingham.
Anyone interested in taking part in the trial can email the trial team or ring on 0808 175 1455, and further information is available on the IMPROVE trial website.