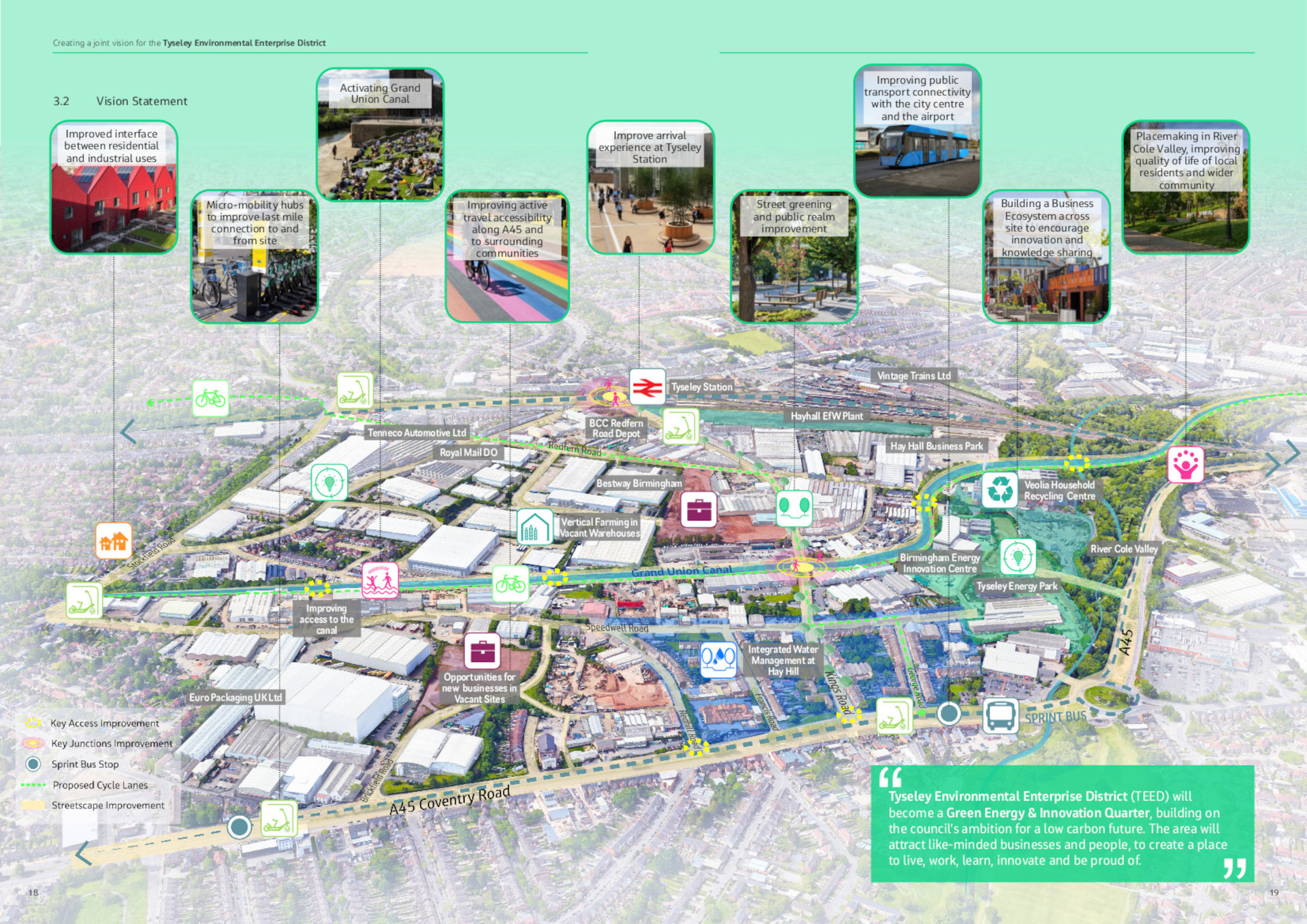 This funding will build on the shared vision launched by Birmingham City Council, Tyseley Energy Park and the University of Birmingham's Energy Institute to utilise existing assets and investment opportunities to transform East Birmingham into the city's Green Energy and Innovation Quarter.
Part of Innovate UK's Net Zero Living Programme, the Fast Followers' programme is supporting 21 local authorities, including Birmingham, and funding dedicated Net Zero Innovation and Delivery officer (NZIDO) role.
Mike Biddle, Executive Director, Net Zero, Innovate UK said: "Innovate UK's Net Zero Living Programme aims to transform our towns, cities, and communities through removing the barriers to adoption and creating demand for new Net Zero technologies.
This cohort of Fast Followers winners demonstrate innovative ideas that are designed at grass roots level specifically to overcome their particular barriers and sometimes unique challenges. Seeing the range of projects is inspiring and, as well as running their individual initiatives, the Local Authorities will share best-practice allowing others to capitalise on proven solutions."
The primary objective of the TEED (Tyseley Environmental Enterprise District) Partnership's successful project is to support East Birmingham's businesses and workforce in their transition to net zero. The project team will develop a Community of Practice (CoP) that will draw together practitioners, existing networks, task forces and working groups to identify the barriers to the net-zero transition for businesses and develop transition pathways and solutions to overcome these challenges.
The NZIDO will be recruited by Birmingham City Council and will work with TEED partners to map out the energy use, skills gaps and opportunities and identify funding and investment routes. They will also join the Innovate UK cohort of Fast Follower Local Authorities to share knowledge, best practice and lessons learnt.
This is a real vote of confidence for our ambitious plans to create a Green Energy and Innovation Quarter that will deliver a low carbon future for the people of Birmingham. The Innovate UK funding will help us demonstrate how supporting businesses to become net zero can increase employment opportunities for local people. Once we have delivered this successfully, we will be able to replicate this approach in other business parks across the city.

Birmingham City Council leader Cllr John Cotton
Professor Martin Freer, Director of the Birmingham Energy Institute, University of Birmingham said: "We are delighted to have received funding from the Fast Followers programme. It will empower us to make a real difference in supporting East Birmingham based businesses in their transition to net zero whilst ensuring economic, social, and environmental benefits for the residents of East Birmingham."
Throughout this two-year project the NZIDO and project partners will engage communities, schools, and colleges as part of developing the training and skills pathways needed to fill the skills gaps identified and create future job opportunities in East Birmingham as part of a just transition to net-zero.
Robert Horsfall, Finance Director of Webster & Horsfall Group, parent company of Tyseley Energy Park said: "The NZIDO will be a very welcomed addition to the TEED partnership. We have identified 230 businesses and 8000 residents in the TEED area, all of which will really benefit from the support of the Community of Practice and wider support offered by this post-holder, the project and the Fast Followers Programme".