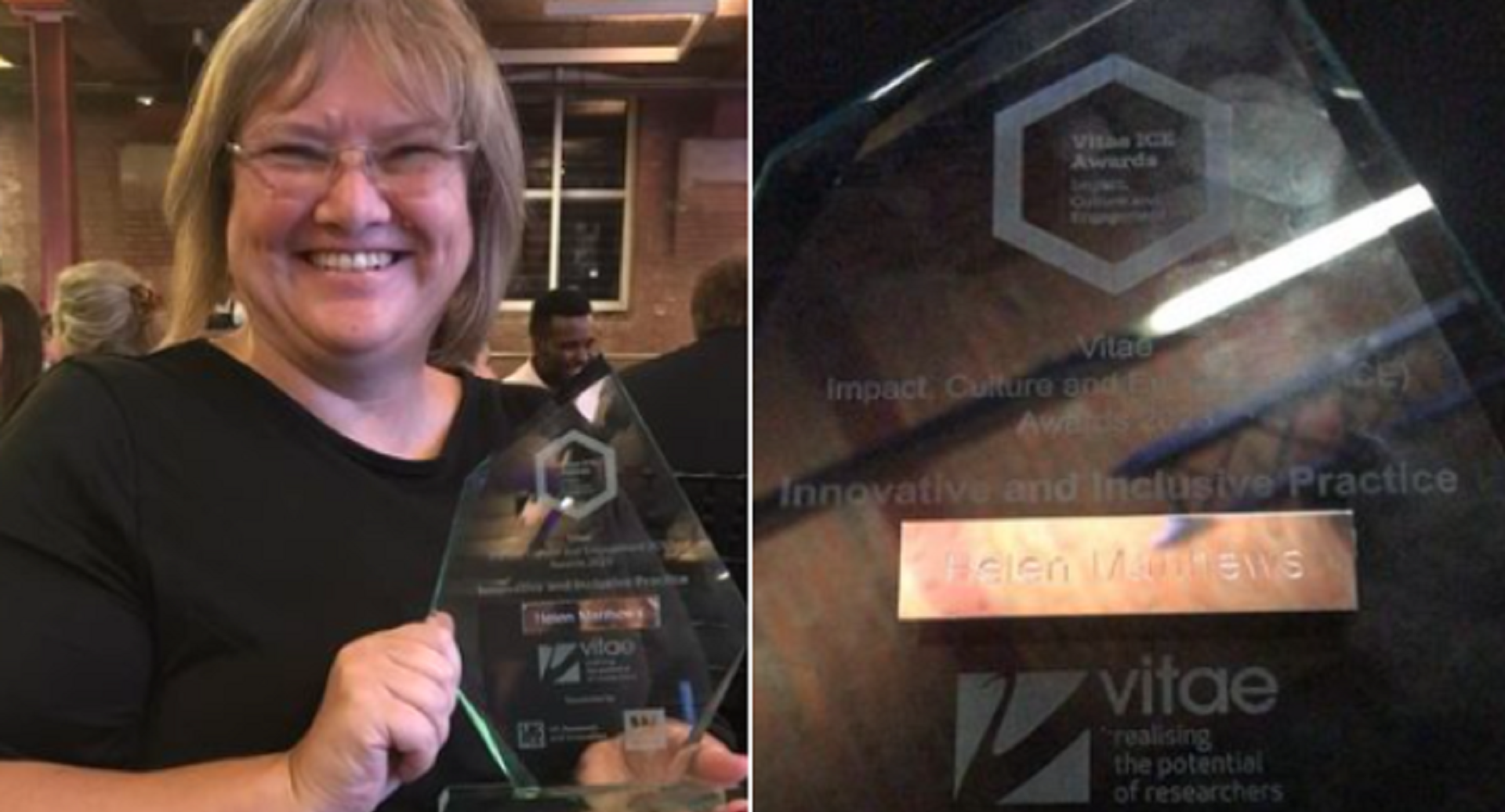 Helen received the Vitae Impact, Culture and Engagement (ICE) Award for the category of Innovative and Inclusive Practice at the award ceremony in Manchester for her work, which has helped create a much more positive, open, and inclusive environment within the College and wider University around menopause.
Building on her personal experiences, she initially organised a staff event on the key symptoms, challenges and effective approaches to support women experiencing the menopause – at the time an often taboo topic with little institutional support available. Women who experience the menopause can often have career-limiting effects in positions of senior leadership within research and teaching.
Based on the success of this initial event, she spearheaded the creation of a College 'Menopause Support Group' (now with more than forty active members), which provides online resources as well as MDS Menopause Meet-ups – informal, monthly lunchtime sessions. These sessions provide an opportunity for MDS staff to meet and talk, whether personally experiencing menopause or supporting others who are going through it, with planned topics circulated in advance. Helen also led the development of a support pack for staff, which includes helpful information, tips, links, and contact details for key individuals who are happy to provide support to staff outside of normal line management – including Helen herself.
She's had a transformative effect on our understanding and awareness of menopause within the College. She's led an amazing programme of work really raising awareness and support for individuals within the research community, not just within the College but also within the broader University. She's created a safe space so that people can come together and talk candidly about their experiences

Professor Phil Newsome, Director of Research, College of Medical & Dental Sciences
Alongside this, Helen developed bespoke sessions to support line managers around expectations, adjustments, and support, giving managers the confidence and tools to handle what can be challenging discussions. This has even led to a recent spin-off programme Helen co-developed called "Shed," creating safe spaces for male staff to discuss topics which they find uncomfortable or challenging.
As a result of this work, Helen has taken over leadership of University-wide Menopause Cafes to ensure that research and teaching staff are effectively supported.
Helen's contribution around menopausal awareness is a fantastic example of outstanding dedication, passion and engagement - the impact of which is helping build a positive and supportive culture not only at the University of Birmingham but within the broader research environment. We are delighted that the Vitae Impact, Engagement and Culture Awards are giving the opportunity for recognition to people like Helen, who are helping make a difference within the community

Clare Viney, CEO of The Careers Research and Advisory Centre (CRAC) Ltd (which includes Vitae)