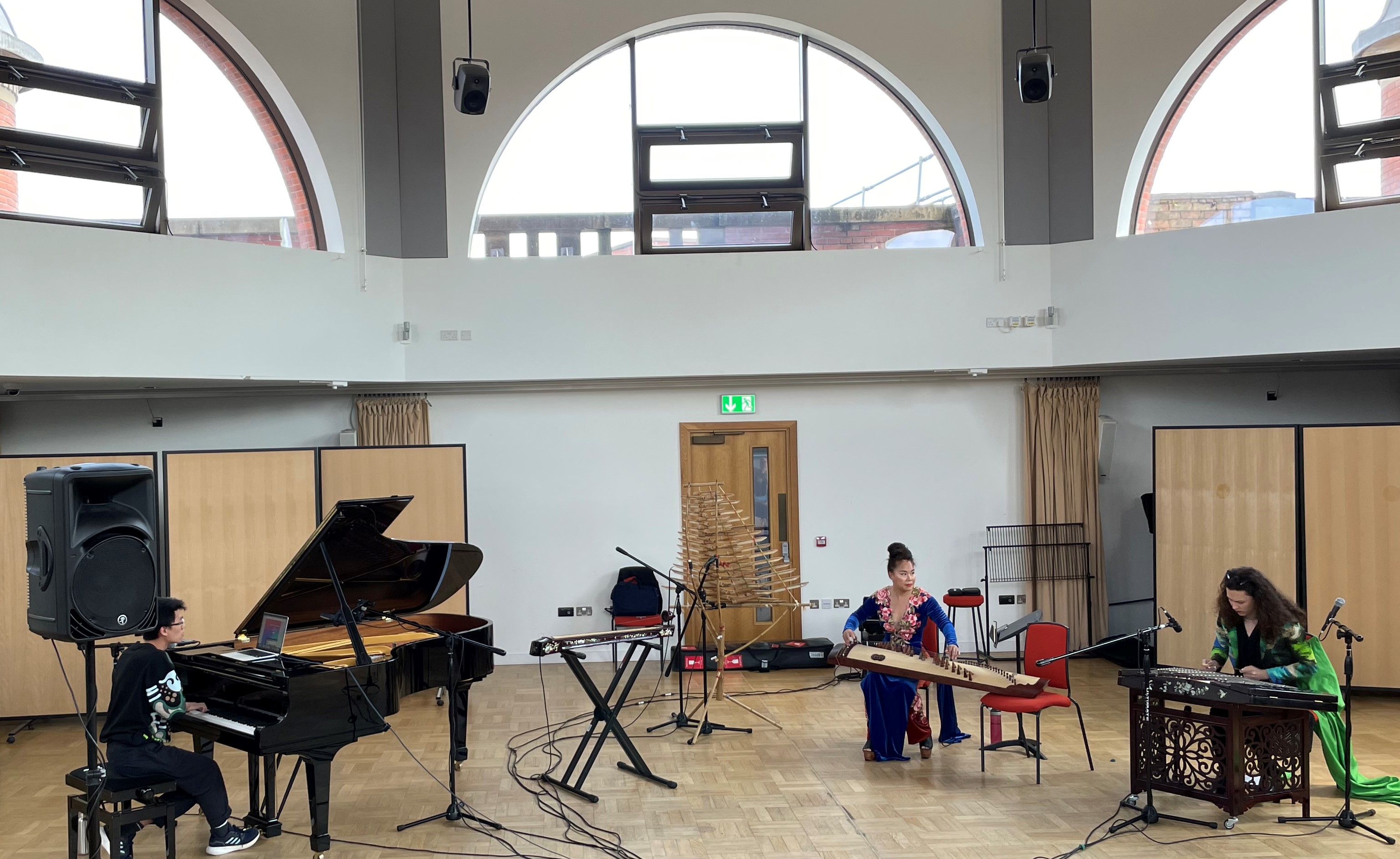 A trio of world-class musicians created a piece of improvised music inspired by the University of Birmingham's iconic clock tower 'Old Joe', as they joined music experts in a new project.
Emmy Award-winning composer and Vietnamese American musician Vân-Ánh Võ, who plays the Vietnamese đàn tranh (zither), đàn bầu (monochord) and đàn T'rưng (bamboo xylophone) was joined by two musicians from the TANGRAM collective in London.
BBC Music Magazine Rising Star 2022 composer Alex Ho and Mantawoman (aka Reylon Yount), the first yangqin (Chinese hammered dulcimer) player to be featured on a GRAMMY Award-winning album, joined San Francisco-based Vân-Ánh Võ.
Funded by a University of Birmingham Impact Acceleration Award, the 'Sounding by Heritage: Sino-Vietnamese Musical Collaboration in the UK' project investigates moving Western art music practice away from composition and notation and towards collective improvisation and exploration.
One moment of inspiration came from Old Joe. As the musicians walked around campus, we also heard Old Joe sing, and its sounds resonated in our minds even when we returned to the rehearsal room.

Alexander Cannon - University of Birmingham
The musicians met in a rehearsal room and guided by University of Birmingham music expert Alexander Cannon, sought inspiration from different sounds, ideas, memories, and images that they proposed to one another.
Alexander Cannon commented: "Drawing on my research about southern Vietnamese traditional music and practices of improvisation, we undertook two days of improvisation exercises and spent a long time discussing what the musicians played and why they played it.
"One moment of inspiration came from Old Joe. As the musicians walked around campus, we also heard Old Joe sing, and its sounds resonated in our minds even when we returned to the rehearsal room."
At one point during the two days, Alex Ho, who was playing piano, played one of Old Joe's chimes, and that inspired a nearly 20-minute improvisation of music - not a composition as such, but an improvised performance drawing on the sights and sounds of the campus.
"It's a work that is a product of that time and space of performance and can never be recreated again, but as long as the campus and Old Joe are here, they'll always be living participants in the music created here," Alexander Cannon explained.
"The improvised music was powerful—the musicians listened closely to one another and engaged in long musical conversations. During another piece that the musicians played, Old Joe announced noon, so they spent time improvising music alongside the chimes of the clock. In this way, Old Joe was inspiration for one work and a fellow performer in another."
Known affectionately as 'Old Joe' the Joseph Chamberlain Memorial Clock Tower dominates our Edgbaston campus as a symbol of the University of Birmingham, visible from far and wide. At 100m tall, Old Joe is the world's tallest freestanding clock tower and is fondly named after the University's first Chancellor Joseph Chamberlain.
Chamberlain was instrumental in raising the funds for the clock tower, as well as its design, basing its aesthetic on the Torre del Mangia campanile in Siena. The clock tower is the location for many University celebrations throughout the year, most notably graduation.
It is famously believed to have been the inspiration for the tower of Orthanc, the black tower of Isengard, in J.R.R Tolkien's The Lord of the Rings trilogy. It is also believed that Old Joe was the inspiration for the clock tower in Pixar's Monsters University.
Vân-Ánh Võ commented: "As an artist of colour from a small country like Vietnam, the University of Birmingham offered an open environment and welcomed experiments for exploring the differences between cultures. I had a unique opportunity to collaborate with two other outstanding musicians to create deeply moving music for us. We told stories. We wrote sonic letters. We reflected on the world around us. Most importantly, we found connections between the different Asian music traditions that we represent. And we were even inspired by this campus and its people!
"I spent a lot of time outside of rehearsal taking pictures of Old Joe in different light. Interactions with its staff over the course of three days also motivated us—staff listened to and encouraged us to continue our work. I therefore found the project profoundly meaningful. It helped me to think further about how I can use my music to have greater impact for my communities and on larger society. All universities should offer this kind of collaborative experience to artists, but no university has a campus quite like this one!"