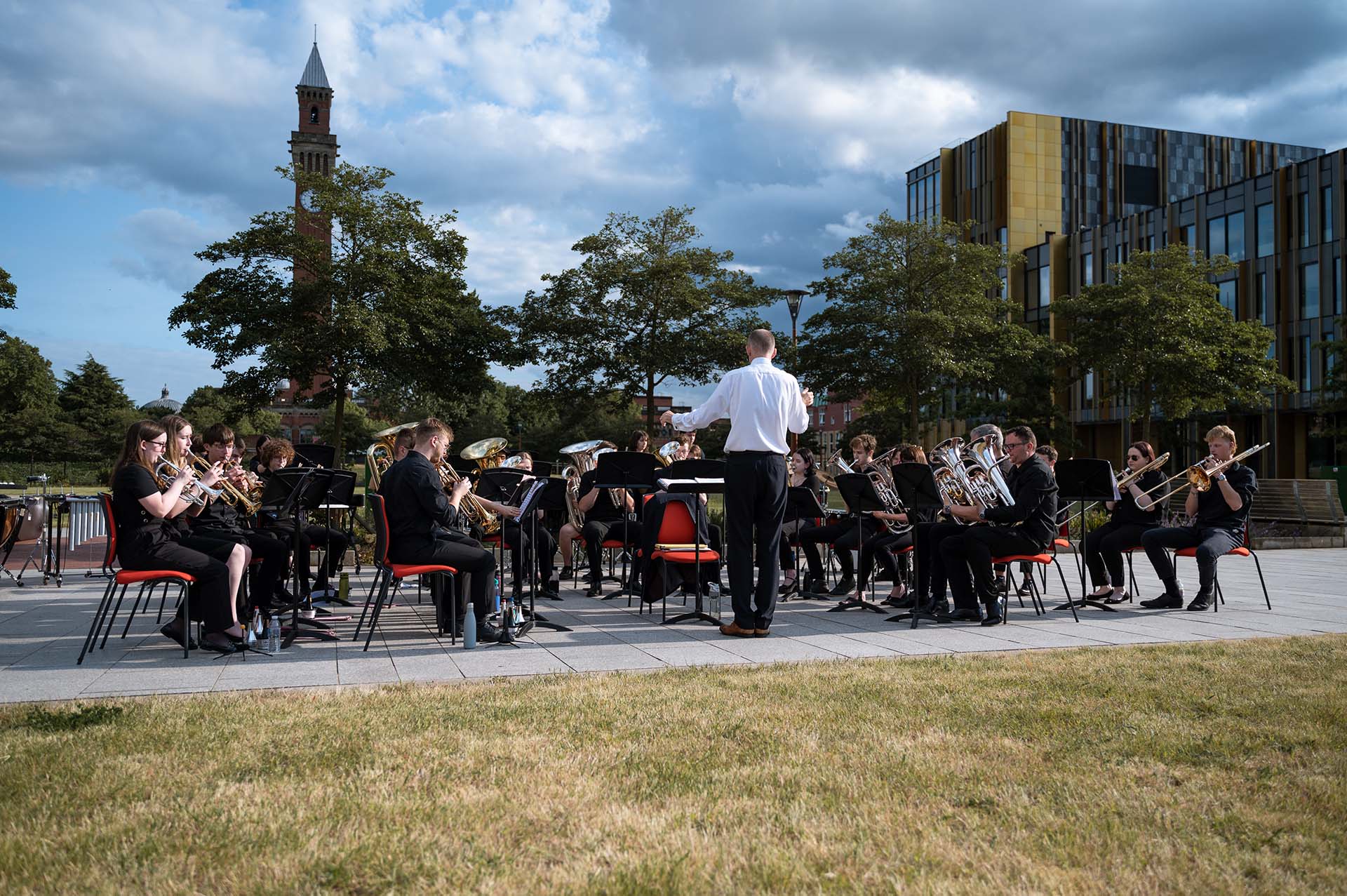 This year was a landmark year for new music, with a wide array of world premieres and commissions being performed throughout the concert programmes. Our Philharmonic Orchestra, featuring Jack McNeill, were pleased to give the premiere of Professor Scott Wilson's concerto for Bass Clarinet, Wild, whilst the New Music Ensemble performed a variety of new works by postgraduate composition students in their Spring Concert.
A particular highlight relating to new instrumental music was the world premiere of the winning entry of the UoBMS Composition Competition. Following a successful performance of Michael Triggs' brass band piece Fireworks at this year's UniBrass competition, the Summer Festival Orchestra performed his winning composition Earth during their concert in June. There was new choral music aplenty too, with Birmingham University Singers and University Upper Voices performing new pieces by Daria Kwiatkowska, Benedict Landauer and Cheryl Frances-Hoad.
Orchestral performance remained an integral part of the University Music offer, with both the Philharmonic and Symphony orchestras performing large works on campus and in venues across the city. Symphony Orchestra were thrilled to be a part of the Gospel Revisited Project (GRP) in the Autumn, working alongside Ray Prince and Jonathan Silk to help bring gospel music to new audiences in Birmingham, whilst in their Spring concert accompanied the UoBMS Soloist Competition winner Charley Schofield in her performance of Glazunov's Concerto in E-flat Major for Alto Saxophone.
The University Jazz Orchestra had a full year once again, starting with a programme featuring the works of American jazz composer Maria Schneider in the Autumn and collaborating with Scottish guitarist Malcom MacFarlane at the CBSO Centre in the Spring. They also performed in the Jennifer Blackwell Performance Space at Symphony Hall as part of the 'Free Jazz Friday' series, playing tunes from soul-singer Cherise's new, soon-to-be-released album.
Choral music continued to grow in numbers and quality, with notable performances by UoB Voices - an ensemble made up of members from all of the University Music and Music Society choirs. The ensemble, alongside the CBSO and CBSO Chorus, performed Carl Orff's Carmina Burana to a sold-out Symphony Hall for Kazuki Yamada's first concert as Chief Conductor of the CBSO. They will repeat this performance in July at the Royal Albert Hall as part of the BBC Proms. This year also saw the release of the UoB Voices and CBSO recording of Charles Villiers Stanford's Requiem on Hyperion Records. The recording spent two weeks at Number 1 in the Classical Music Charts and was Gramophone Magazines 'Editor's Choice' for June 2023.
Finally, the year ended with the annual Summer Festival of Music which saw students from all subjects and disciplines come together for two weeks of relaxed performances. The Summer Festival Orchestra spent these two weeks rehearsing for their cinema-inspired concert including Bernstein's Symphonic Dances from West Side Story and selections from Herrmann's score from the film Taxi Driver. The festival also saw performances from many of our University Music scholars and chamber ensembles, featured an entertaining set from Brass Band on the Green Heart, and finished with a lively concert from the University Folk Band.
University Music provides the University of Birmingham with one of the liveliest music-making scenes of any campus. With around 1500 positions available in our 35-plus ensembles, members participate in a variety of instrumental and vocal groups, across a range of abilities and styles. University Music is open to students, staff, and the local community, and provides participants with opportunities for professional coaching, exceptional concerts, as well as the chance to apply for yearly scholarships. To find out more, please visit our website.
Follow our social media accounts for regular updates, links, and further information: Instagram, YouTube, Twitter, and Facebook.