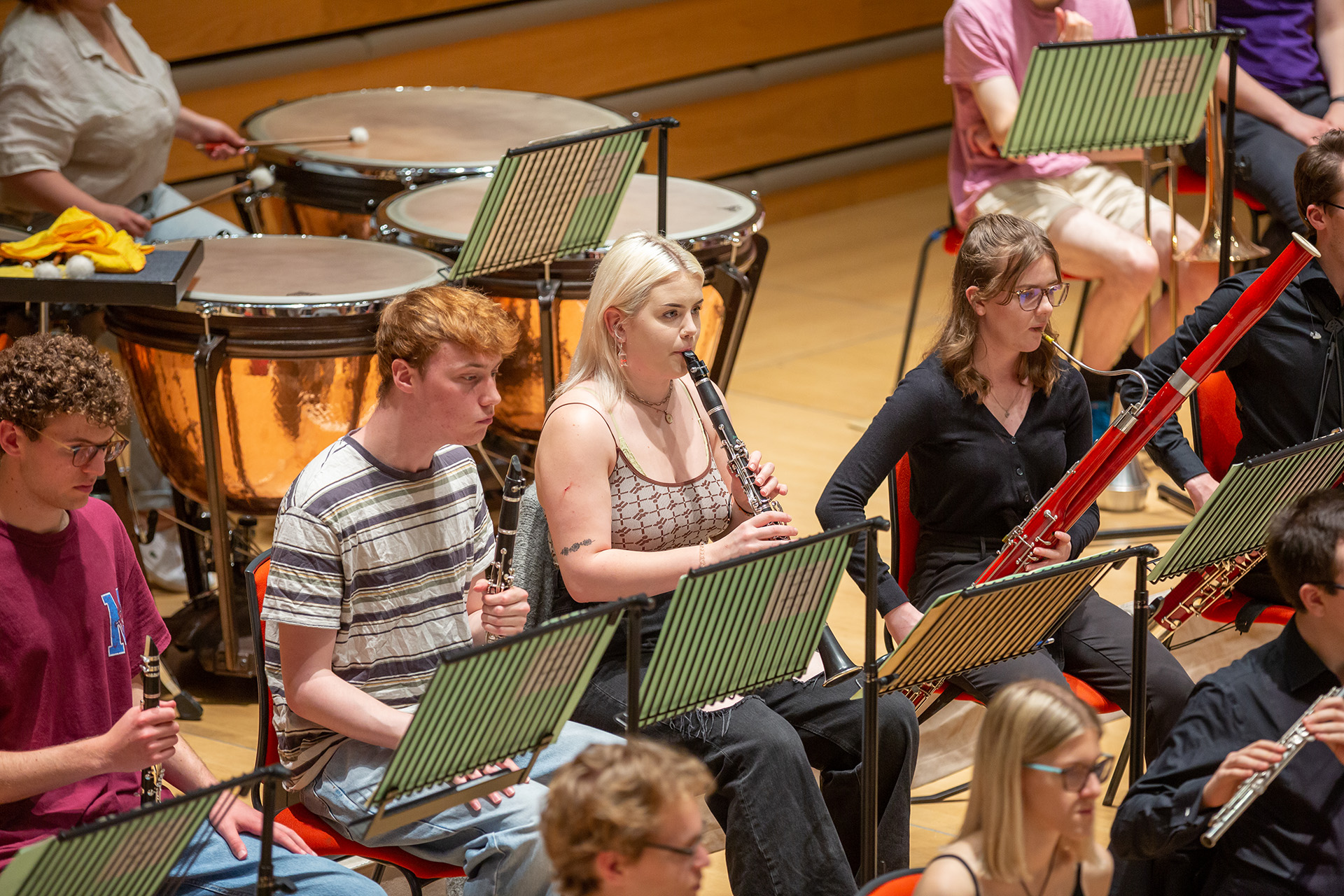 This semester's programme focuses on celebrating new works and showcases the talents of both our student performers and the established composers in our ranks.
Highlights will include performances from the entries of the Music Society Soloist, and Composition competitions. Third-year Chemistry student, Charley Schofield impressed the panel with her rendition of Glazunov's Saxophone Concerto in E-flat major and is sure to impress the audience with her performance of the piece in the upcoming Symphony Orchestra concert in March. Programmed alongside this is the world premiere of Michael Triggs' piece Earth, a film-inspired work selected by the judges of this year's Composition Competition as the winning entry. The University of Birmingham Brass Band have also taken inspiration from Triggs, with their set for the upcoming annual UniBrass contest themed around premiering his new piece, Fireworks.
Similarly, we are thrilled to be including new works by our academic colleagues from the Department of Music. Philharmonic Orchestra have an exciting performance lined up of Scott Wilson's Bass Clarinet concerto Wild, performed by Jack McNeill. Paired with the canonical fifth symphony of Tchaikovsky and Williams' Fantasia on Welsh Nursery Tunes, the event promises an evening of captivating performances.
Award-winning composer Ryan Latimer's piece Speaking of Letters and Dancing features in the annual New Music Ensemble concert in February, alongside two student compositions inspired by his instrumentation. This concert is particularly special as it includes a showing of the Peter Greenaway film M is for Man, Music, Mozart, with the music of Andriessen provided live by the ensemble.
This spring also sees the choral ensembles of University Music undertake some invigorating repertoire. University Upper Voices will be performing two commissions, the first by academic Daria Kwiatkowska, and the second by choral composer Cheryl Frances-Hoad. Perhaps the biggest highlight for the choral ensembles this semester is University of Birmingham Voices in collaboration with the City of Birmingham Symphony Orchestra and Chorus. The massed ensemble, comprised of singers from all our auditioned ensembles, will be performing the much-loved and epic scale cantata Carmina Burana as part of Kazuki Yamada's opening concert as Chief Conductor of the Orchestra.
Finally, we are proud to once again host a guest artist to perform with the University Jazz Orchestra, led by Jonathan Silk. Scottish guitarist, Malcolm MacFarlane will be joining the ensemble for a concert featuring big-band arrangements of his compositions at the CBSO Centre. Jazz has already played a central part in our music-making this semester with many guest-led workshops and 'Come and Play' sessions having taken place during UoBE week, so we are pleased to able to culminate the semester with this exciting concert.
Looking forward to after Easter, preparations have already begun for the annual Summer Festival of Music. While the specifics are still being ironed out it is safe to say it will be a great experience for all who participate, both as performers and audience members! Rumoured to be returning to the Green Heart are the ever-popular University of Birmingham Brass Band and do keep an eye out for some unique concerts as they are announced in the coming weeks.
University Music provides the University of Birmingham with one of the liveliest music-making scenes of any campus. With around 1500 positions available in our 35-plus ensembles, members participate in a variety of instrumental and vocal groups, across a range of abilities and styles. University Music is open to students, staff, and the local community, and provides participants with opportunities for professional coaching, exceptional concerts, and also offers scholarships for incoming students to the University.
Follow our social media accounts for regular updates, links, and further information: Instagram, YouTube, Twitter, and Facebook.