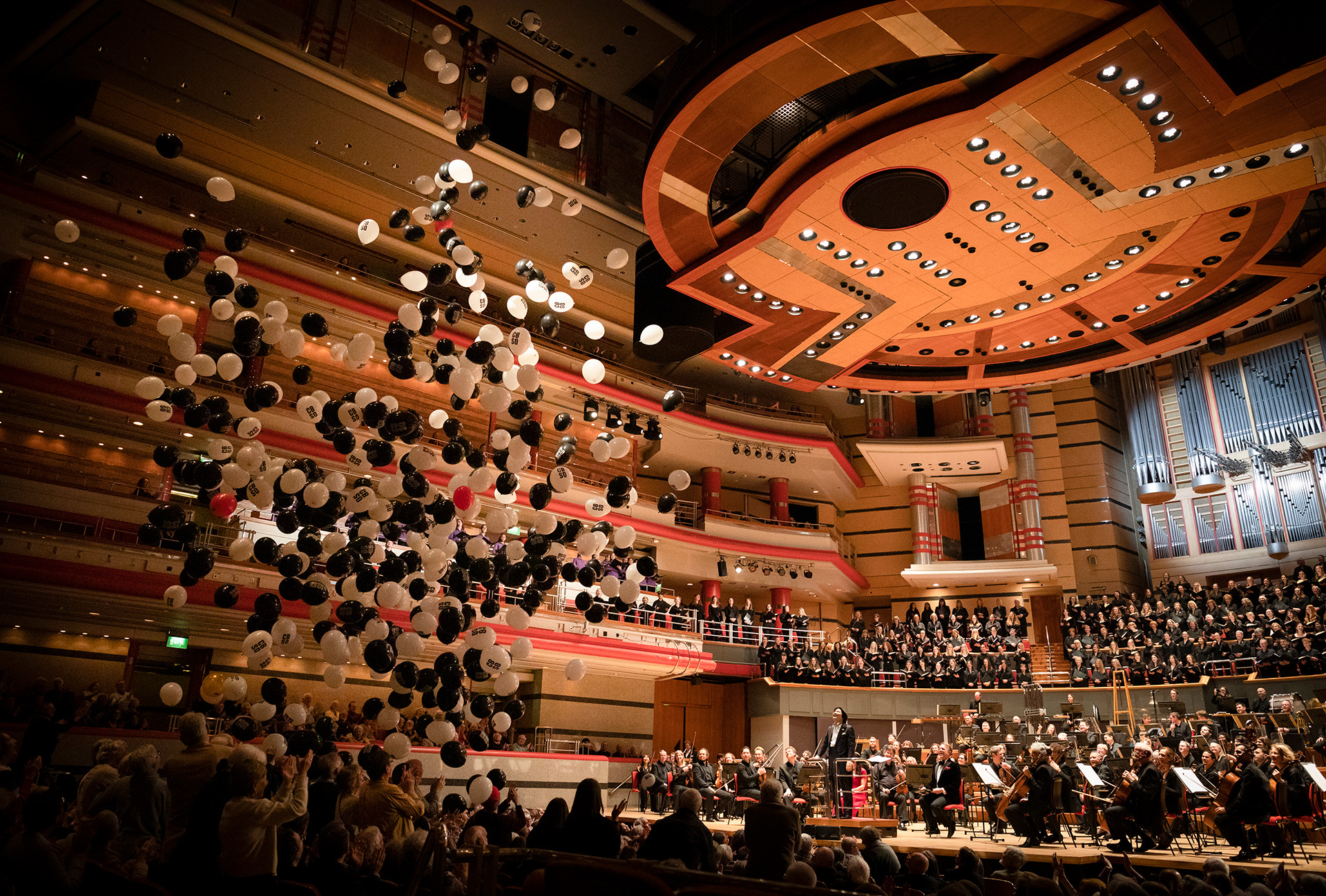 University of Birmingham Voices were pleased to perform this month with the City of Birmingham Symphony Orchestra and conductor, Kazuki Yamada at Symphony Hall, Birmingham in a performance of Carl Orff's monumental choral work, Carmina Burana.
The performance featured a number of international soloists alongside Yamada – including Jennifer France, Thomas E. Bauer, as well as the orchestras own choir, CBSO Chorus, to complete the massed group.
Prepared by Chorus Master, Julian Wilkins, University of Birmingham Voices accepted the invitation to perform following a number of critically acclaimed recent programmes with the Orchestra, including a concert production of Gilbert & Sullivan's The Yeomen of the Guard in 2017, as well as a celebrated joint performance with CBSO Chorus of William Walton's Belshazzar's Feast in 2019. In 2020, the choir marked the centenary year of the CBSO with a massed performance of Mahler's Symphony No. 8 ("Symphony of a Thousand") alongside CBSO Chorus and Baltimore Choral Arts, and most recently in July 2022, recorded their debut CD for Hyperion with the Orchestra in a performance of Stanford's Requiem. Rehearsed following the conclusion of the academic year, the performance engaged students across a range of colleges and schools from the University campus.
Later in the summer, singers from the university will return to the BBC Proms for a repeat performance of Carmina Burana with the CBSO. The event is taking place on Thursday 27 July 2023 at the Royal Albert Hall and will be broadcast live on BBC Radio 3. Further information is available on the BBC Proms website.
Choirs are an important part of University Music in Birmingham, and offer unrivalled opportunities for young singers at any university in the UK. For more information, or if you would like to find out more about choirs at University of Birmingham, please contact the University Music and Concerts Team (universitymusichub@contacts.bham.ac.uk).
---
Photo: (c) Matthew Fox