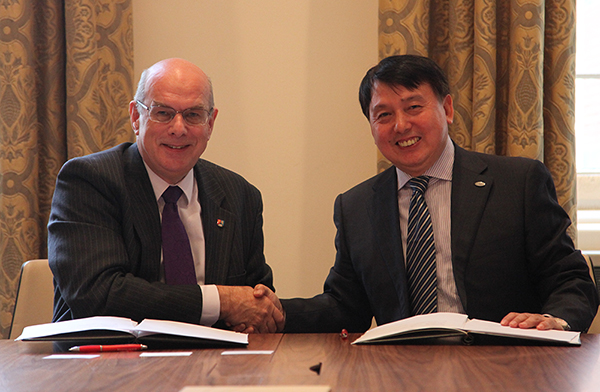 A signing ceremony took place at The University of Birmingham on Wednesday 2 December to reaffirm the relationship with Nankai University in China.
Nankai University was founded in 1919 and is a leading University in China.
The Department of Economics at the University of Birmingham has had a link with Nankai University for over 15 years, with a formalised entry agreement in 2010 leading to over 125 students studying on the MSc programmes.
Agreements were also signed last year with Government and Society and with Social Policy and Social Work, which recruited 10 students for 2015-16.
"The long-standing relationship between the University of Birmingham and Nankai University has been continued by the signing of the renewal agreement. Students from Nankai are of high calibre, with over forty per cent graduating with a distinction, and gaining an MSc from the University of Birmingham has helped them get good jobs in China and in the UK."
Nick Horsewood (Director of Internationalisation, University of Birmingham)