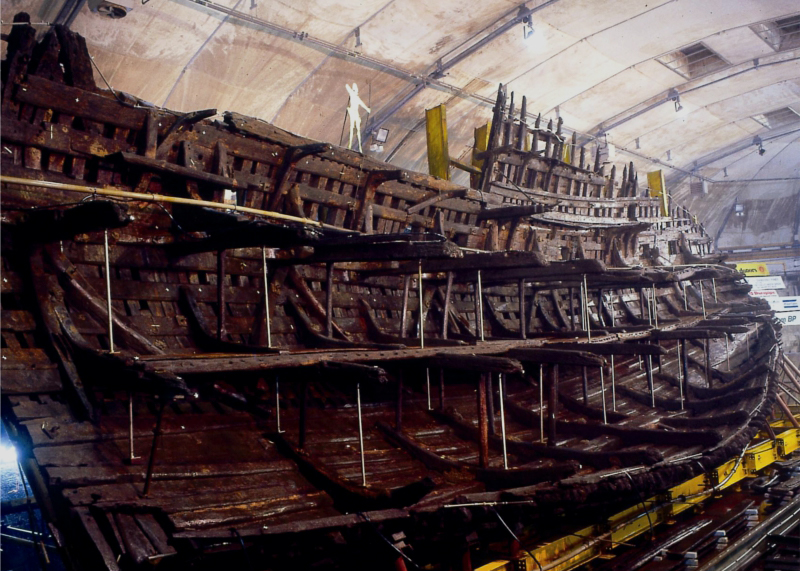 A Professor of Chemistry from the University of Birmingham is part of a team of chemists that have collaborated with conservationists at the Mary Rose Trust to develop a new way of protecting the iconic ship for future generations.
The technique works by using iron-attracting nanoparticles to eliminate harmful acids found within the ship without damaging the wooden structures themselves. The nanoparticles can be applied and recovered using a magnetic field.
Since being raised from the sea bed in 1982, conservationists have found it a major challenge to prevent the timbers of the ship from degrading. Recently, conservationists discovered iron particles inside the wood were oxidising, causing discolouration. To date, researchers have been able remove approximately 85% of the iron out of the wood samples they have tested.
The project is a collaboration between the Mary Rose Trust and researchers from the Universities of Birmingham and Glasgow. Professor Rachel O'Reilly led on the project for Birmingham and also heads up the University's School of Chemistry. She first started contributing to the project whilst working at the University of Warwick.
The next stage of the project involves starting to apply the nanoparticle technique on small pieces of wood from the ship itself. Ultimately is hoped the technique can be applied on any parts of the wreck where acid formation is known to be occurring.
Professor Rachel O'Reilly said: "Early tests have shown the nanoparticle-based technique to be effective at eliminating harmful acids from wood. If the technique performs as well on The Mary Rose's wooden structures as it has on our test samples, it will have the potential to support the conservation of other historic objects."
To find out more about the project, please follow the links below:
Chemistry World - Iron-trapping nanoparticles could help preserve the Mary Rose
American Chemical Society - Bringing salvaged wooden ships and artifacts back to life with 'smart' nanotech
The Times - Nanotech will keep Mary Rose ship-shape
Feature image credit: By Mary Rose Trust (Mary Rose Trust) [CC BY-SA 3.0 ], via Wikimedia Commons