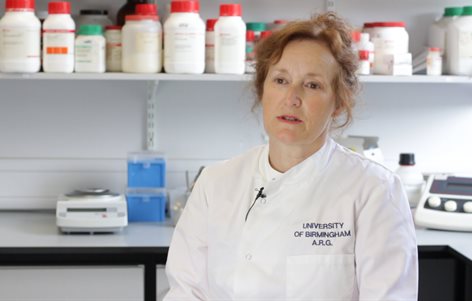 Professor Laura Piddock was recently appointed to the position of Head of Scientific Affairs for the Global Antibiotic Research & Development Partnership (GARDP), a joint initiative between the World Health Organization (WHO) and the Drugs for Neglected Diseases initiative (DNDi).
Professor Piddock has joined GARDP, which was established in May 2016, on a 75% FTE secondment basis alongside her research activities within the Institute of Microbiology and Infection, where she is Professor of Microbiology and continues to lead a research team.
Despite initial intentions to follow a career in forensic science, Professor Piddock became fascinated with the world of microbiology, especially antibiotic resistance, where she has been at the forefront of antimicrobial research since starting her PhD in 1982. Her research focuses on how antibiotic resistance arises, defining and characterising clinically relevant mechanisms of resistance in pathogenic bacteria.
Professor Piddock has advised organisations such as WHO, and scientific data from her team has been used by national governmental agencies when deciding whether to withdraw the licences of some antibiotics from veterinary medicine. She collaborates widely with other researchers in Birmingham, elsewhere in the UK and overseas; current funded projects are with colleagues in Ireland, France and Switzerland.
She has published over 174 original articles in international peer reviewed journals, 54 invited review articles, 21 research letters, 150 conference proceedings and six chapters in academic books. She has given over 50 plenary lectures at international conferences.
Professor Piddock was recently featured in the University's Birmingham Heroes – Antibiotic Resistance campaign, highlighting Birmingham's research into this global issue by understanding how antibiotics work and finding new ways to prevent and treat infections.
Until September 2017, Professor Piddock was the British Society for Antimicrobial Chemotherapy Chair in Public Engagement and in this role was the Director of Antibiotic Action and led the secretariat of the UK All Party Parliamentary Group on Antibiotics. She is currently Chair of the EU Joint Programming Initiative on Antimicrobial Resistance Scientific Advisory Committee.