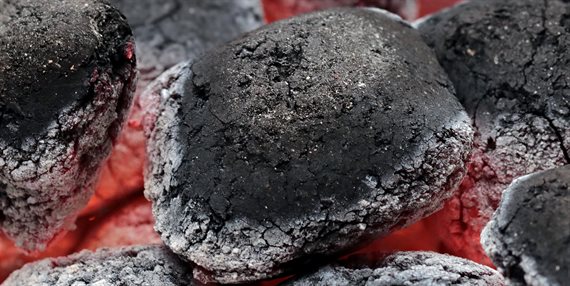 University of Birmingham researchers are investigating the health risks faced by Rwandan families cooking on traditional charcoal-fired stoves.
A new study looks at health impact on mothers and their children of household air pollution associated with biomass fuel cooking, which is common in homes across the country.
Working with Principal Investigator Dr Kabera Telesphore at the University of Rwanda's College of Science and Technology (UR-CST), Dr Suzanne Bartington is supporting a two-year research programme which will collect data on kitchen pollutant levels and why Rwandan families use charcoal cooking fuel.
Supported by a Wellcome Trust Institutional Strategic Support Fund (ISSF) Global Mobility award, the project aims to secure funding to develop a new type of stove that will reduce domestic air pollution, as well as sparking a change in families' behaviour whilst cooking with biofuels through an education campaign.
Dr Bartington, Clinical Research Fellow and Specialty Registrar in Public Health in the Institute of Applied Health Research, said: "Charcoal cooking is prevalent across Rwanda, but there is little data on the numbers of households using the fuel and the health impacts on mothers and children.
"Charcoal is, potentially, one of the most harmful cooking fuels due to the concentrations of certain particulates in its smoke. We're trying to assess the severity of the problem and local cultural attitude to cooking.
"Many mothers are spending long hours with their children in poorly-ventilated kitchens. We'd like to develop a more efficient, locally-designed stove that - together with an education programme, will reduce families' exposure to potentially harmful smoke."
Reducing the health harms associated with household air pollution exposure is a key development priority in Rwanda, a densely populated country undergoing rapid economic development, social transition and urbanisation.
Dr Bartington recently travelled to Kigali to establish the research partnership with UR-CST. She plans to develop local research capacity, providing skills training for UR-CST MSc Environmental Health and Engineering students in air quality monitoring techniques and generating data on kitchen pollutant levels and cooking practices.
This work would, in turn, support a funding proposal to develop a low-cost, modified cooking stove. Catherine Campbell, one of Dr Bartington's research students at the University of Birmingham is currently in Kigali working with local researchers.
The programme supports the University of Birmingham's expanding global health research portfolio – particularly in East Africa. The University is leading a major international research project looking at how rapid urbanisation in three African cities – Addis Ababa, Kampala and Nairobi impacts upon air quality.
'A Systems Approach to Air Pollution in East Africa' (ASAP East Africa) brings together leading UK and East African researchers in air pollution, urban planning, economic geography, public health, social sciences and development studies to provide a framework for improved air quality management in East African cities.
Funded by the UK Department for International Development (DFID) through the East Africa Research Fund, the study aims to develop new ways of monitoring air pollution to gather evidence on the causes, consequences and levels of air pollution in African cities.