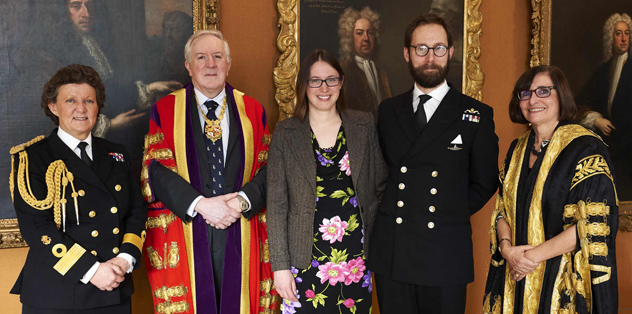 Professor Peter Hawkey and Dr Matthew O'Shea have been awarded the highly prestigious Garrod Medal and the Gilbert Blane Medal respectively.
The Garrod Medal is the highest honour afforded by the British Society of Antimicrobial Chemotherapy. This honour is awarded to individuals who are an international authority in the field of antimicrobial chemotherapy. The recipient delivers a lecture of their choosing at either the Society Annual Spring Meeting or the annual conference of the Federation of Infection Societies. The recipient is also endowed with Honorary Membership of the Society.
Professor Peter Hawkey has published over 250 research papers in the areas of molecular evolution and epidemiology of antibiotic resistance, Clostridium difficile, tuberculosis faecal microbiota transplantation and molecular diagnostics for infectious diseases. He is a regular speaker at international conferences and advisory boards on these topic areas.
For the last 20 years Professor Hawkey has researched extensively on the subject of antibiotic resistance in South East Asia particularly through collaborative projects with colleagues in China and is visiting Professor at Xiangya Hospital, South Central University, Changsha. He is currently involved in shaping UK national policy on nosocomial infection control and antibiotic resistance by chairing and participating in expert groups and committees in the UK and Europe.
This annual award is bestowed alternately by the Royal College of Physicians and the Royal College of Surgeons to Medical Officers of the Royal Navy who, to a degree which is considered worthy of recognition, have brought about an advance in any branch of Medical Science in its application to the Naval Service or has contributed to an improvement in any matter affecting the health or living conditions of Naval personnel.
Dr Mathew O'Shea received his BSc from the University of Birmingham in 1996 and then went on to study medicine with the University (1997-2003). Interested in academic medicine, infectious diseases and tropical medicine from an early stage, Dr O'Shea completed a master's degree by research in infection at the Naval Health Research Center in San Diego (2000-2001).
Dr O'Shea has completed the Professional Diploma in Tropical Medicine & Hygiene at the Liverpool School of Tropical Medicine and Hygiene and has undertaken clinical work in resource-poor settings, including Malawi and Sierra Leone. He completed his DPhil at the Jenner Institute, University of Oxford, having been awarded a Wellcome Trust Research Training Fellowship and Senior Scholarship (Corpus Christi College).
Dr O'Shea has now returned to Birmingham to continue clinical training and to take up an Honorary Clinical Lectureship, with a broad portfolio of infection-related research projects but with a primary interest in tuberculosis (TB).