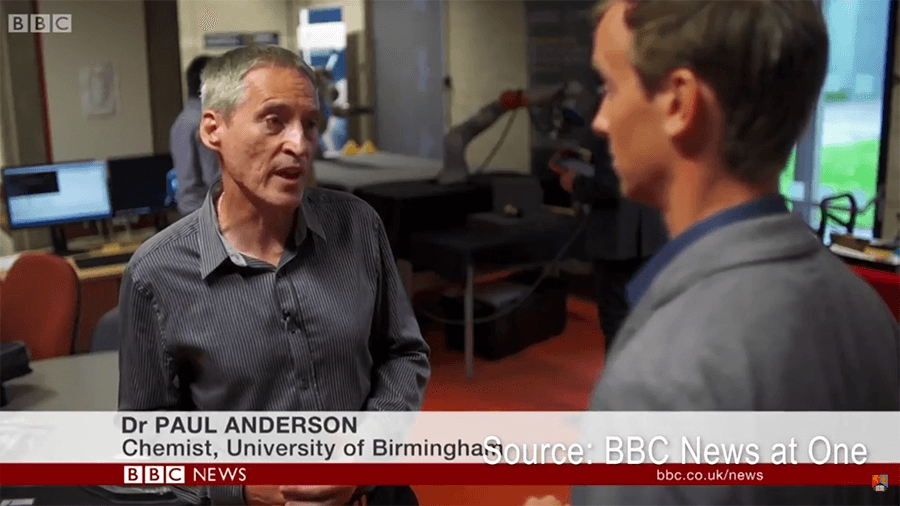 Dr Paul Anderson, Co-Director of the Birmingham Centre for Strategic Elements and Critical Materials, was recently interviewed by BBC News about a new research project to improve the recycling of lithium-ion batteries, which are critical to the transition to low emission electric vehicles.
Lithium-ion (Li-ion) batteries power smartphones, electric cars, cordless vacuum cleaners, digital cameras and even electric toothbrushes. But the UK does not have the raw materials to manufacture Li-ion batteries and has only limited capability to recycle them. If mishandled, as these batteries degrade they can pose a fire or even an explosion risk.
The new research project, which goes by the name of of Recycling of Lithium Ion Batteries (ReLiB), aims to establish the technological, economic and legal infrastructure needed for 100% of the materials contained in Li-ion batteries from the automotive sector to be recycled and reused.
Speaking to the BBC News at One, Dr Anderson, Co-Director of the Birmingham Centre for Strategic Elements and Critical Materials and Reader in Inorganic and Materials Chemistry at the University's School of Chemistry, said: "The manufacturing of vehicles is one of the success stories of British industry over the past couple of decades. If we are not at the forefront of the electric vehicle revolution that is about to happen then those jobs and all the benefits that come from them could disappear."
ReLiB is one of a number of research projects supported as part of the 'Faraday Challenge', a £246 million UK Government-funded scheme to boost expertise in battery technology. The challenge fund is being coordinated by The Faraday Institution, the UK's independent institute for electrochemical energy storage science and technology, supporting research, training, and analysis.
The Birmingham Centre for Strategic Elements & Critical Materials encompasses expertise from across the University of Birmingham and the Birmingham Energy Institute in biosciences, chemical engineering, chemistry, economics, law, materials science, physics and social science.