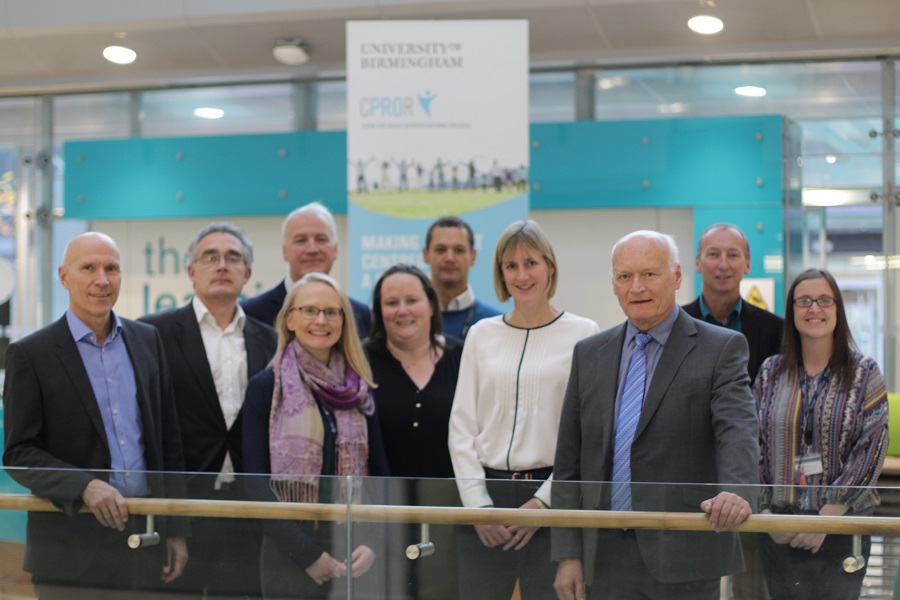 University of Birmingham researchers, with industry partners including health technology companies Dignio and Datatrial, have been awarded £1.1 million by UK Research & Innovation (UKRI)'s Innovate UK, to investigate patients' experience of cell and gene therapies.
The funding has been provided as part of the Industrial Strategy Challenge Fund's Medicines Manufacturing programme.
Cell and gene therapies offer ground-breaking opportunities for the treatment of disease and injury. As therapies of this kind are so new, the impact upon patients receiving them has not yet been studied – until now.
The PROmics study will be led by Melanie Calvert, Professor of Outcomes Methodology and Director of the Centre for Patient Reported Outcomes Research (CPROR) at the University of Birmingham, and will use state-of-the-art technology to assess the effect of novel cell therapies on both patient symptoms and quality of life.
Due to begin later this month, the project is a joint venture between the Midlands & Wales Advanced Therapy Treatment Centre (MW-ATTC), CPROR and Dignio, a Norwegian remote health monitoring company, which is responsible for developing the technology. The company carries out its UK operations from the University of Birmingham Enterprise business incubator, and specifically located its UK operations at the heart of the Birmingham Health Partners ecosystem, which accelerates patient access to innovative medicines and technologies.
Datatrial, based in Newcastle, will facilitate integration of ePRO data with clinical outcome and manufacturing data. Other key partners include the Cell and Gene Therapy Catapult and the two other centres in the Innovate UK-funded Advanced Therapy Treatment Centre network; iMATCH (Innovate Manchester Advanced Therapies Centre Hub) and Northern Alliance.
Professor Melanie Calvert explained: "The project will develop an electronic capture system to assess quality of life and symptoms, both at the point of receiving therapy and on a longer-term basis following discharge from hospital. Patients involved in the study will input into the design and build of this system, to ensure it is user-friendly and meets their needs.
"The data generated by patients will then be used to assess the effectiveness of treatments, support patient care and provide a crucial evidence base for regulators and policy makers. Ultimately, the PROmics study will help establish the safe and efficient delivery of new Advanced Therapy Medicinal Products (ATMP) to patients and also maintain the UK's leading role globally for developing new therapies."
The therapies being studied are known as Advanced Therapy Medicinal Products (ATMPs) and are based on engineered genes, tissues or cells. Medical researchers have made substantial advances in recent years, and have identified their huge potential for future medicine, but this new category of treatments will require stringent monitoring to ensure their safety and effectiveness in patients.
Dr Ian Campbell, Interim Executive Chair, Innovate UK for UKRI, said: "The projects announced today will bring real benefits to patients and boost the knowledge economy as part of the government's modern Industrial Strategy. This is vital for the UK as a global leader in the development of advanced therapies and medicine manufacturing."
Innovate UK has funded not only the PROmics study but the development of the MW-ATTC itself.
The MW-ATTC is jointly led by the National Institute for Health Research (NIHR) Birmingham Biomedical Research Centre and NHS Wales.
Professor Philip Newsome, of the University of Birmingham and director of the MW-ATTC, commented: "This exciting project will have a major impact on the safe and efficient delivery of cell therapies across the UK and is a good example of our close working relationships with innovative SMEs."
The project will draw on expertise from many stakeholders in the ATTC network; London's network of Advanced Therapy Centres (ATCs); ATMP developers and producers such as Chiesi and Autolus; patients, clinicians and UK regulators and payers.
For further information contact:
Louise Stanley, Birmingham Health Partners – Communications and Engagement Manager - 0121 414 6773
Emma McKinney, Communications Manager (Health Sciences), University of Birmingham, tel: +44 (0) 121 414 6681, or contact the press office out of hours on +44 (0) 7789 921 165.
The University of Birmingham is ranked amongst the world's top 100 institutions. Its work brings people from across the world to Birmingham, including researchers, teachers and more than 5,000 international students from over 150 countries.
Founded in 2011, Birmingham Health Partners (BHP) drives the development of new diagnostics, drugs and devices by bringing together a renowned University and two leading NHS foundation trusts. Its unique ecosystem enables the full spectrum of translational medicine: encompassing health data; an established local health system; academic excellence; and an extensive clinical trials capability.
Innovate UK is the UK's innovation agency. We work with people, companies and partner organisations to find and drive the science and technology innovations that will grow the UK economy. Since 2007 we have invested over £1.5 billion in innovation, matched by a further £1.5 billion in partner and business funding. We have helped more than 5,000 innovative companies in projects estimated to add £7.5 billion to the UK economy and create 35,000 extra new jobs.
The Centre for Patient Reported Outcomes Research, University of Birmingham aims to optimize the use of patient reported outcomes in clinical trials and routine care, to improve service delivery, enhance patient care and outcomes and ensure that the patient perspective is at the heart of health research and NHS decision-making.
The Cell and Gene Therapy Catapult was established as an independent centre of excellence to advance the growth of the UK cell and gene therapy industry, by bridging the gap between scientific research and full-scale commercialisation. With over 180 experts focusing on cell and gene therapy technologies, it works with partners in academia and industry to ensure these life-changing therapies can be developed for use in health services throughout the world. It offers leading-edge capability, technology and innovation to enable companies to take products into clinical trials and provide clinical, process development, manufacturing, regulatory, health economics and market access expertise. Its aim is to make the UK the most compelling and logical choice for UK and international partners to develop and commercialise these advanced therapies. The Cell and Gene Therapy Catapult works with Innovate UK.
Dignio is a fast growing, award winning, remote patient monitoring and telehealth solutions provider based in Norway. Dignio Prevent is its off-the-shelf, cloud-based solution, designed to prevent people going into hospital in the first place, to reduce emergency re-admissions and/or to facilitate their timely discharge from hospital to their own home for remote monitoring by a clinician or a multi-disciplinary team.In Norway, Dignio have achieved significant results, saving time, saving lives and saving money.
These results have been independently validated by the City of Oslo
Datatrial was founded in 1999 to develop software to improve the clinical research process. Soon after, the company successfully expanded its offering with services geared toward helping customers run clinical trials more efficiently and more cost effectively. Today Datatrial focuses on end to end access to information to enhance visibility and speed up decision making in the clinical research process. Datatrial is also part of both the Northern Alliance as well as the Manchester-based iMATCH ATTCs. The company has offices in Massachusetts and Newcastle upon Tyne in northeast England.
The Northern Alliance is co-ordinated by Newcastle-upon-Tyne Hospitals NHS Foundation Trust, while iMATCH is co-ordinated by The Christie NHS Foundation Trust.
The National Institute for Health Research (NIHR) is the nation's largest funder of health and care research. The NIHR:
Funds, supports and delivers high quality research that benefits the NHS, public health and social care
Engages and involves patients, carers and the public in order to improve the reach, quality and impact of research
Attracts, trains and supports the best researchers to tackle the complex health and care challenges of the future
Invests in world-class infrastructure and a skilled delivery workforce to translate discoveries into improved treatments and services
Partners with other public funders, charities and industry to maximise the value of research to patients and the economy
The NIHR was established in 2006 to improve the health and wealth of the nation through research, and is funded by the Department of Health and Social Care. In addition to its national role, the NIHR commissions applied health research to benefit the poorest people in low- and middle-income countries, using Official Development Assistance funding. This work uses data provided by patients and collected by the NHS as part of their care and support and would not have been possible without access to this data. The NIHR recognises and values the role of patient data, securely accessed and stored, both in underpinning and leading to improvements in research and care.