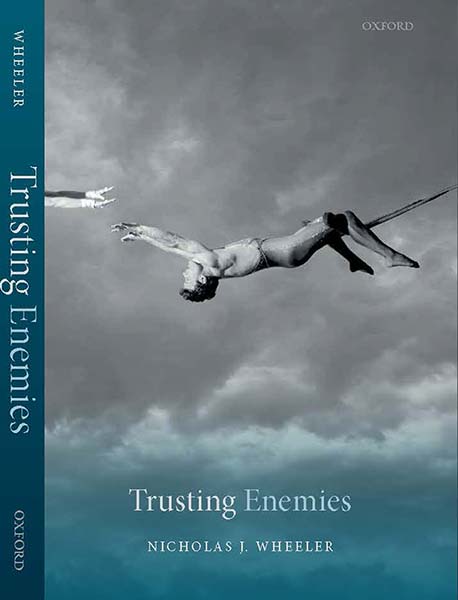 The College of Social Sciences was delighted to present the inaugural lecture of Professor Nicholas Wheeler, Professor of International Relations.
The event took place on Thursday 26th April, and saw over 90 staff, students and members of the community join Professor Wheeler on campus to discuss interpersonal relationships in international conflict.
Professor Wheeler's lecture was introduced by Professor Tim Jones, Provost and Vice Principal. Professor Jones spoke about Nicholas' background in studying and his interest in politics, particularly the global aspects such as nuclear weapons and the Cold War.
During Nicholas' time teaching at Aberystwyth University, he met Ken Booth, who together, published The Security Dilemma: Fear, Cooperation and Trust in World Politics in 2008 after more than 20 years of thinking and writing about the concept, which Nicholas explored further during his lecture.
The lecture argued that the key to building new relationships of trust between state leaders, who represent states with a history of enemy relations, is the nature and quality of their interpersonal interactions. Wheeler maintained that trust can develop out of a process of social bonding, which becomes possible in face to face interaction.
This is a critical claim as one of the largest obstacles to co-operation in international politics, is that actors who send signals believe the receiver will interpret as they intend. Often, however the receiver does not interpret it as intended by the sender. To solve this, Wheeler's theory of interpersonal trust, makes the accurate interpretation of each other's signals possible.
Nicholas explored how relationships of trust can develop at the highest levels of diplomacy through face-to-face meetings and considered what we might expect from the forthcoming summit between US President Donald Trump and his North Korean counterpart Kim Jong-Un. He also applied his theory to the successful case of American and Soviet leaders, Ronald Reagan and Mikhail Gorbachev whose face-to-face summitry played a key role in ending the Cold War.
Wheeler's research can justifiably claim to have played a significant role in the development of trust research in international relations and Nicholas urged for further attention in this field as trust between state leaders will have significant implications for the future of key strategic relationships as the world delves into a new age of power rivalry and conflict across military domains including nuclear, cyber and space.
The lecture was live streamed onto the University's Facebook channel and saw over 4,000 views and people join from Tanzania and South Sudan. The lecture was closed by Professor Richard Black, Head of the College of Social Sciences before the audience and speaker mixed in a drink and canapé reception and book launch.