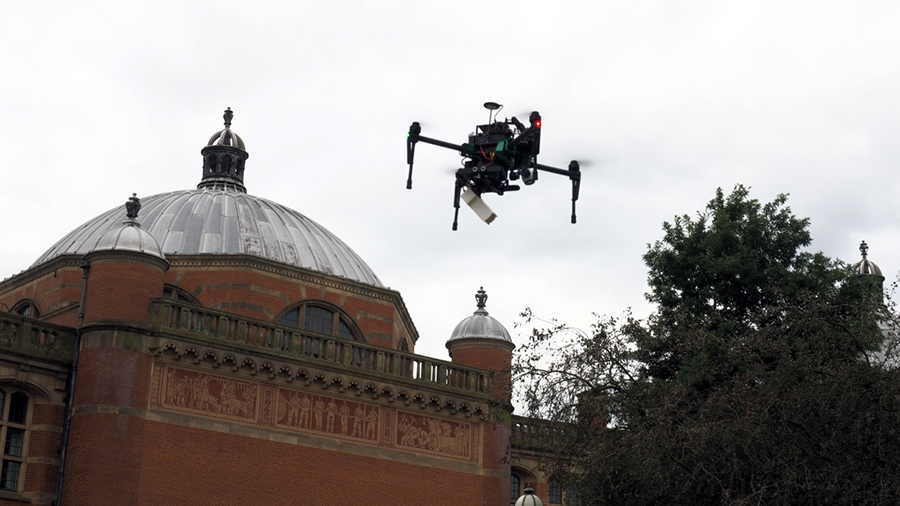 West Midlands Police is partnering with technology experts at the University of Birmingham to find new ways of using drones, Virtual and Augmented Reality to gather intelligence to disrupt serious organised crime in the Region.
The partnership is between West Midlands Regional Organised Crime Unit's Technical Intelligence Development Unit and the University's Human Interface Technologies (HIT) Team. The HIT Team will contribute their expertise to both police operations and training.
Established in 2009, the Technical Intelligence Development Unit integrates intelligence and digital technical capabilities within the Region (covering Staffordshire, Warwickshire and West Mercia forces) and liaising with regional and national industrial and academic organisations with the aim of keeping abreast of future technologies and their potential for supporting the gathering of intelligence to disrupt serious organised crime.
The Unit chose to partner with the University's HIT Team because of its track record of using drone platforms as well as Virtual and Augmented Reality systems in a range of innovative defence and civilian projects. Since its launch by Professor Bob Stone in 2003, the team has pioneered the development, evaluation and uptake of Virtual Reality and telepresence/ telerobotic technologies in aerospace, defence and healthcare.
Professor Bob Stone, Director of the HIT Team, said: "This is a very exciting development for the Team, as it gives even more real-world focus to our world-leading research and will enable us to develop innovative solutions that may, in the future, have a significant impact on police operations and, thus, the safety and security of our region".

A spokesperson for the Technical Intelligence Development Unit said, "We had looked at a number of regional academic institutions, but, given their successful defence research track record and their recent drone and simulation projects with organisations in government and industry, it was obvious that Prof. Stone's team had all of the qualities our Unit was looking for in an academic partner going forward".