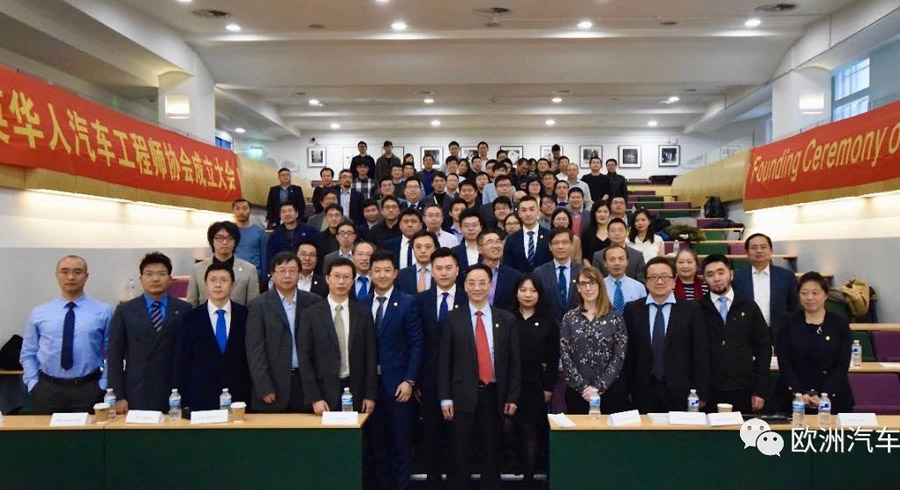 The founding ceremony of the UK Chinese Society of Automotive Engineers ( UKCSAE) was successfully held in London recently. Representatives from the Science and Technology Department of the Chinese Embassy in the UK, International Federation of Automotive Engineering Societies (FISITA), the China-Britain Technology Trade Association and more attended the event.
Professor Hongming Xu, Head of the Vehicle and Engine Research Centre at the University of Birmingham, was elected as the first president of the UKCSAE. In Professor Xu's speech on the ceremony, he emphasised the UKCSAE will play a vital role to promote the Sino-UK collaboration in automotive engineering, and it will provide a platform for all the Chinese engineers/researchers, who are working in the UK, to deliver high impact to the society.
The ceremony received the letters of congratulations from the relevant associations worldwide, including FISITA, Global Automotive Executive Council (GAEC), China Society of Automotive Engineers (CSAE) and many more.
Afterwards, the vice presidents, Dr Huayin Tang, Dr Shiru Song, and Dr Chunxing Lin, introduced the regulations of the association, the provisions and the prospects for the future.
The association currently has more than 280 registered members and associated members. The association will hold annual summits, both online and offline events. The association will also use its official WeChat account "AutoEuro" to provide timely information and valuable help to its 20k followers and the association members.
Several industrial leaders presented their work at the ceremony. Dr Jun Qiao, Chief Engineer of CHANGAN UK R&D Centre, delivered a speech entitled "The outlook of China's Market Powertrain development path in the future", which explored the comparison and strategic direction of various powertrain technologies.
Dr Qiang Huang, former Commercial Director of the Ford UK, delivered a speech as well, answering many of the career development paths of the younger generation.
Dr Wei Zhou, Senior Manager of Autopilotat Jaguar Land Rover, and Yongyi Zhang, Head of Functional Safety at FEV UK, gave a speech on the safety of autonomous hardware systems and software functions and discussed the development difficulties of autonomous system hardware and software. Lastly, a panel session was held from experts from across the globe. The main discussion from the panel focused on the role of the British automotive sector in the world, functional safety and autonomous driving, and electrification of powertrains.
The guests who participated in the ceremony have expressed their enthusiasm and look forward to the various online and offline activities that the association will hold in the future.