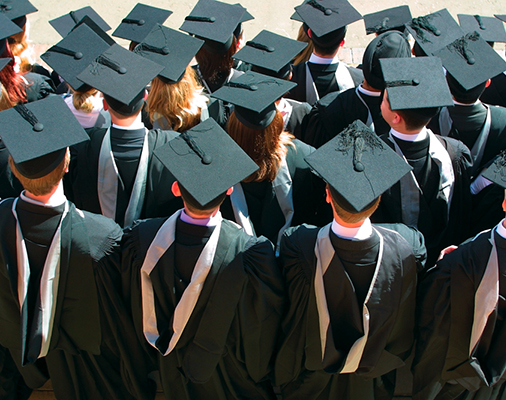 The University of Birmingham and Alliance Manchester Business School are celebrating with the NHS Leadership Academy, as a record 1,566 NHS managers and leaders have now graduated with a Masters in Healthcare Leadership from its flagship Elizabeth Garrett Anderson programme.
The Elizabeth Garrett Anderson programme graduation taking place today (Monday 15 July 2019) at the University of Birmingham means that 1,566 NHS managers and leaders have received their Master's degree, along with the Academy's Award in Senior Healthcare Leadership. The Elizabeth Garrett Anderson programme has been delivered by a KPMG-led consortium since 2013, which includes National Voices, the University of Birmingham's Health Services Management Centre (HSMC), Alliance Manchester Business School and other partners.
The majority of Elizabeth Garrett Anderson programme graduates are employed within the NHS, and will use the enhanced skills they have developed and knowledge they have acquired to bring about positive change and improvement to patient care and experience.
Evaluation survey results across all intakes so far reveal that half of all participants gain a job promotion during their time on the programme, with 9 in 10 participants attributing this directly to their learning experience.
Gill Rooke, Head of National Programme Delivery at the Academy said:
"The impact of developing inclusive, compassionate leaders who successfully engage staff improves organisational culture, keeps patients and communities at the heart of all decision-making and makes us better-placed to sustainably improve services and processes. This will ultimately enhance patient care, outcomes and population health. Leaders at all levels have a critical role in realising the ambitions set out in the NHS Long Term Plan and ensuring a sustainable future for our NHS."
Dr Annette Neath, Senior Fellow at the University of Birmingham and Anderson Programme Director also commented:
"This is an amazing achievement and fantastic celebration of a collaboratively designed and delivered NHS leadership development programme."
Professor Ann Mahon, Professor of Health Leadership at Alliance Manchester Business School and Anderson Programme Director added:
"The Elizabeth Garrett Anderson programme is an ambitious programme that gives participants the confidence to challenge the status quo in their organisations and drive real and lasting change to improve patients' and carers' experience of health and care services. Half of all participants have been promoted at least once whilst taking the programme and others report their roles have deepened and developed, reflecting their growth in confidence, knowledge and heightened visibility in their organisation."
The programme is aimed at middle to senior level leaders – clinical and non-clinical – working across health care in England. Each participant undertakes 24 months of study on the programme, comprised of a blend of residential academic and developmental workshops, personal study supported by on-line tuition, action learning sets, and work-based assignments. A final dissertation draws together the results and learning from a major work-based project focused on improving health care for patients.
Visit the NHS Leadership Academy website for more information on its programmes, or follow them on Twitter @NHSleadership