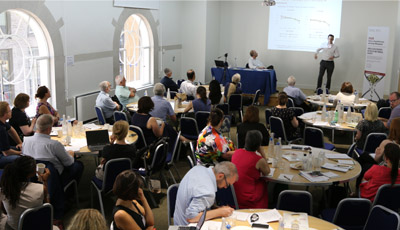 On Thursday 27 June, CHASM welcomed over fifty delegates from local government, social housing organisations, charities, universities and also policy representatives to examine and debate the role of home ownership and other housing tenures as a source of wealth and welfare.
Presentations were given by:
Natalie Brown, Information Officer, East Devon District Council (EDDC)
Dr James Gregory, CHASM Senior Research Fellow
Suzanne Moore (Research Analyst), Clarion Housing Group
Tony Miles, Operations Director, My Care Consultant
Les Mayhew, Professor of Statistics, CASS Business School
Jane Vass, Director of Policy and Research, Age UK
The morning session focussed on CHASM's recent work on the links between housing tenure and wellbeing while the afternoon session concentrated on the theme of housing wealth as a source of later life funding, with particular emphasis on paying for care. Delegates participated in lively discussions and debates after each of the sessions and speakers were applauded for their informative and insightful presentations which can be viewed below.
To launch the conference, Natalie Brown explored trends from the EDDC landlord survey, exploring tenant's financial and psychological wellbeing. Survey results showed that living in a social home is not the detriment to the life chances and quality of life that is often assumed. Dr James Gregory then highlighted the results from two years of data from his study of tenant experiences of the home with EDDC and LiveWest. He found that long-term security and stability of housing was the most important factor for tenant's wellbeing.
Suzanne Moore, from one of England's largest social landlords, Clarion Housing Group, then explained the background, methodology and results of their tenant survey, known as 'The Index'. Each year they ask 2,000 of their residents for 20 minutes of their time to complete the survey about their lives and experiences. The survey covers a broad range of topics including communities, wellbeing, household finances, energy and building new homes. In 2018 only 5% of all residents were unemployed and 84% of residents agree their neighbourhood is a good place to live.
The role of housing wealth in funding and paying for social care, presented by Tony Miles from My Care Consultant, was next on the agenda. With the sheer amount of property wealth in over 65 households, he asked the question 'should they be using their assets to pay for care?'. Tony outlined nine ways that residential property could be used to pay for care including equity release, downsourcing, and deferred payment arrangements. He warned that finding sources of financial help to enable paying for care was a challenge, but stressed that qualified and experiences financial advisers can play a key role in delivering good consumer outcomes.
Professor Les Mayhew then went on to explain the root of the issues relating to housing and finance for an ageing population. He demonstrated that dis-incentives to downsize are a factor contributing to the UK's 'housing crisis'. Les concluded that the UK's housing policies need to be aligned with the direction of demographic travel and have a transparent approach to unlocking housing wealth. Jane Vass from Age UK closed the conference by exploring the role of housing in the context of older people's lives. She explained that while home ownership is an essential safety net in later life it is not a 'get out of jail' free card for the care system. Jane concluded that 'we need to think more imaginatively about housing in later life – beyond money, to design and environment'.