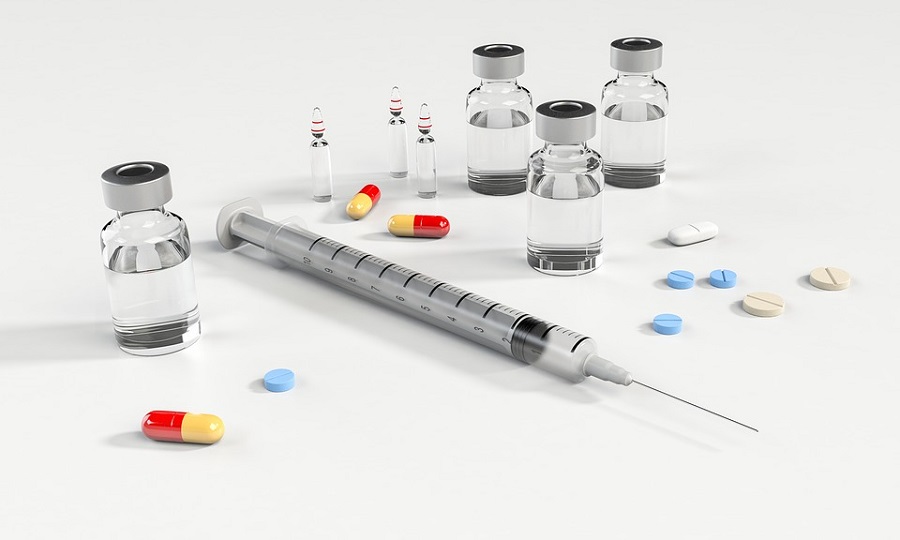 The Government has awarded the University of Birmingham-hosted BactiVac Network up to £1 million funding to accelerate the development of bacterial vaccines in a bid to prevent infections occurring as part of the global fight against antimicrobial resistance (AMR).
The award has been made by the Department of Health and Social Care (DHSC)'s Global AMR Innovation Fund (GAMRIF) and comes after Secretary of State for Health and Social Care Matt Hancock this month announced the UK's 20-year vision and five-year (2019-2024) AMR national action plan.
Supported by the Global Challenges Research Fund (GCRF) Networks in Vaccines Research & Development, which is co-funded by the Medical Research Council (MRC) and the Biotechnology and Biological Sciences Research Council (BBSRC), BactiVac will use this additional funding to accelerate the development and uptake of vaccines against bacterial infections in low and middle-income countries (LMICs).
BactiVac, which delivers a large portfolio of catalyst projects by bringing together academic and industry partners from the UK and other high-income countries and LMICs, targets bacterial diseases in both humans and animals that can lead to the emergence and spread of AMR and pose a significant threat to human health.
BactiVac is hosted at the University of Birmingham, which has one of the biggest teams of microbiologists in the European Union devoted to tackling AMR through pioneering research to better understand how bacteria cause infection, how antibiotics work, the causes of resistance, prevention of spread of resistant bacteria and finding new ways to treat infections.
University of Birmingham Professor Cal MacLennan, Director of BactiVac, said: "Infections account for over 20 per cent of global deaths and are particularly problematic in low and middle-income countries.
"Bacterial infections contribute significantly to this burden - killing approximately five million people annually.
"The crisis of AMR means our options for controlling bacterial infections are narrowing, and it is important that we address this urgent problem.
"By eliminating the selective pressure that antimicrobials apply on bacteria, vaccines can dramatically reduce the opportunity for AMR to develop, and therefore reduce antimicrobial use.
"This additional DHSC support will allow us to address gaps within our vaccine portfolio and develop new and better vaccines that directly address the issue of AMR."
University of Birmingham Professor Adam Cunningham, Co-Director of BactiVac, added: "Vaccines save millions of lives each year and are a cost-effective approach to prevent infectious diseases and their devastating sequelae.
"They can be of particular value in the fight against AMR because they prevent infections from occurring in the first place. This means that disease does not develop, or develops to a lesser degree, than would do otherwise.
"In addition, vaccines can protect against disease where AMR is widespread, such as typhoid fever, and so prevent disease from bacteria that are already resistant to treatment.
"Nevertheless, there are many bacterial infections in both humans and animals for which we lack any licensed vaccine. Conversely, if a vaccine exists, many do not work optimally, such as in the very young or old, or those with significant co-morbidities.
"Addressing the need for accelerating vaccines against low to middle-income countries-relevant bacterial infections by, for example developing novel approaches, enhancing their efficacy and uptake, is an important way to help reduce the burden of AMR.
"This award will help us support vaccine development against infections caused by bacteria where AMR is already established and is developing."
Professor Dame Sally Davies, England's Chief Medical Officer, said: "Increasing investment in vaccines research and development for humans and animals is a core part of the UK Government's 20-year vision and five-year national action plan for AMR announced last week.
"This additional funding to BactiVac complements existing work led by the UK, particularly focusing on infections and AMR in low and middle income countries, where the burden is greatest."
Dr Martin Broadstock, Programme Manager for Immunology at MRC, said: "Our goal through the MRC/BBSRC networks is to accelerate vaccine research and development, and the additional DHSC investment will help achieve this by funding collaborative projects that will aim to develop new and better vaccines against bacterial pathogens."
The Department for Health and Social Care (DHSC) is the UK government department, which is responsible for helping people to live more independent, healthier lives for longer.
The partnership with BactiVac is part of DHSC's Global Antimicrobial Innovation Fund (GAMRIF). GAMRIF was established to provide seed funding for innovative research and development, specifically in neglected and underinvested areas, to address the threat of AMR.
GAMRIF is a £50m UK aid investment, which means all projects funded must support research primarily and directly for the benefit of people in LMICs.
The Fund takes a 'One Health' approach, seeking to invest in potential solutions to reduce the threat of AMR in humans, animals, fish and the environment.
The Fund seeks to leverage additional global funding through interaction with international government bodies, public-private partnerships, product development partnerships, global funding mechanisms and global fora.
To interview Professor Cal MacLennan or Professor Adam Cunningham, please contact Emma McKinney, Communications Manager (Health Sciences), University of Birmingham, Email: e.j.mckinney@bham.ac.uk or tel: +44 (0) 121 414 6681, or contact the press office out of hours on +44 (0) 7789 921 165 or pressoffice@contacts.bham.ac.uk
The University of Birmingham is ranked amongst the world's top 100 institutions. Its work brings people from across the world to Birmingham, including researchers, teachers and more than 6,500 international students from over 150 countries.