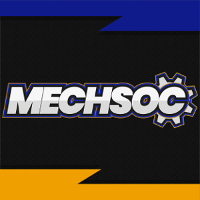 This semester has been a little different for everyone, but at MechSoc we've not let it stop us!
We started the year by joining in with the School of Engineering's Family Scheme – to welcome all of this year's new students joining the University. 106 of our returning students volunteered to be 'parents' and we had an amazing number of first years sign up to be 'children' – we grouped them together in 'families' and started a supportive community to help everyone settle into this very different year.
We also started the year with a complete rebrand. We decided it was time with a new year, a new family scheme and a new emphasis on the need to bring everyone together through societies that this was the year for a whole new look! To celebrate these new logos, we put together three different jumper designs and put them on sale to all of our members, using our revamped social media! Go ahead and find us with @UoB_MechSoc on Facebook, Twitter and Instagram.
Things are tough this year and we've worked really to get more people engaged and make sure our members have more opportunities they've ever had. This year so far we've organised three virtual careers events, with speakers from Nestlé, Siemens and Edwards Vacuum to talk about the placements and graduate schemes they offer, along with helpful hints and tips for our members on making good applications. We even started in the summer with a virtual speed-networking event with alumni so we could introduce lots of different careers open to a mechanical engineering student. We feel events like these are key given the current job market; the more opportunities we can offer to our members the better!
We've also branched out and are collaborating with new societies! So far, we have invited many societies to our careers events, planned socials with Geography and run a Christmas Quiz with BUMS! Other socials included another quiz and a family scheme social. We are also hoping to run a trip abroad as a society during semester 2 if circumstances let us, and run an e-sports tournament, along with the traditional Engineering Ball. Fingers crossed we'll be able to! Everyone needs something to look forward to, and MechSoc want to provide that for all of our engineers!
MechSoc are going to keep working hard to offer our members as much as possible – to keep up to date with everything we have going on make sure you find us on social media and look out for updates.
We can't wait to see you, hopefully in person, very soon!
Emma Kelwin
MechSoc Secretary
To find out more about MechSoc visit their website www.birmingham.ac.uk/eps/mechsoc.
There are 42 student groups in the College of Engineering and Physical Sciences. To learn more about their projects and activities head to www.birmingham.ac.uk/eps-societies.