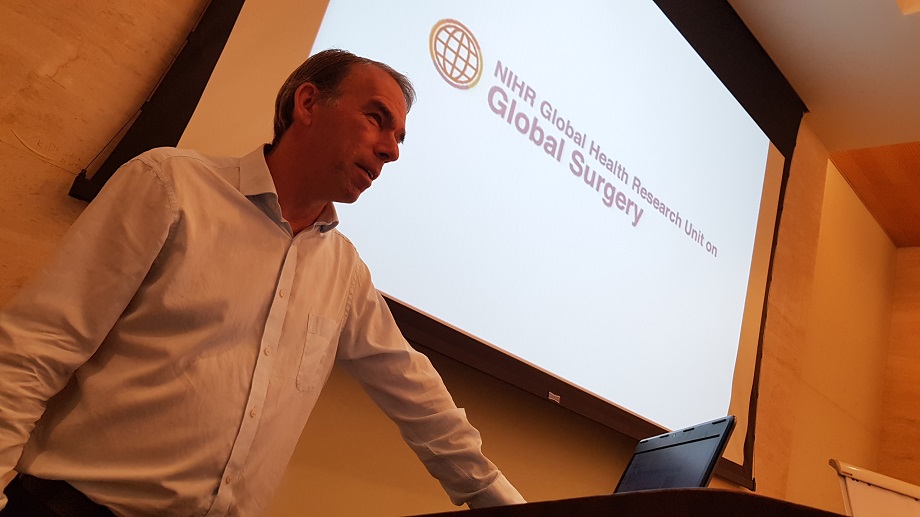 University of Birmingham research experts gathered medical professionals from around the world in Dubai to finalise international surgical guidelines that will help to save thousands of lives in low and middle income countries (LMIC).
The National Institute for Health Research Global Health Research Unit on Global Surgery (NIHR GHRU) gathered experts to finalise International Guidelines on Surgical Site Infection – essential guidance that will help standardise and improve practice in surgery.
Surgical professionals travelled to Dubai from Mexico, India, South Africa, Ghana, Nigeria, Rwanda, Benin, Zambia, Philippines and Pakistan.
In LMICs, nine out of 10 people lack access to even the most basic surgical services; six million will die each year within 30 days of an operation and failure to improve surgical care will cost the world economy $12.3 trillion in lost GDP by 2030.
The guidelines are designed to produce clear evidence-based recommendations that can be applied across a range of surgical settings covering pre-operative preparation and in-theatre interventions to reduce the risk of surgical site infection. The guidance will be published later this year in a leading medical research journal.
Professor Dion Morton, Barling Chair of Surgery at the University's Institute of Cancer and Genomic Sciences, and Co-director of the NIHR GHRU, commented: "There is a critical need to improve worldwide surgical care, through growing capacity, quality and innovation we can transform patient lives.
"High-quality research and training are crucial to building sustainable surgical infrastructure and improving care in LMICs. Our aim is to improve surgical outcomes through collaborative research and training in these countries.
"These new guidelines will help to change surgical practice and improve patient care around the world – saving thousands of lives and helping to reduce the massive loss to the world economy that would result from failing to improve surgical care."
The National Institute for Health Research Global Health Research Unit on Global Surgery works with partner institutions in a range of low and middle income countries, including:
Benin – University of Abomey-Calavi, Cotonou
Ghana – University of Development Studies, Tamale
India – CMC Ludhiana, Punjab
Mexico – Hospital Espanol, Veracruz
Nigeria – Lagos University Teaching Hospital, Lagos
Pakistan – King Edward's Medical University, Lahore
Philippines – Philippine General Hospital University, Manila
Rwanda – University of Rwanda; University Teaching Hospital, Kigali
South Africa – Chris Hani Baragwanath Academic Hospital, Johannesburg
Zambia – Ndola Teaching Hospital, Ndola
The meeting followed a University of Birmingham-led conference in Kigali, Rwanda, November last year, where experts came up with 31 evidence-based recommendations identified from existing high-income country Surgical Site Infection guidelines.
This initial list was reduced and revised down to 19 recommendations, which were put to an online vote by LMIC surgeons. Participants voted based on whether each recommendations was appropriate to their setting, current practice and whether implementation would be easy or difficult.
Conference participants in Dubai reviewed results of the online voting and decided which of the 19 recommendations were accepted into the final guidelines – classifying each as 'essential' (a reasonable expectation for all hospitals worldwide) or 'desirable'.
Launched with partners from LMICs, Universities of Edinburgh and Warwick, the NIHR GHRU is establishing hubs and/or trial centres in partner countries that perform their own clinical research relevant to local populations, whilst serving global needs.
The Unit is based at the University of Birmingham and co-directed by Professor Dion Morton, Barling Chair of Surgery and Professor Peter Brocklehurst, Director of the Birmingham Clinical Trials Unit.
Partners in the Unit have also formed a Policy and Implementation Consortium to work with professional associations, NGOs and government organisations across the world, including the World Health Organisation. This Consortium will use the results from the research generated by the Unit as a tool to inform changes in clinical practise and provide evidence to drive policy changes across the globe.