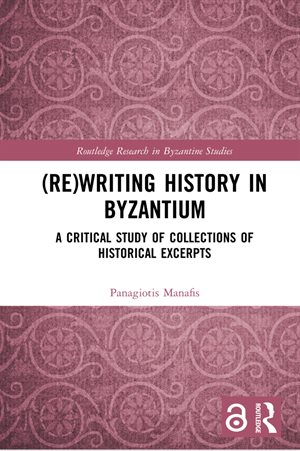 Congratulations to ITSEE postdoctoral researcher Dr Panagiotis Manafis on the publication of his monograph, (Re)writing History in Byzantium.
Published in conjunction with the ERC-funded CATENA project, on which Dr Manafis is a research fellow, this book focuses on a series of Greek historical extract collections that have received little or no scholarly attention, including the Epitome of the Seventh Century, the Excerpta Anonymi (tenth century), the Excerpta Salmasiana (eighth to eleventh centuries), and the Excerpta Planudea (thirteenth century). The method in which these texts were redacted and their literary structure are analysed in order to shed new light on their cultural and political function.
The book was published online on Tuesday 12th May by Routledge, in their Routledge Research in Byzantine Studies series. It is available both in print format (from next week) and as an Open Access PDF from the Routledge website. Dr Manafis' research reflects a new scholarly understanding of excerpt collections as autonomous pieces of literature rather than simply compendia. The study combines codicological, literary, and political analysis to show how knowledge and power are intertwined in these collections and constitute a distinctive Byzantine way of rewriting history.
Dr Manafis has also worked on the Codex Zacynthius project, contributing extensively to two further Open Access books which will be coming out later this summer, as well as the electronic edition of the manuscript. He is currently examining traditions of catenae on the Gospel according to Luke.