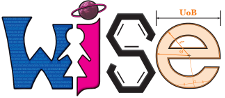 This year has been fantastic for WISE! We held our very first collaborative event with oSTEM and BEaMS, continued our WISE Inspire! speaker series, expanded our award-winning outreach scheme and collaborated more than ever.
By far our biggest event of the year, in collaboration with oSTEM and BEaMS, was Equal in STEM 2020. This conference-style event consisted of multiple panels which discussed barriers that people may face in STEM and how they could be overcome through working together.
Panels included: 'Parenthood, 'Expectations of role-models, 'How to be a Good Advocate and Ally' and 'Mental Health'. 13 speakers from various fields, backgrounds and career stages got involved to discuss these themes, and a massive 171 people registered for the event including UoB students, pupils from local schools, STEM professionals from other institutions and a, of course, range of STEM professionals from Birmingham. It was hugely successful thanks to our committee, our sponsor Caterpillar, and the amazing oSTEM and BEaMS. We hope to make this an annual event!
Our award-winning outreach scheme 'Girls in STEM' has expanded so that another local school can get involved! This has been made possible due to our hard working volunteers and Outreach Officers, and the generous Alumni Impact Fund – a huge thank you goes out to them. This means our outreach scheme now runs in three schools across Birmingham, with over 60 volunteers. We've held more coding and engineering-based activities this year, and hope to continue to expand the Scheme in the future. Throughout the Covid-19 crisis, committee members have also been making our outreach available online so that we can continue to have an impact on pupils in the community.
None of what we've achieved this year would have been possible without our amazing sponsors, collaborators and members! We can't wait to continue and build on this year's successes, to continue to dismantle barriers in STEM, provide role models for pupils in the community, and initiate collaboration across campus.
Watch this space!
To find out more about WISE visit their website www.birmingham.ac.uk/eps/wise.
There are 39 student groups in the College of Engineering and Physical Sciences. To learn more about their projects and activities head to www.birmingham.ac.uk/eps-societies.